Dear Friends,
This week was a busy week, we conducted 8 programs for Schools and Corporates. We gave a Virtual River Monster Jr Storytelling for over 600 kids from Agape Little Uni, which was sponsored by Goldman Sachs Gives and an outdoor talk for 40 students at Punggol under LKYSPP (see photos). We brought 24 students from Zhenghua Secondary School to a Foot Waterway Cleanup, sponsored by NWCDC, and the students picked up 49kg of litter from water (Kampong Bugis area) and 4 masks (see photos). Alumni members and staff from SMU did waterways cleanup programs with us on kayak (20pax) and on pedal boat (8 pax). They collected 27kg of litter and 7 masks (see photos). As for the CSR program for corporates, we did a Bike Waterway Cleanup for 10 staff from Salesforce, who picked up 25kg of litter (see photos). AstraZeneca organized another session of Kayak Cleanup, involving 30 participants from AstraZeneca staff, National Cancer Society, Cancer Survivor and Swedish. They collected 78kg in total and 5 masks (see photos). In addition, we did a Boat Waterway Cleanup for PUB Staff (4 pax, collected 6kg of litter) as part of their Induction Program(see photos). We hope to have more regular programs with PUB.   In total, 185 kg of litter and at least 16 masks were collected during all the programs and patrols this week.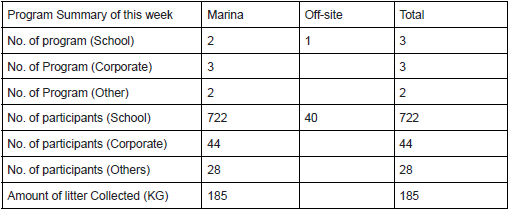 Members were also active for volunteering work this week. At Punggol, 3 members carried out maintenance work (see photos). On Saturday morning at Kallang, there were 2 groups of bike patrol (6 pax and 5 pax) and 12 new members completed their orientation (Vietnamese students -see photos). Besides, 3 members came to do gardening, 2 leaders and 2 skippers came for the orientation and 2 admin staff supporting the activities. Bike patrol group 1 picked up about 3kg of litter, mainly at Duck Tour Jetty and F1 pit. The second bike patrol group went to the upper stream of Kallang River and picked up 3kg of litter and 4 masks (see photos). There was a lot of litter on the slope of the junction of Kallang River and Whampoa river, and floating at Kallang MRT station ABC sector (see photos). Additionally, 8 kayakers (scouts) did a kayak patrol at Kallang River in the late afternoon and they still managed to collect over 100kg of litter, including 3 huge fishing nets and one heavy metal grill (see photos). The other litters collected were mostly masks, plastic wastes and packaging materials.
In the afternoon, the patrol at Punggol was delayed due to the heavy rain. The 6 members did bike patrol after the rain (see photo). There was a lot of litter found in Waterways after the rains. On top of the glass roof, there was a lot of litter that cannot be reached (see photos). An electrical box next to the Wall Fountain was found open and unlocked (see photos). Members also found two abandoned shared bicycles under the Wave Bridge opposite the Oasis Terrace (see photos). Damaged flooring woods are exposed near the lamp post E7-D/W-208. Man made footpath has been created at Blk 308C and causing soil erosion to the footpath path (see photo). Both Aerators in the Serangoon Reservoir next to the Sunrise Bridge are not working for almost a month. In addition, life buoys on the boardwalk found one missing with another damaged for almost 4 months (see photos). In total, the Punggol bike patrol group collected 4kg and 11 masks (see photos).
Three new members did their boat training at Punggol that afternoon.
On Sunday morning at Kallang, there were 2 bike patrol groups (6pax and 5pax), 4 members did pedal boat patrol and 5 members did gardening (see photos). There were also a total of 4 leaders and 2 boat skippers came to conduct the orientation for 18 new members. The Pedal boat patrol group found that the jetty next to Dragon Boat Beach was clean on that day, but they still collected 15kg of litter plus 2 masks from the vicinity of WWS Biodiversity Pond and Sport Hub- mainly plastic, styrofoam food boxes and cans (see photos). The bike group went towards Singapore River and picked up litter along the patrol routes. Especially at Boat Quay area, a lot of litter was on the floor opposite to a 7/11 shop (see photo). The bike patrol group collected 12kg of litter and 4 masks in total. Orientation groups at the same time did some litter picking at hotspots: near Kallang MRT Station, the embankment in front of Singapore Flyer and the floating platform. They collected 5.5kg of litter and 6 masks in total.
At Jurong Lakeside Garden, 2 groups of 7 did bike patrol in the afternoon (see photos). The bike patrol group 1 found lots of litter in the corner near the lamppost WN1-4I1S T7N1 (see photos). This could be a good picking spot for kayaks. The bike patrol group 2 picked up plenty of litter from the viewing deck and the water edge area around the view deck (see photos). The 2 bike patrol groups picked up a total of 9kg of litter.