Dear Friends,
Last week we did 3 sessions of physical activities with small groups not more than 14pax: Bike Waterway Cleanup for Mulesoft (11 pax) and Coastal Cleanup for Edenred on two days (13pax and 14pax respectively. During each activity, participants were split into groups of 3 or 4 plus one facilitator. The participants from Mulesoft picked up 33kg of litter from the Duck Tour area and F1 Pit. The total litter collected by Edenred was 34kg and 35kg, despite the second session ended early due to rain. We also gave a Kallang Virtual Learning Journey for 20 students from Holy Innocents High School. We had 12 sightings on fishing and reported 10 to PUB.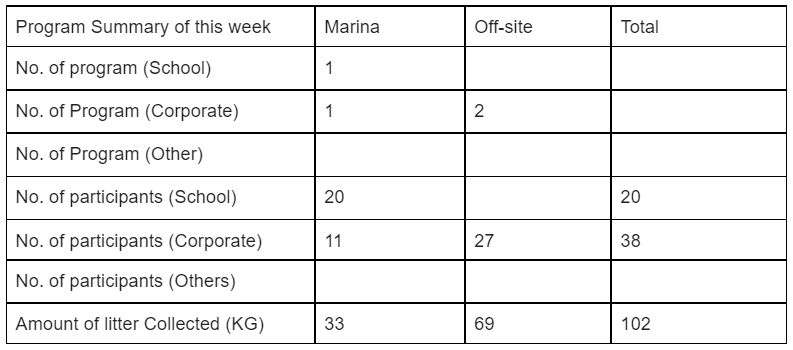 On Wednesday, 3 members did boat patrol at Punggol Waterways (see photos). Only few people were sighted walking in the park on Wednesday and only 1kg of litter was collected. Soapy water was seen still being discharged from the nearby construction site. We contacted PUB again who in turn contacted the contractor to take measures to mitigate the situation (see photos).
On Saturday morning, a total of 12 members and 2 admins turned up at Kallang. However, due to the rain, the bike patrol (involving 5 members) was cancelled. The two groups of boat patrol went out after the rain stopped (see photos). They picked up isolated plastic bottles and plastic bags from the water, in total of 5kg.
On Saturday afternoon, 4 members did boat patrol and 1 member did office maintenance at Punggol (see photo). The waterway was relatively clean except in the vicinity of Oasis Terraces (see photos). The majority of the litter that members picked up was plastic bottles and food packaging. In total, they picked up 10kg of litter including one big sand bag.
Sunday morning at Kallang, a total of 14 members turned up for duty. There were 4 members who conducted a bike patrol, 5 and 2 members did boat patrol in 2 groups and 1 member came for gardening plus 2 admins (see photos). The boat patrol groups found the water was generally very clean and clear along Marina and SG river. The only exception was near Jiak Kim Bridge, SR-R3, there was a fair bit of debris and floating rubbish. However the water level was too shallow for the boat to pick-up (see photos). The two boat patrol groups picked up 8kg of litter in total. On the other hand, the bike patrol group headed towards Kallang Riverside Park. They sighted 5 fishermen fishing outside the fishing zone at Kallang Riverside Park. These illegal fishermen automatically moved into the fishing zone after spotting our members. Litter and masks were picked up along the Kallang Riverside Park. Especially at the break water next to Dragon Boat Beach, a lot of food packings and a NTUC trolley was left behind (see photos). Members cleared all the litter and pushed the trolley next to a dustbin (see photos). A lost dog notice was found on the grass patch in front of Kallang Wave Mall (see photos). In total, the bike patrol group picked up 6 masks and 6kg.
There were 13 members who carried out duty at Jurong Branch on Sunday afternoon. They did 1 bike patrol with 5 members, 1 boat patrol with 5 members as well and another 3 members maintained a pontoon and gangway (see photos).  The water of Jurong Lake was generally clean and the boat patrol group only picked up 2kg of litter, mainly plastic bottles and plastic bags. The bike patrol group picked up most of the litter from the grass patch in front of WWS and around the boardwalk. Litter was spotted in the water around Rasua Walk and near the water lily pond but that litter was not accessible by members. In total, the bike patrol group collected 13kg of litter and 2 masks.