Dear Friends,

OVERVIEW
"Mum, get me a tong please."
A pleasant close encounter! On Sunday, our volunteers went on a litter-picking outing at the Yishun Pond and its neighbourhood and along the Khatib – Bongsu PCN when a lady on a bicycle with her daughter stopped and asked who we were. After finding out who we were and seeing what we were doing picking up litter, the lady remembered what her daughter told her some time ago. She said her daughter had asked her to get her a tong so that she could help to pick up litter. She was probably told or learned from school to keep the environment clean. The mother also acknowledged that the people should not litter. Another park user walked past and said thank you when she saw what
we were doing.

Let us all, the adults continue to do the right thing. Our young ones are watching and learning!

It is a daunting task to create the clean parks, beaches, streets and the neighbourhood which all of us want to see. The Waterways Watch Society, by having our volunteers using small individual steps and going out to the neighbourhood, wants to empower the residents so they can collect litter or stop littering in their area. The ultimate goal is for the residents to appreciate and be aware of the need to keep their immediate environment of their abode clean and safe. We would also like to thank our teams at Pang Sua and Yishun this weekend as we continue to expand our work outside our traditional three office sites.
Our work done for the week:
We conducted three CSR programmes, a bike, a boat and a kayak clean up. A total of 65 participants attended the programmes and collected a total of 120 kg of litter. 
A virtual learning journey was conducted for the MCCY and a total of 48 new citizens attended the programme.
This week a total of 98 members were down for CSR programme, patrols, administration and housekeeping duties and the total trash collected = 166 kg.
We remain very concerned with the number of Masks sighted and picked-up as litter. A very disturbing trend on the increase and does not make Singapore proud as a first world nation.

Boat Patrol. A total of 6 boat patrols were conducted; 3 at Marina, 2 at Punggol and 1 at Lakeside
Bike Patrol. A total of 7 bike patrols were carried out; 3 at Marina, 2 at Punggol and 2 at Lakeside
Foot Patrol. A total of 3 foot patrols were conducted; 1 at Pang Sua and 2 at Yishun Pond and Khatib – Bongsu PCN
Pedal boat Patrol. There was no Pedal boat patrol conducted.
Kayak – 2 Star Training (In-house). This is a second session to be conducted after our 1 Star Course the previous week.
Land Facilitators' Training. 2 members attended the training. This is to prepare them to facilitate CSR/VIA programmes.
Boat Training. One member attended the training. 
Boat Tour for Frontline workers. There was no tour conducted this week.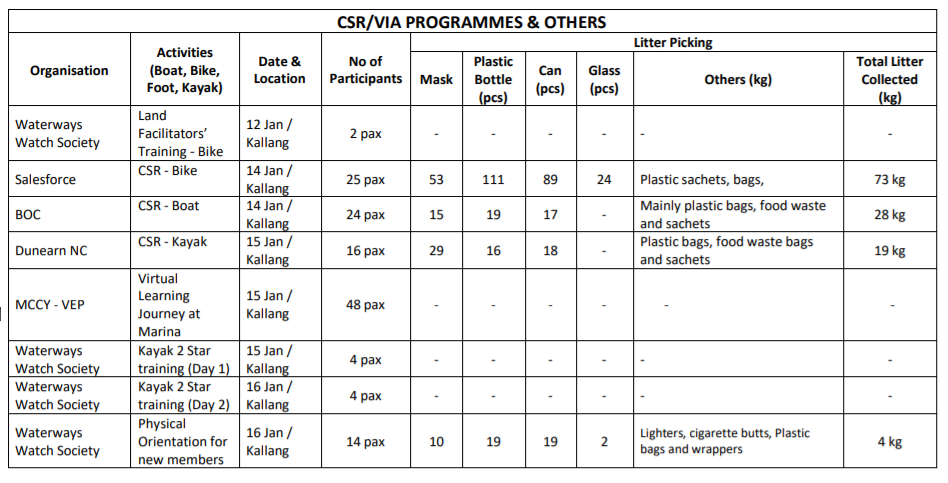 ACTIVITIES AND REPORT
1. Educational Programmes
2. Volunteer Patrols & Activities
     a. Marina 
 b. Punggol
c. Lakeside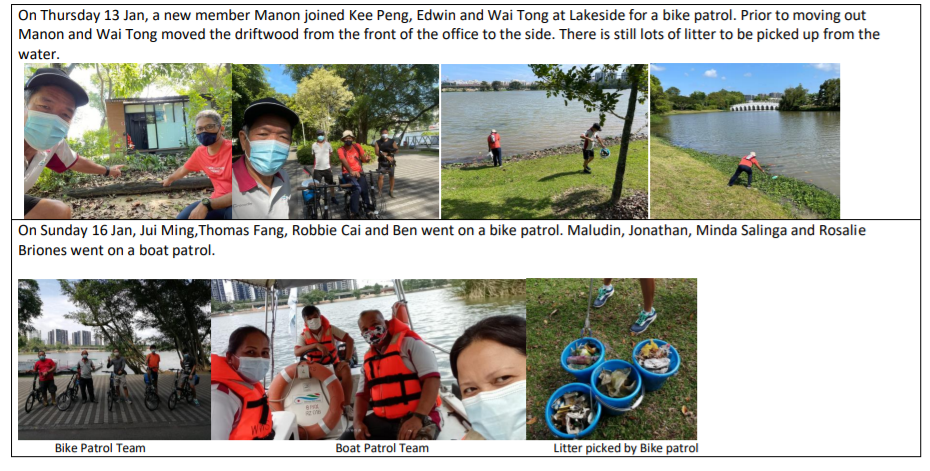 d. Pang Sua Pond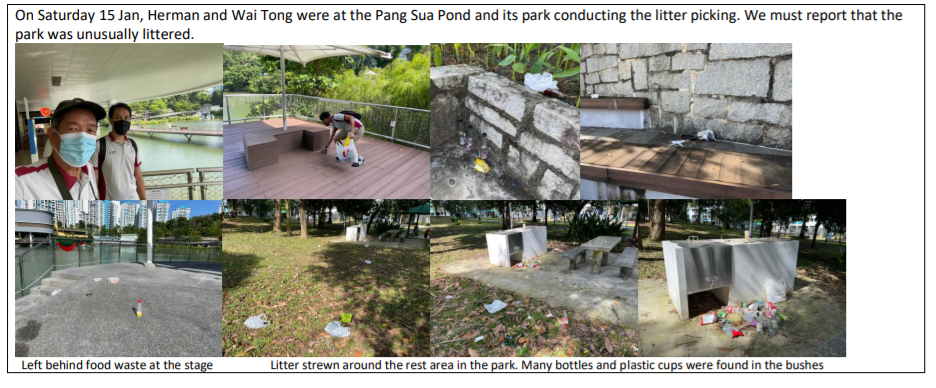 e. Yishun Pond Patrol