Dear Friends
Overview
"Is Fishing allowed? It is done and clearly seen in broad daylight!"

It is a common sight to see people totally disregarding the laws that certain areas in the reservoirs and waterways are not allowed for fishing but, they still do it and many times the activities are done even though there are cameras around and 'No Fishing' sign board in clear view. It happens on a daily basis. It is a common sight too in most of our other reservoirs and waterways. Last Saturday, one of our members asked, when he saw some fishing activities going on at Lower Seletar, "By the way, I drove past Lower Seletar reservoir passing Rower Bay Park. Many fishing activities there. Is it legal there?"
The above photos were taken by our members mainly over the weekends only. We are sure on weekdays it is also happening. Hence, the figures reported weekly are not representative of what really happened for the week.
So the question is found begging for an answer; is fishing allowed? More precisely, how can we tackle the recalcitrants? Many are 'regulars' and they know that we the volunteers cannot do much about it. Just like littering, illegal fishing is a problem. We are NOT against Fishing. We are against irresponsible fishing and  fishing outside the rules and regulations of PUB.   We really hope that something more concrete can be done. 
Our work done for the week:
We conducted two CSR programmes, a foot and a kayak clean up. A total of 64 participants attended the programmes and collected a total of 157 kg of litter.
A virtual learning journey was conducted for the MCCY and a total of 48 new citizens attended the programme.
A virtual Assembly Talk was conducted for Ai Tong Primary School. A total of 280 students attended the session.
This week a total of 103 members were down for CSR programme, talk, patrols, administration and housekeeping duties and the total trash collected = 209 kg. We remain very concerned with the number of Masks sighted and picked up as litter, and illegal fishing activities going on under the nose of authority and public. A very disturbing trend on the increase and certainly does not speak well of our social grace and responsibility to a greater society.

Boat Patrol. A total of 7 boat patrols were conducted; 2 at Marina, 3 at Punggol and 2 at Lakeside.
Bike Patrol. A total of 7 bike patrols were conducted: 3 at Marina, 2 each at Punggol and Lakeside.
Foot Patrol. 1 foot patrol was conducted at Pang Sua.
Pedal boat Patrol. 2 pedal boat patrols were conducted at Marina.
Kayak – 2 Star Training (In-house). The third session was completed on Saturday.
Boat Training. A boat training was conducted at Marina for 3 drivers. The aim was to familiarise them on the route at Marina.
Boat Tour for Frontline workers. 2 Boat tours were conducted at Marina for 10 frontline workers.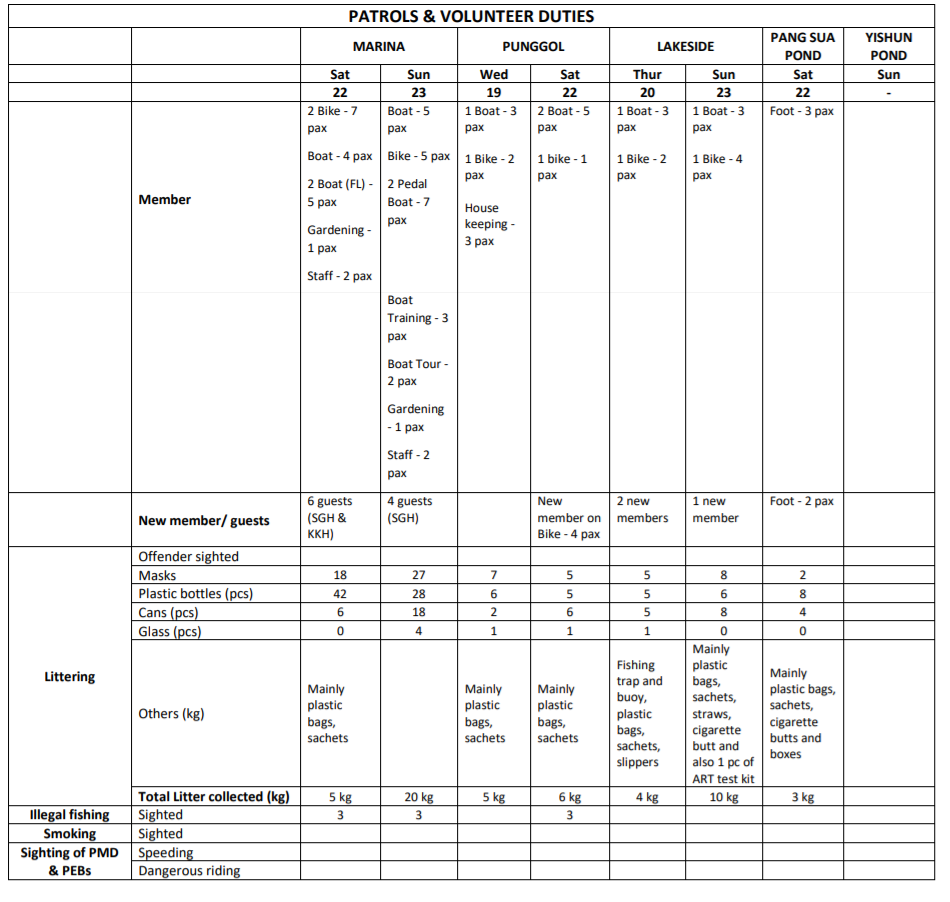 ACTIVITIES AND REPORT
1. Educational Programmes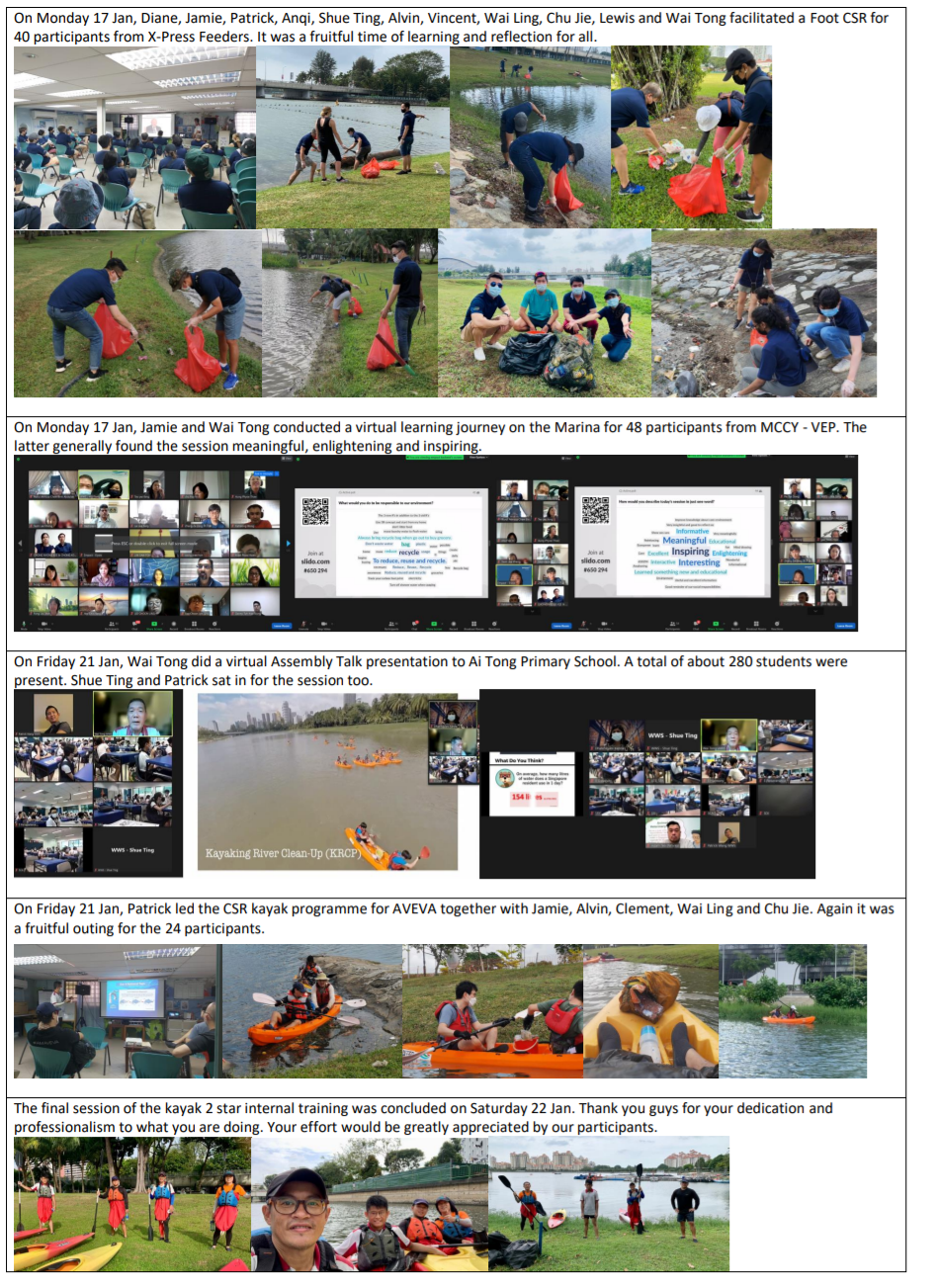 2. Volunteer Patrols & Activities
     a. Marina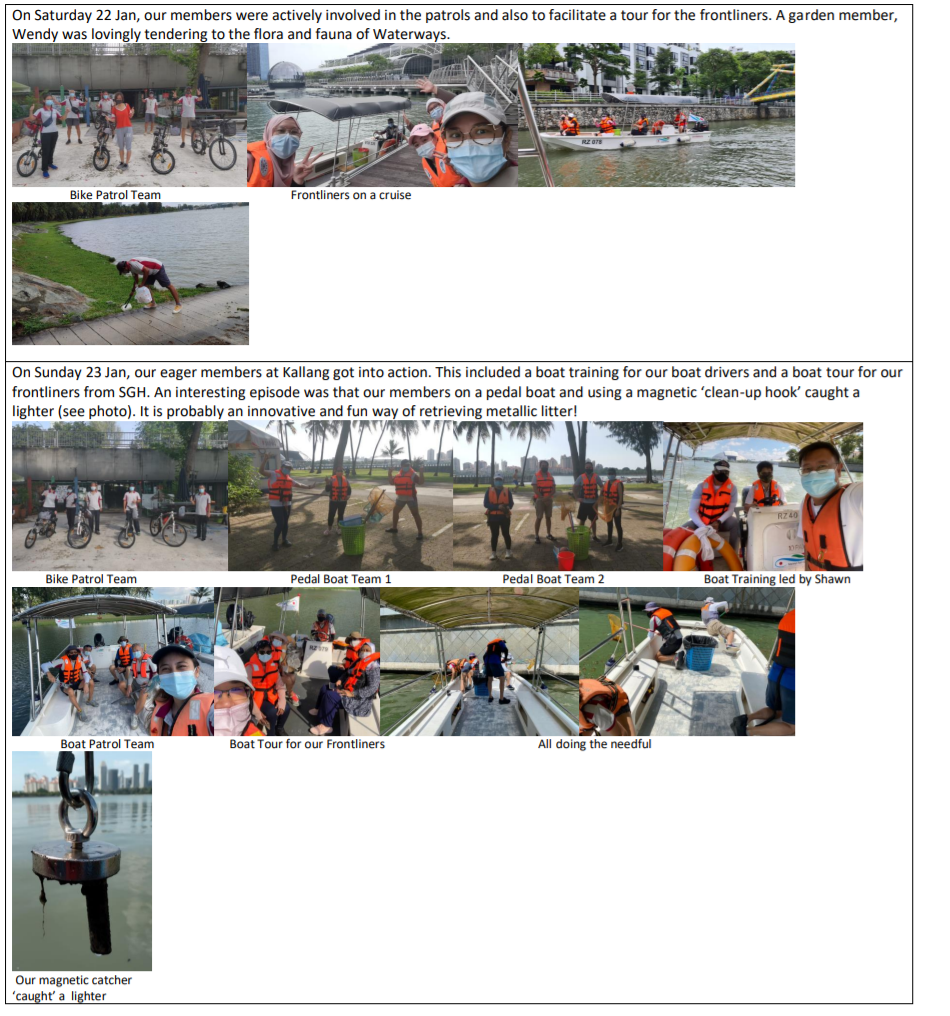 b. Punggol
 c. Lakeside
d. Pang Sua Pond