Dear Friends,
OVERVIEW
"Community Effort is needed to keep our place clean and safe"
Firstly, we like to wish all a Happy and Prosperous Lunar New Year! Stay safe and healthy. We continue to look forward to another year of close collaboration in promoting greater awareness and effort to keep the environment and the waterways of Singapore clean.
This week, one of our members had 2 'encounters' which cannot be ignored and which reinforces the mission and task of Waterways Watch Society volunteers who go out every week diligently on their patrols.
The first 'encounter' was a shocking one and we may laugh at it; a mask being 'reused' as a door stopper! (see photo above). It was found at a housing estate multi-storey car park. What has gone through the mind of the person who did it we will never be able to fathom. The worst we can think about it is that we are still very complacent about what is happening at the moment both at home and worldwide. The number of used masks picked up by our volunteers every week cannot be overlooked. Yes, it has increased and can be easily found in the parks, by the water edge, in the car parks and close to housing areas at the void decks. 'Masks are very much like used tissues – they are personal items that are excellent conduits for the transfer of pathogens. They should therefore be disposed of carefully so that they do not become a vector for the spread of germs and viruses'(CNA 12 Aug 2020). Zero Waste SG executive director Pek Hai Lin identified the lack of environmental ownership in Singapore as a contributing factor, with people being "detached from the consequences of their actions to the environment" (The Star, 10 Jan 2021). In the month of Jan. 2021, even with limited duties and programs we managed to pick-up over 600 used masks.
Hence, the continuous effort by Waterways Watch Society of educating and raising awareness for the public to take ownership of the environment cannot be overemphasised. This brings us to the second 'encounter' experienced by our members at Pang Sua Pond on Saturday. A young couple was walking with their toddler in a stroller when they stopped and asked what they were doing. After hearing about who we are and why we are doing what we are doing, the couples were encouraged and said that they would like to join our members. Our members even told them that they could bring their little one along when doing the litter picking and they thought it was a good idea. Yes, we think that we can help raise more awareness among people in the neighbourhood by encouraging them to take part "in small-scale litter-picking activities to experience how…disposable masks and takeaway packing are adding to the ever-growing pile of plastic waste" (Public Hygiene Council, The Star, 10 Jan 2021). In this way, they can in their small way take ownership of the environment around their abodes.
Our work is done for the week. Bit slow because of the festive season:
We conducted one VIA programme, a Bike Clean up by Temasek Polytechnic at the Kallang-Marina area. A total of 16 participants attended the programmes and collected 13 kg of litter in total.
A virtual Assembly Talk was conducted for Westwood Secondary School. A total of 1050 students attended.
This week a total of 57 members were down for VIA programmes, talk, patrols, administration and housekeeping duties and the total trash collected = 105 kg.

Boat Patrol. 4 Boat patrols were conducted; 3 at Marina, 1 at Lakeside
Bike Patrol. 6 Bike patrols were conducted; 4 at Marina, 1 each at Punggol and Lakeside
Foot Patrol. 2 Foot patrols were conducted; 1 each at Lakeside and Pang Sua Pond
Pedal boat Patrol. No pedal boat patrol was conducted.
Boat Training. 2 boat training sessions were conducted on 5 & 6 Feb at Marina.
Boat Tour for Frontline workers. There was no boat tour conducted during this festive period.

ACTIVITIES AND REPORT
1. Educational Programmes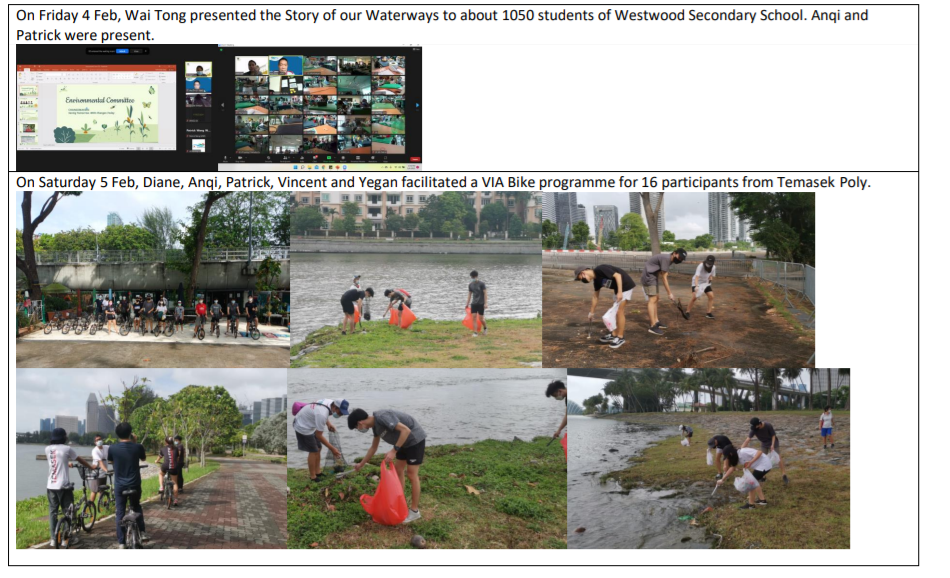 2. Volunteer Patrols & Activities
     a. Marina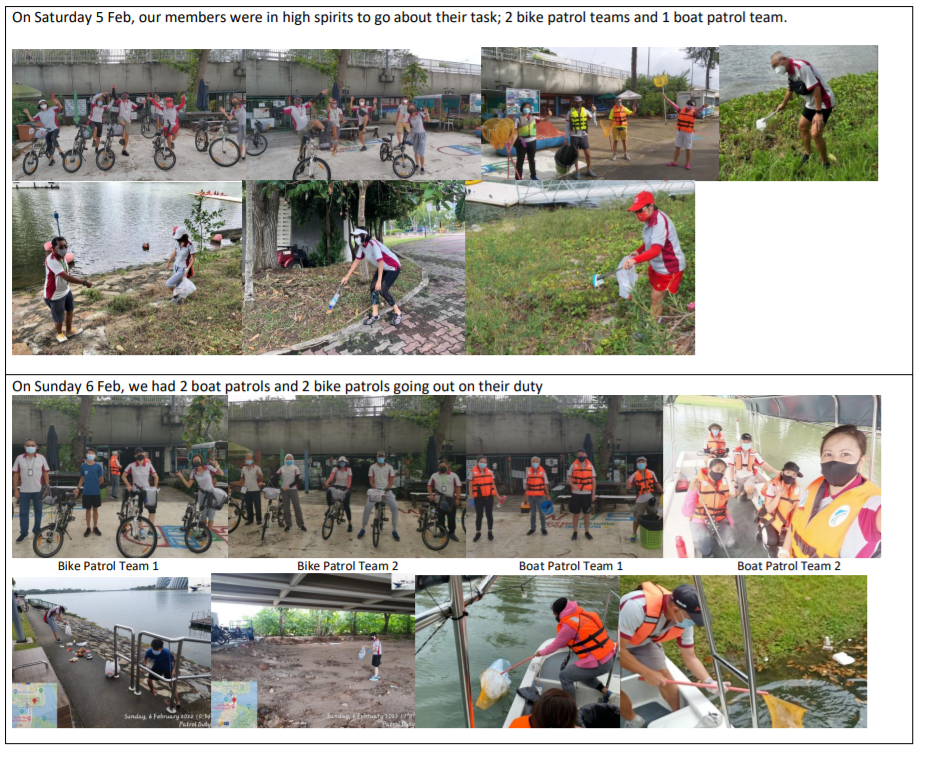 b. Punggol

    c. Lakeside
    d. Pang Sua Pond
    e. Yishun Pond Patrol