Dear Friends,
OVERVIEW
"The Future is in their Hands but we adults must lead by example!"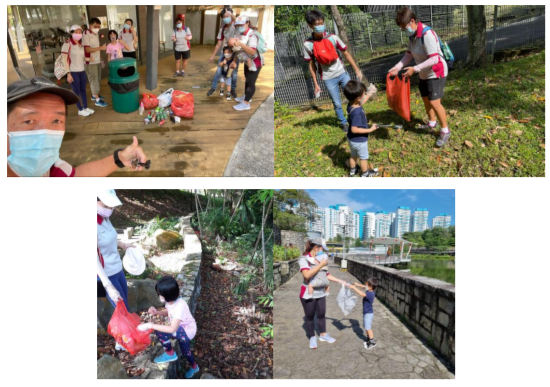 The adults must be exemplary and lead the young ones. Last Saturday morning was a unique outing for the Waterways Watch Society group at the Pang Sua Pond. Two members brought their families along for litter picking around the pond and the adjacent Bukit Panjang Park. Aung Kyaw Moe and Peh Thiam Chen together with their spouses who are also WWS members brought along their children for the Foot clean up, including baby Marcus Peh! What some of us might have thought was going to be a tough proposition to do, especially when we saw Matthew, a 4-year-old bubbly boy and a petite 9-year-old Suu Yi, turned out to be something we the adults did pleasantly learn from the experience with them. Yes, the best way to teach your children is to be an exemplary role model yourself. The parents were instilling the right values in their children with regards to looking after the environment, and demonstrating excellent parenting skills in walking the talk. The idea might not seem like much fun, but teaching children about litter and showing and talking to them about its devastating effects can turn them into well-rounded, environmentally-conscious adults. This the Aung's and Peh's families are doing and hope to impress on their children to be such environmentally-conscious adults in the foreseeable future.
The need to stem out bad social habits and behaviour. So, the young ones like Suu Yi and Matthew will learn for as long as the adults are willing to come out and guide them. But the present littering problem is not caused by these young ones. We need to educate and inform grown-ups, young and old, to be more socially responsible to keep our environment clean and safe. Bad social habits and behaviour in public places must be addressed and stemmed out. Bad social habits and behaviour such as littering and smoking in the parks, illegal fishing in our waterways caused by irresponsible grown-ups are our major problems. Our weekly report on the sighting of litter and illegal fishing is not a true representation of the problem as the figures gathered are generally done over 2 hours per day during the weekends. Such activities do happen every day of the week. We like to suggest that for locations where we have reported frequent sightings (like the jetty in front of our office), that PUB conducts night ambushes as we very often find lots of litter in the early mornings on Saturday and Sunday. Your CCTV should help narrow the time.
It was another quiet week for us.
We conducted 1 VIA programme, a Bike Clean up at Kallang for 16 students from Temasek Polytechnic and they collected 10 kg of litter.
We conducted a virtual learning journey session for participants from MCCY – VEP. A total of 48 were present.
We had two corporate programs postponed, one due to weather and the other, low signups.
This week a total of 73 members were involved for VIA programme, talk, patrols, administration and housekeeping duties and the total trash collected = 80 kg.

Boat Patrol. We conducted 6 boat patrols; 2 at Marina, 3 at Punggol and 1 at Lakeside.
Bike Patrol. We conducted 5 bike patrols; 3 at Marina, 1 each at Punggol and Lakeside.
Foot Patrol. We conducted 1 Foot patrol at Pang Sua Pond
Pedal boat Patrol. Nil
Boat Training- Orientation continued for 2 in Marina n 2 in Lakeside.
Briefing to New Applicants. 16 new applicants attended a virtual briefing to understand the role and responsibilities of WWS volunteers.
Boat Tour for Frontline workers. A boat tour was conducted for 4 frontline workers (SGH). This is in appreciation of their work and sacrifice demonstrated in this COVID situation.
ACTIVITIES AND REPORT
1. Educational Programmes
2. Volunteer Patrols & Activities
     a. Marina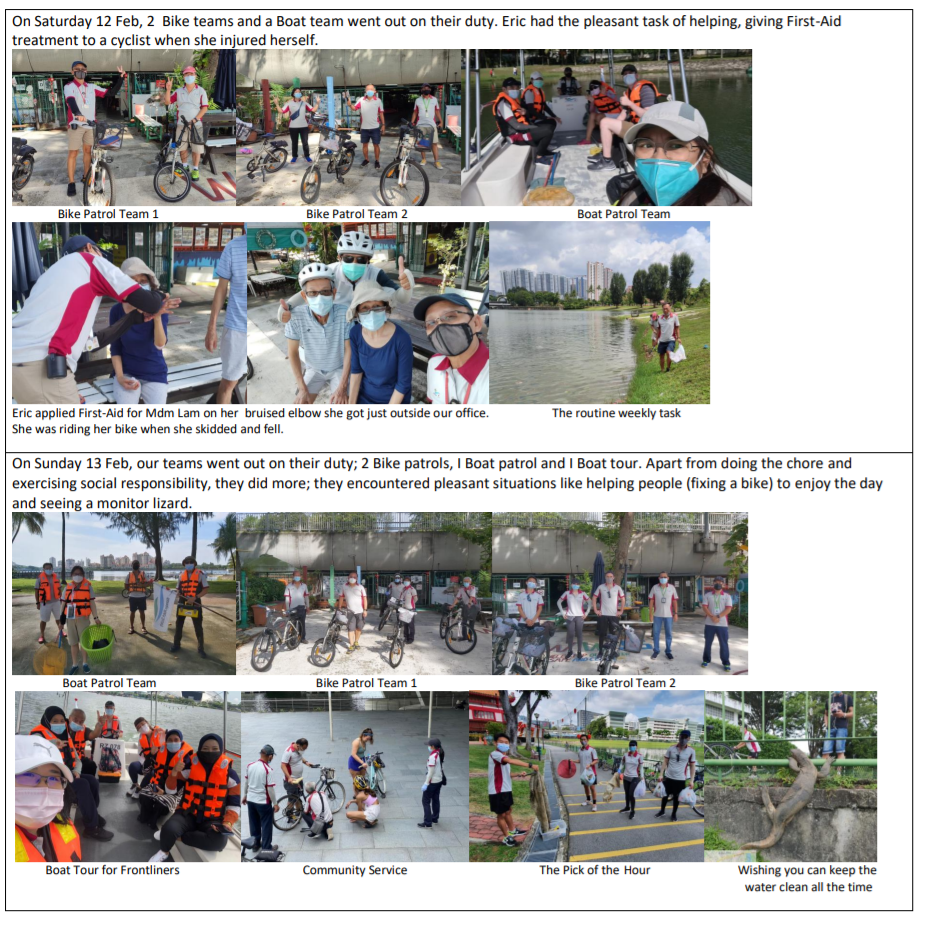 b. Punggol
    c. Lakeside
    d. Pang Sua Pond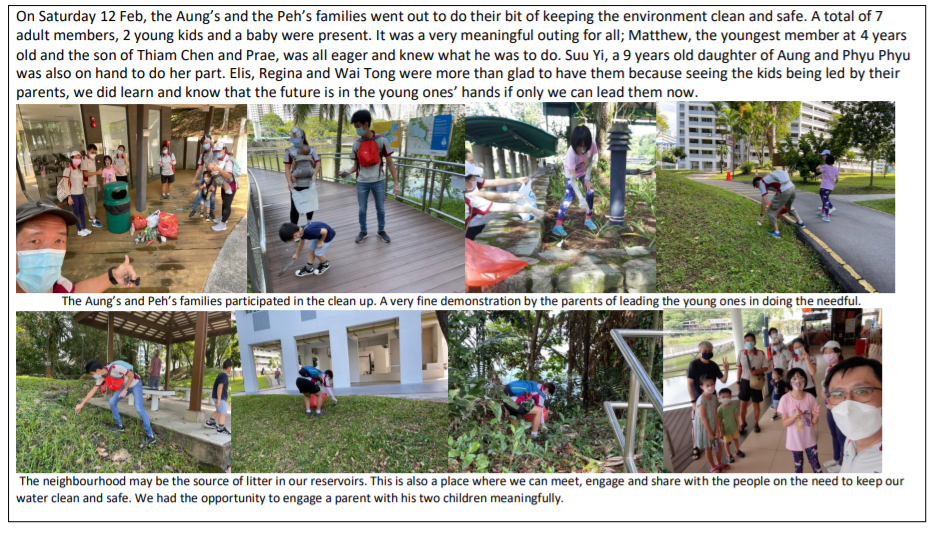 e. Yishun Pond Patrol