Dear Friends,
OVERVIEW
"Easing of Covid-19 Rules, will we see more litter?"
With the easing of Covid-19 rules, we will see more people coming out to enjoy the 'freedom' with larger group gatherings allowed in the open, performances are set to return and alcohol can be served after 10.30pm. Yes, the parks will be open for larger gatherings too. Will this signal an increase in littering? During the two-year restricted situation and with safe-distancing measures in place, we did not notice a significant drop in littering. With the relaxation of rules from next week what can we Expect? Hopefully our assessment of the new situation is that at best, it can be status quo! Nevertheless, Waterways Watch will strive to continue our mission in tandem with all government agencies to spread the word of keeping the environment and waterways clean and safe.
We are happy to report that our CSR programmes are picking up with more corporates coming in with larger groups of people to participate in our meaningful activities. We expect schools and other educational institutions to follow suit.
In summary, the following activities were done for the week:
We conducted 8 CSR programmes comprising 1 Bike, 5 Boat, 4 Kayak and 2 Pedal activities and 1 VIA Kayak programmes and they collected 424 kg of litter.
We participated in a virtual Sharing and Discussion as the main speaker for 41 participants from Juniper Networks. The session was organised and facilitated by APAC, Visit.Org which helps companies connect employees to the issues they care about, i.e., Discovering the Singapore Water Story and the importance of Water.
An On-the Job Orientation was conducted for 5 new members on their roles and responsibilities when doing patrol.
This week a total of 112 members were involved for VIA programme, talk, patrols, administration and housekeeping duties and the total trash collected = 531 kg.

Boat Patrol. A total of 5 Boat patrols were carried out; 2 at Marina, 2 at Punggol and 1 at Lakeside.
Bike Patrol. A total of 2 Bike patrols were carried out; 1 at Marina and 1 at Lakeside.
Foot Patrol. We conducted 1 Foot patrol at Pang Sua.
Pedal boat Patrol. 1 Pedal Boat patrol was conducted at Marina.
Physical Bike and Boat Clean Up Orientation for New Applicants. This was conducted for 5 new members at Marina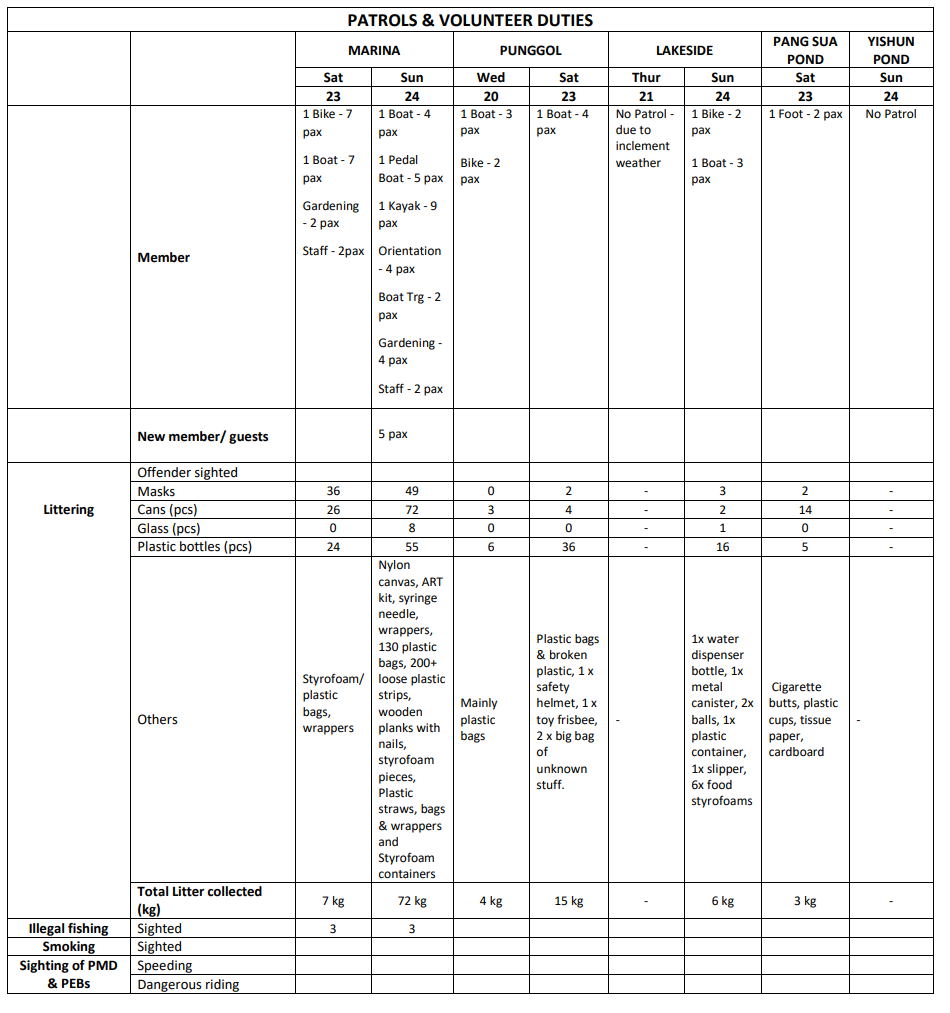 ACTIVITIES AND REPORT
1. Educational Programmes
2. Volunteer Patrols & Activities
     a. Marina
    b. Punggol
    c. Lakeside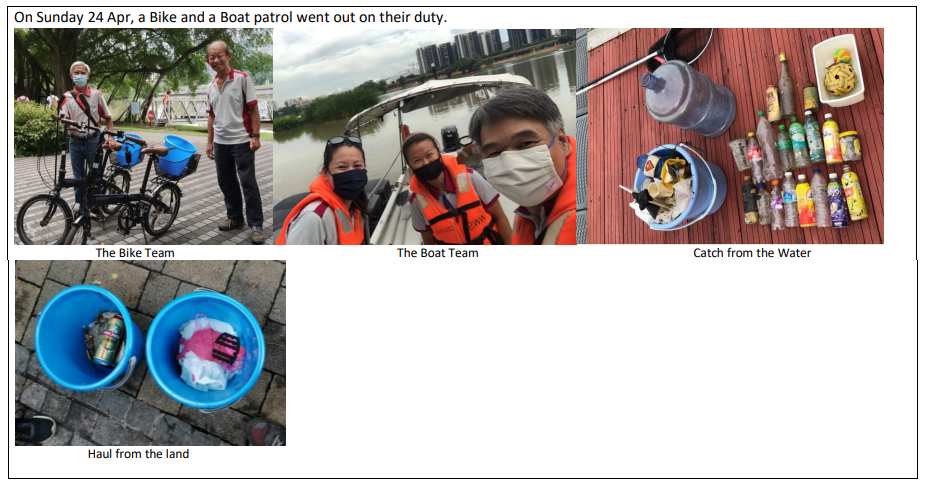 d. Pang Sua Pond
    e. Yishun Pond Patrol