Dear Friends,
We had a very eventful week this week. A total of 7 programmes where 4 were for schools, 2 for corporates and 1 for pioneers (others). We started the week with a WWE: PLAY at Punggol (Frontier Primary School). After which, we had 2 Kayak Clean up sessions with secondary school students from Damai Secondary School. We also had a coastal clean up programme with Singapore Land Authority (SLA) at Pasir Ris park, a Kayak Clean up programme for participants from Rainbow centre and a power boat programme for pioneer citizens. This Saturday, we had a very active and eventful Saturday. Our members came down this Saturday to do gardening, helped in repair and upgrading works under operations, painted the boat and touch up our kayak trailer, apart from our usual bike patrols. There was a "In Conversion" seminar for our CEO organised by Raffles Interact Club. This week, we had a total of 18 safety boat duties done this week. For the week, we collected 125KG of litter, of which more than 50% was of plastic origin. During the week we received some good news on funding initiatives from a Corporate Capital International however we were also informed by OCBC Care that our proposal for 2019/2020 funding not successful.
Dear friends,

During this short Christmas week, we managed to complete 3 programs, 2 L.O.V.E Punggol programs and 1 Coastal Clean-up program (Oversea-Chinese Banking Corporation Limited (OCBC). This week, we collected a total of 76 KG of litter, where 70% are of plastic origin and lots of Styrofoam were collected at East Coast Beach Area H. There were 7 Safety Boat service provided this week mainly due to Countdown.
This week, we did not have any weekend patrols in Marina and Punggol. However, we had 3 new members sign up during the Christmas week. Total December sign up totalled to 10. During this week, we also managed to conduct 2 days of housekeeping.
This weekend, our members attended the final session of the First Aid Course. All Fourteen of us attended and passed the course.
On Saturday, we had a Christmas Potluck session with our members.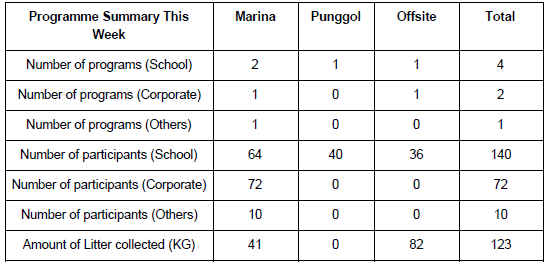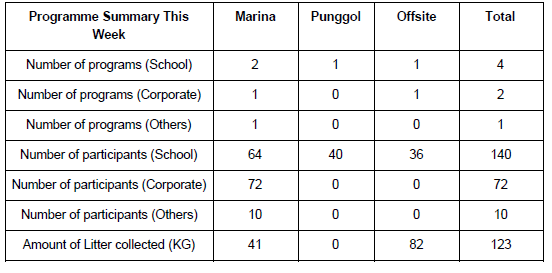 This week, we were supported by 36 members in the weekend for patrol and 27 members over the week for programmes. We had a bike patrol on Saturday and boat patrols on Sunday in Marina and a bike patrol in Punggol. There were no engagement done on littering in both locations however Punggol patrol had 8 engagements on Smoking and 2 engagements done on illegal fishing in Punggol Waterway Point.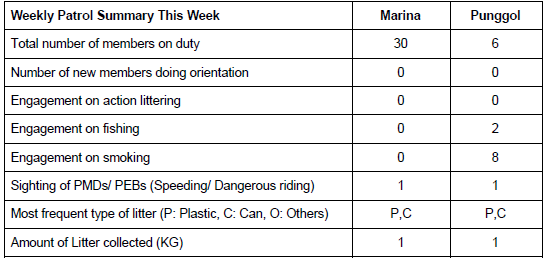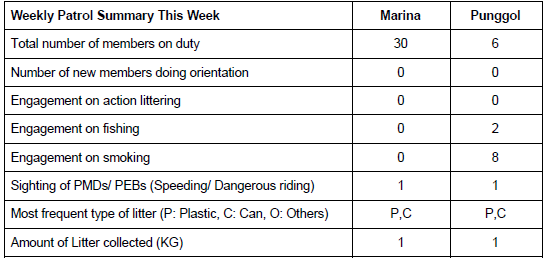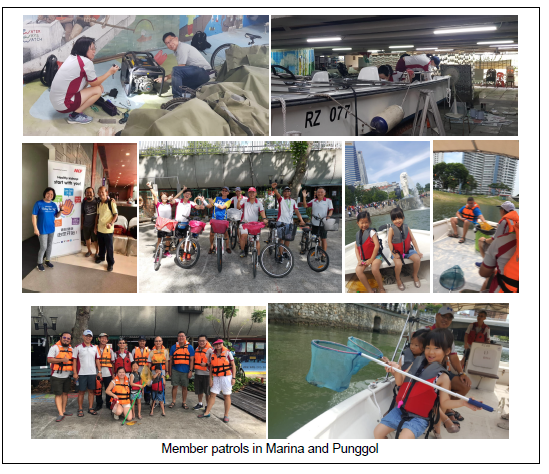 During our sunday boat patrol, our patrol members were greeted by the otters in the Marina Reservoir opposite the mirage tower before Kim seng bridge