Dear Friends,
Apologize for the delay on this report. Last week we did 4 programmes: Virtual Assembly Talk for Admiralty Secondary School (33 students) and Greenwood Primary School (37 students) which both sponsored by NWCDC, one session of Foot Waterway Cleanup for 24 participants from Maybank Singapore, and 22 participants did a Kayak Cleanup Programme organized by WWF. WWF will do another session of Kayak Cleanup next week. The total litter collected during the two cleanup programmes was 102kg and they collected 47 masks as well. We also gave a talk for EDGE Learning Journey at Punggol (see photos).
We continue to be concerned with bad social behaviour by some members of the public as even on a scaled down patrol we managed picked-up about 40 masks.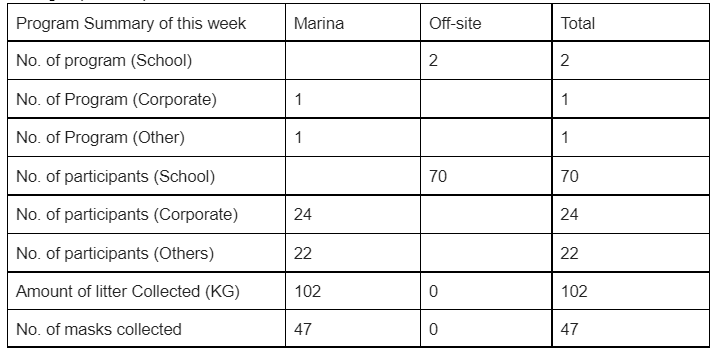 On Wednesday, three members came down to Punggol Office for boat maintenance and did a simple litter picking around the office. Quite a number of litter was picked up from the sand pit near WWS Office (see photo). We remain concerned with our regular sightings of Otters and Stray dogs enjoying the same sandpit as the children.
As the community cases were gradually increasing, we reduced our patrol numbers. On Saturday morning at Kallang, we had 2 members doing bike patrol, and 3 members did boat patrol, plus 1 member did gardening and 2 admin support (see photos). The boat patrol found the Singapore River was clean, and only 3kg of litter was picked up, which was mainly plastic bags (see photos). The bike patrol picked up 7 masks from the regular hotspot – the area around the Singapore Flyer (see photos).
On Saturday afternoon, bike and boat patrol was carried out at Punggol with 3 and 2 members respectively (see photos). The Punggol Waterway Park was relatively busy and the water had slightly more litter than usual, especially in front of the PUB Station 10. There was some sighting of algae bloom around the Kelong Bridge area and Serangoon Reservoir under Sunrise Bridge – the aerators were not working for weeks (see photos). The boat patrol picked up about 10 kg of litter, consisting mainly of plastic waste. The bike patrol group picked up a lot of litter next to the HDB blk 316D under the town council area. The wooden footpath next to the lamp post E7-D/W-208 was damaged. The nearby ponding area was found with algae growing on the footpath making the ground very slippery (see photos). High concentration of pigeons is roosting and dropping under Punggol Road (see photos). We hope AVS could take some action to control the pigeon population. In addition, many shared bicycles left and parked at non designated parking lots with one being locked to the tree using own lock and chain for personal use (see photos). In total, the Punggol Saturday patrol groups picked up 14 kg of litter and 8 masks.
On Sunday morning, a total of 10 members performed duty at Kallang HQ, including 4 members did bike patrol, and 2 groups of 2 members did boat patrols plus 2 admin (see photos). The water in Marina Reservoir and Kallang Basin was not so dirty but a lot of litter was found along the shore near the Duck Tour Launching area (see photos). In total, 11 kg of litter was collected by all three patrol groups, but the bike patrol alone picked up 13 masks (see photos).
In the afternoon, 3 members did bike patrol and another 3 members did boat patrol at Jurong Lake (see photos). There were lots of picnickers along the waterfront. The bike patrol group picked 7kg in total and 5 masks. To highlight, they collected 25 beer cans and 16 lighters from various locations which are mainly near picnic areas. We suggest Npark to send enforcement officers more often, especially in the evenings and night time. On the other hand, the boat patrol group found the water was generally clean and the water level was high. They only picked up 1.5kg of plastic litter.