Dear Friends,
This week, our programs started to come back to WWS. In total, we conducted nine programs. For schools, we conducted three sessions of Kayak Waterway Clean-up for total 182 students from River Valley High School and two sessions of Kayak Waterway Clean-up for total 105 students doing their OBS Camp. As for the corporate side, we did another round of Lunch Talk plus Coastal Clean-up for 140 staff of KPMG and did a Kayak Waterway Clean-up for 40 new citizens as usual. In addition, we hosted a family event of FOGG Ptd Ltd for 37 pax of parents and kids, doing Foot Waterway Clean-up. CEO had a meeting with SDBA and LTA respectively. SBDA wanted to enquire about potential partnerships in environment water sustainability and LTA updated us on latest changes regarding PMDs and E-Scooters.
In total, 412.2kg of litter was collected during this week programs, OBS students even picked up a drone from water (see photo).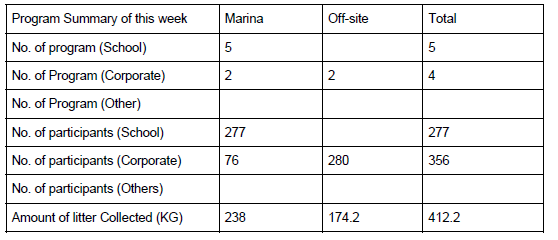 During weekdays, our Punggol Team did one bike patrol on Wednesday and one boat patrol on Friday( three and two members attended respectively). The Punggol Waterway was clean and quiet during the weekdays.
On Saturday morning, three members went out for bike patrol at Kallang. A lot of litter had accumulated near the water edge along Dragon Boat Beach area (see photos). On the jetty next to it, plenty of plastic bottles and a fishing line with hook was found (see photos). Clearly, litter was left behind by anglers. In other hotspots for littering, like the corner opposite of the Volleyball sand pitch and the railings along Rhu Cross, the situation was not improved. A few plastic bags and plastic bottles were found this week (see photos). Proceeding the patrol, in the YOG park, the timber strips of the stainless steel sculpture dislodged with protruding screw, while the timbers were meant for seating (see photos). There was also a lot of litter on the embankment in front of Flyer (see photos).
In the afternoon, two members did bike patrol at Punggol plus one new member joined doing her orientation. The Punggol Waterways was clean and quiet this time, members picked up 0.5kg of litter. There was no sighting of wild life during this patrol but the area under the Punggol Road Bridge was still stained with pigeon droppings.
On Sunday morning, there was a big group of members who turned up for patrol, there were 14 members for bike patrol, 13 members for boat patrol and also eight new members who were doing orientation on bike. There were strings and decoration left behind at pavilion BLDG. NO. 1693-04 and also two bicycle wheels aboundanted next to this pavilion, near lamppost A-1/60 (see photos). During the later patrol, members engaged another three groups of party goers using pavilions, to educate them remove all decorations after they left and leave no trace and engaged (see photos). They even engaged one group picnicking near Duck Tour Launching area, cooking with open fire (see photos). They stopped cooking after engagement. Members also engaged one male using hammock near lamppost A383, advised him to take down as tying up stuff on tree is not allowed (see photo). What's more, a lot of rubbish was spotted along SportHub, Kampong Kayu Rd BLK 1 carpark (see photos).
Lunchtime had about 50 members present for steam boat as a farewell party for one of our regular member going to China to work for one year.
In the afternoon, bike patrol was conducted at Jurong Lakeside Garden with four members. One more members stayed at the office doing admin work. Along the cycling path there was not much rubbish; while most of the rubbish was collected along the shore between walking boardwalk near WWS container office and the platform in front of Fusion Spoon Restaurant. A total of 4.3kg was collected.