Dear Friends,
Happy Chinese New Year!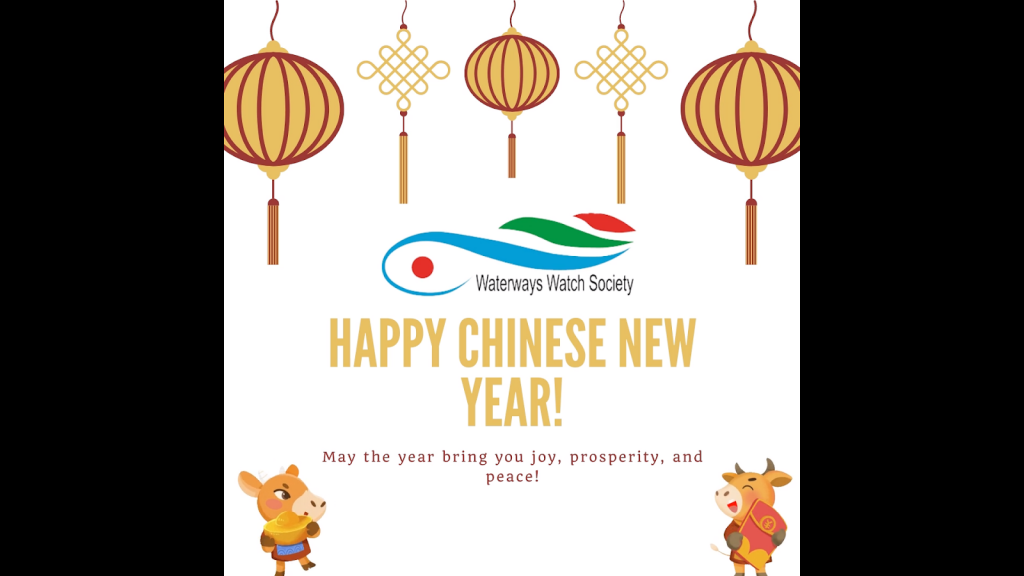 This week was yet another quiet week, we did one Virtual Assembly Talk for 5 classes of Damai Secondary School (166 pax).
On Wednesday, 4 members did boat patrol at Punggol (see photos). They picked up an empty bag and a few balls, plus 1.5kg of litter. They saw NPark cleaner washing off the pigeon dropping under the Punggol Rd Bridge.
This Saturday, we had a smaller group on duty; 4 members did a boat patrol at Marina Reservoir and 4 members did gardening (see photos). The boat patrol picked up most of the trash along the Dragon Boat Nursery Beach (see photo). They reported lifebuoy at Water B, Havelock missing (see photos). In total, they picked up 10kg of litter and 6 masks.
On Saturday afternoon, 3 members did bike patrol and 3 members did boat patrol at Punggol Waterway Ways (see photos). The bike patrol found a lot of litter in the water of the fountain pond (see photos). The Damaged light near lamppost E7-4/W-20 and the metal strip of the staircase has not been repaired (see photos). Discarded maintenance materials leftover at Sunrise Bridge not clear for more than 2 weeks (see photos). A concave mirror has been installed at the blind angle outside the construction site after we reported a few weeks ago (see photos- thank you). The boat patrol reported that lots of litter outside the railing of the view deck in front of BLK 663B (see photos). Two child bikes were found discarded near PUB Station 24 and Lamppost E3-1-29 (see photos). Stray dogs were spotted in front of the lookout pavilion, drinking from the waterway (see photos). So far they appear harmless not In total, 4 kg of litter and 6 masks were picked up.
On Sunday morning, we had a much bigger attendance at Kallang. There were 18 members reported at 10am, 6 of them doing boat training using 2 boats, another 6 members doing regular boat patrol, with another 4 members doing gardening and 2 Admin. At 10:30am, 12 members launched out for pedal boat patrols using 3 pedal boats (to continue their leadership training), and 8 members went for bike patrol (see photos). The boat patrol group reported that the water was basically clean, but lots of trash was accumulated at the Geylang River Mouth near the Indoor Stadium side and the water is too shallow for the boat to reach (see photos). They picked up 10kg of litter, mainly plastic bags, and no mask. As for the three pedal-boats, they went to different locations this time. The red pedal boat picked up 6kg of litter, mostly plastic bottles and plastic bags, plus 3 masks. The blue pedal boat collected 5kg of plastic bags and cans along the wetland in front of Sports Hub and no mask. The green pedal boat picked up 5kg of plastic bags and 3 masks from the jetty near Dragon Boat Beach. Last but not least, the bike patrol group went towards Sports Hub and PA Water Venture Barrage and returned via the same route to WWS. The area they patrolled was overall clean. Member picked litter near jetty facing Medeka Bridge and one discard cardboard at lamp post 27. They also picked up 3 masks and 2kg of litter. In total, the Kallang Sunday patrol collected 28kg of litter and 9 masks.
In the afternoon, there were 10 members turning up for duty at Jurong- 4 went for boat patrol and 6 went out on foot (see photos). The main water body of the lake was very clean, however, plenty of litter floating in the stagnant water near the previous country club. The boat patrol was unable to pick some litter cause the water was too shallow.  Spot one Chinese man fishing at the rocky slope. Advised him to fish at platforms but he refused (reported to PUB). The foot patrol spotted a lot of thrash stuck under the trees near the park entrance but was also unable to reach it (see photos). They picked up plenty of trash that was trapped along the shore, mainly plastic and straws, but also one insulin jet and 5 masks (see photos). The total trash pick up was 18.5kg.