Dear Friends,
WWS was active during this week. We did 3 sessions of virtual assembly talk for Evergreen Primary School covering 1400 students, and 1 session was sponsored by SPH. We also delivered WWE learning trials at Lower Seletar Reservoir for Ahmad Ibrahim Primary School (36pax) and Sembawang Primary School (24pax), both sponsored by NWCDC. At Kallang HQ, CLARINS did two CSR Foot Clean-up programs, with 39 participants involved and collected 100kg in total (see photos). Lagardere Travel Retail also did a CSR Foot Cleanup program for 38 staff and collected 60kg of litter. PwC and Ngee Ann Poly did Kayak Cleanup at Marina Reservoir. There were 22 participants from PwC and they picked up 25 kg of litter from Kallang River Mouth. While, 16 students from Ngee Ann Poly picked up 39kg of litter from Marina Channel (see photos). In addition, on Saturday morning, we did a virtual talk which collaborated with NPark for members of the public-11 (see photos).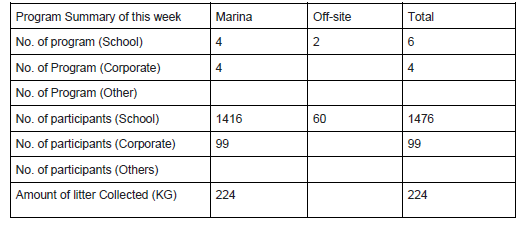 On Wednesday, instead of patrolling at Punggol Waterways, 4 members did housekeeping and boat maintenance at Punggol office (see photos).
The Kallang patrol on Saturday morning was cancelled due to heavy rain, but originally there were 21 members signed up for duty. The tree planting at Punggol in the morning however continued and 9 out of 16 turned up (see photos).
On Saturday afternoon, the weather turned good. 5 members did boat patrol at Punggol Waterways using 2 boats (see photos). The Punggol Waterway itself was relatively clean, but the SengKang Waterway was dirty with bottles, cans, plastic bags, plastic bags with food, tidbits wrappers and straws etc. An oil patch was sighted near Safra pontoon and 415B Fernvale Riverbow (see photos). The float booms of rubbish trap near 415B Fernvale Riverbow was broken and resulted in trash flowing downstream. In total, the Punggol boat patrol picked up 15kg of litter and 5 used masks from water.
On Sunday morning, we held another orientation session for new members. Out of 23 that registered, there were 15 new members who attended the session and 6 members helped to conduct the orientation session as leaders and skippers (see photos). Other than that, 8 members came for a bike patrol and 3 members did pedal boat patrol, plus 3 members as admin support with 2 doing Gardening. The bike patrol took the route of F1 pit to Marina Barrage and turned back from Stadium. They reported a lot of litter along the Costa Rhu and around the bench next to Dragon Boat Nursery Beach (see photos). One shared bike was abandoned at the embankment in front of F1 pit, near lamppost A2-53 (see photos). They collected 10kg of litter and 8 masks. The pedal boat found the biodiversity pond and the corner next to Dragon Boat Beach was clean on Sunday. They picked up most litter from the Sports Hub area, but the area was less dirty than usual. They spotted one young Chinese man fishing on the wetland in front of Stadium and he was not wearing masks. Members advised him the area is not allowed to fish and he compiled. The pedal boat picked up 12kg of litter plus 8 masks. The orientation groups also picked up litter along the way. They found isolated litter along the Gardens By the Bay park and Singapore River (see photos). All 4 orientation groups collected 14kg of litter and 6 masks. The total litter collected on Sunday was 36kg plus 22 masks.
On Sunday afternoon, 4 members came for a bike patrol and 19 members did a kayak patrol at Jurong Lake (see photos). The Jurong Lakeside Garden was generally clean on land and patrol picked up 3kg of litter (mainly plastics and drinking cans) plus 4 masks (see photos). Members for kayak patrol was split into 3 groups and targeted at bank areas that are not accessible by bike or boat patrol. The litter collected from the waters were mainly plastics and cans, one large styrofoam and one small plastic chair. The total litter collected by kayakers was 58kg plus 13 masks.