Dear Friends,
OVERVIEW
"Ancestors plant the trees; descendants enjoy the shade."

On Sunday 19 June, which was Father's Day, our President Joo Kek led a group of 18 WWS volunteers to do Tree Planting at the War Memorial Park in support of the NPark OneMillionTrees Movement. On reflection, one of our volunteers who was there, shared a Chinese spiritual saying, '前人家种樹, 后人乘涼 (qián rén zāi shù,hòu rén chéng liáng).'It translates literally as 'Ancestors plant the trees, descendants enjoy the shade.' This statement teaches us that if our ancestors have accumulated good virtue through good service to others, then we enjoy the benefits. Hence, we are reminded that our Pioneer and Merdeka generations have imparted good virtue through their good service to nation-building and that we are enjoying the benefits. In that spirit, we will continue to sustain this good virtue.
Our President, Joo Kek reminded us that the planting of trees not only provides shade, but for the whole biodiversity of life on earth which would allow different species of life to flourish and interact with each other, wildlife included. Trees and plants help to improve both air and water quality. They especially help in stormwater management and absorbing pollutants in an urbanised place like ours.
In this regard, the members and volunteers of the Waterways Watch Society will continue to collaborate with NParks, NEA and PUB and other agencies to spread awareness to the community about keeping our environment and waterways clean and safe.
The following activities were done for the week:
We conducted 6 CSR programmes which were attended by 328 participants, and they collected a total of 371 kg of litter. 
We conducted a virtual briefing to 17 new members.
This week a total of 113 members were involved for CSR programmes, talk, patrols, administration, housekeeping duties and training and, the total trash collected = 456 kg.

Boat Patrol. A total of 6 Boat patrols were carried out; 3 at Marina, 1 at Punggol and 2 at Lakeside.
Bike Patrol. A total of 4 Bike patrols were carried out; 1 each at Marina and Punggol and 2 at Lakeside.
Foot Patrol. We conducted 1 Foot Patrol at Pang Sua.
Pedal boat Patrol. 2 Pedal Boat patrols were conducted at Marina.
Physical Boat Clean Up Orientation for New Applicants. A Boat clean up orientation was conducted for 2 new members at Lakeside.
Boat Tour for Frontline workers. We conducted a boat tour for a Frontliner and her family at Marina.
ACTIVITIES AND REPORT
1. Educational Programmes
2. Volunteer Patrols & Activities
     a. Marina
    b. Punggol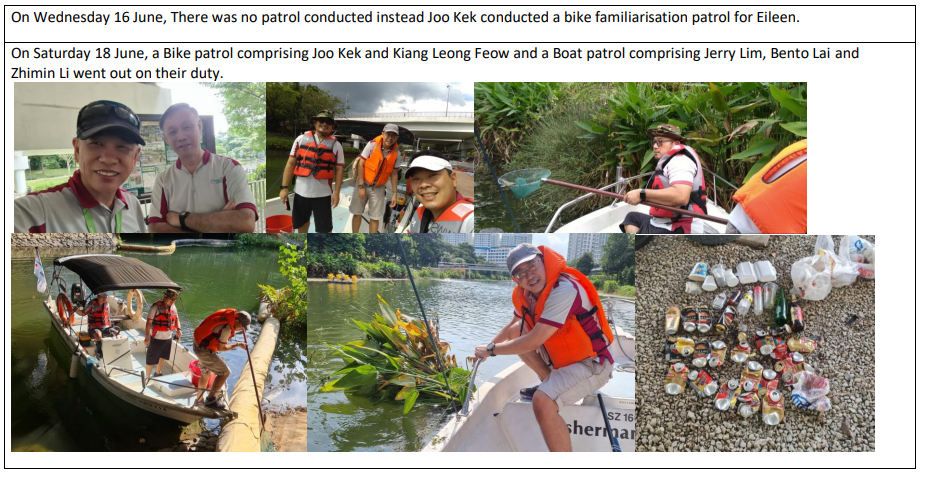 c. Lakeside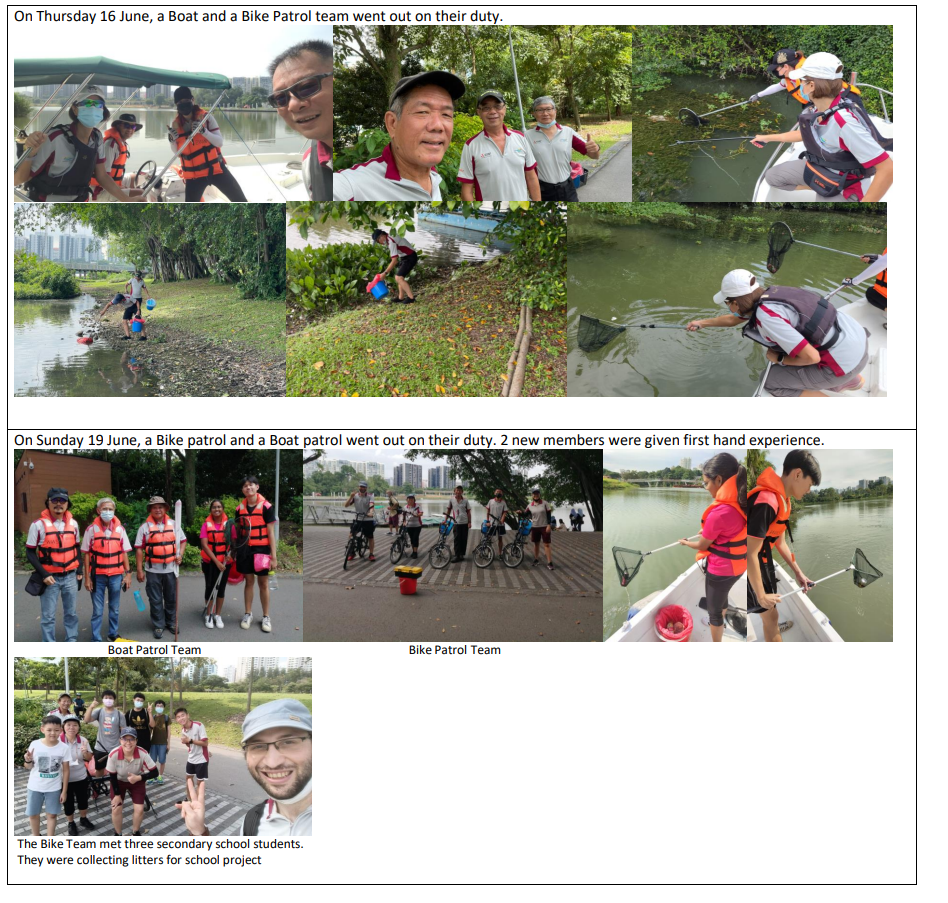 d. Pang Sua Pond

    e. Yishun Pond Patrol