Dear Friends,
OVERVIEW
"The things we do not do right contribute to rise in Dengue!"
Duane J. Gubler, Professor of Emerging Infectious Diseases, Duke-NUS GMS, Singapore have made mention that "there are many factors that have contributed to this emergence of epidemic dengue, but only three have been the principal drivers; 1) Urbanisation, 2) Globalisation and 3) lack of effective mosquito control. The dengue viruses have fully adapted to a human-Aedes aegypti-human transmission cycle, in the large urban centres of the tropics, where crowded human populations live in intimate association with equally large mosquito populations. This setting provides the ideal home for maintenance of the viruses and the periodic generation of epidemic strains. These cities all have modern airports through which 10s of millions of passengers pass each year, providing the ideal mechanism for transportation of viruses to new cities, regions and continents where there is little or no effective mosquito control." Singapore is not spared.
We like to add that our littering in our urbanised island setting may be a major contributing factor to our dengue situation now. NEA has put in the necessary effort to stem the tide but, if we the citizens do not play our part responsibly, it would be futile work. Yes, the litter such as cups, cans, open bottles and plastic bags are commonly found indiscriminately disposed of in bushes and at the water edges of our reservoirs and waterways and in corners of buildings and public sheds. Without a doubt, if there is no timely clearing of these litter they can be conducive breeding grounds for mosquitoes.
Certainly we need more enforcement and education and equally importantly, people must act to be more socially responsible to fight this epidemic. Stop Littering!
It is not totally lost for Waterways Watch society. Last weekend one of our members, while doing his bit in litter picking at Pang Sua pond and its adjacent park, met a middle-aged lady who was doing her bit to pick up litter while exercising. She said she picked up the courage to do it because she had seen two of our members doing their bit sometime earlier. Though she was not keen to join our society, she was keen to do her own bit in her neighbourhood. We need more of these citizens.
The following activities were done for this week:
We conducted 8 CSR and 2 VIA programmes which were attended by 321 participants and 80 participants respectively, and together they collected a total of 617 kg of litter. 
We did a sharing at Crest Secondary School to 8 students who wanted to do a project with WWS.
Our President Joo Kek did a sharing about sea turtle conservation and protection to WWS staff and facilitators. This preview was done as we have an upcoming major Beach Clean-up and our Facilitators involved need to be briefed.
An On-the Job Orientation was conducted for 11 new members on their roles and responsibilities when doing patrol. A reflection was done with all members by the CEO.
This week a total of 132 members were involved for CSR/VIA programmes, talk, patrols, administration, housekeeping duties and training and, the total trash collected = 669 kg.

Boat Patrol. A total of 7 Boat patrols were carried out; 2 at Marina, 3 at Punggol and 2 at Lakeside.
Bike Patrol. A total of 5 Bike patrols were carried out; 2 at Marina, 1 at Punggol and 2 at Lakeside.
Foot Patrol. We conducted 1 Foot Patrol each at Pang Sua and Yishun.
Pedal boat Patrol. No Pedal Boat patrol was conducted at Marina.
Physical Bike and Boat Clean Up Orientation for New Applicants. This was conducted for 11 new members at Marina
Boat Tour for Frontline workers. We conducted a boat tour for a Frontliner and her family at Marina. As usual there was a short introduction and sharing about Waterways done by the CEO.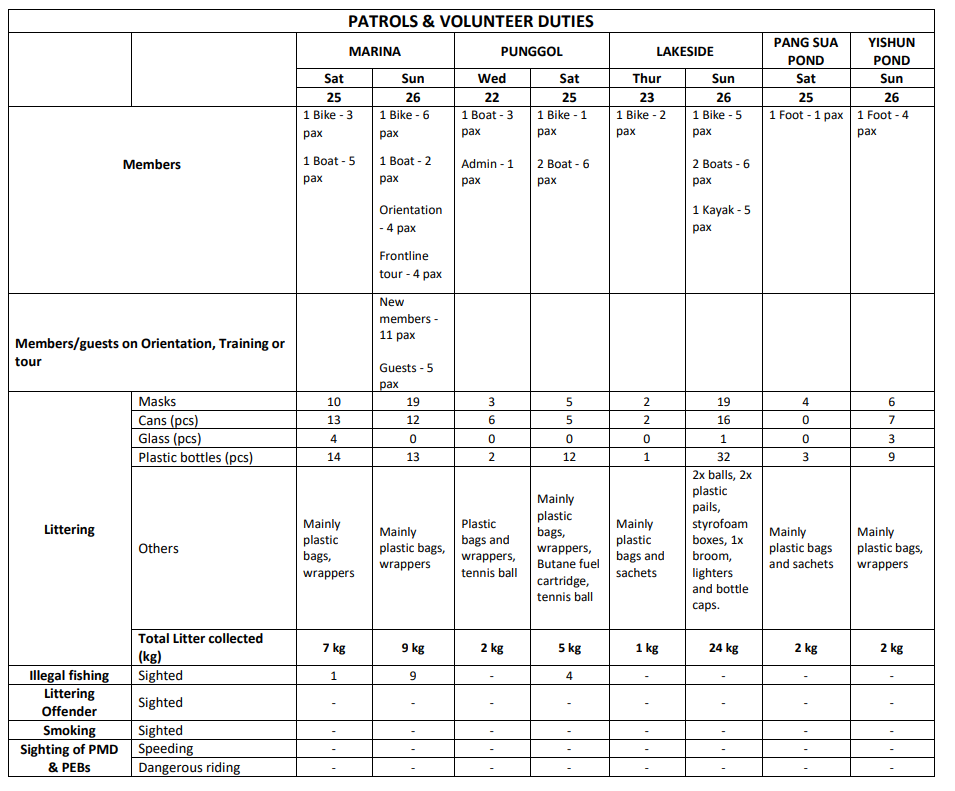 ACTIVITIES AND REPORT
1. Educational Programmes
2. Volunteer Patrols & Activities
     a. Marina
   b. Punggol
    c. Lakeside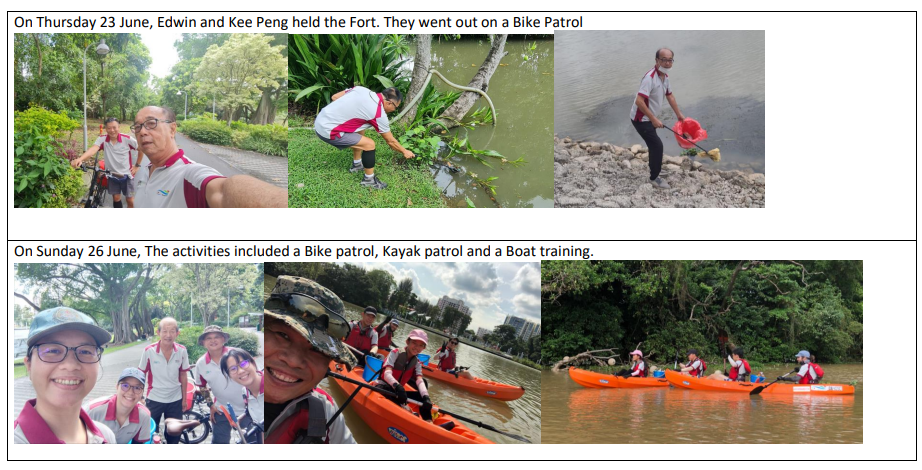 d. Pang Sua Pond

    e. Yishun Pond Patrol