Dear Friends,
OVERVIEW
"What is A Clean and Safe Environment?"
Our third National Garden, Jurong Lakeside Garden is a pride for all of us; the largest nature playground in the heartland. It was created for families and communities to come together. It is a People's Garden and it should be kept clean by all of us. We must take ownership of it. However, on our routine patrols in the park we noticed evidence of irresponsible acts of littering. It is a grave problem especially when it is next to a reservoir. Park users leaving plastic ground sheets, cardboards, food containers, food remains, plastic bags, cans and bottles on the ground. Litter from the housing floats into the reservoir and lodged in the water plants. The litter left on the ground unchecked and untimely disposal not only creates an unsightly sight but also creates an unhealthy environment.
What then is a clean and safe environment? It is a sustainable environment that is free of any form of pollution and its effect. It means clean air, clean water, and clean energy. In short, it is a healthy, hygienic and safe environment. Keeping the environment clean is the key to survival of life on planet earth. We need to stress and educate the public on the importance of keeping the environment clean and safe especially with regard to proper waste disposal. We are reminded that we have "Only One Earth", with focus on "living sustainably in harmony with nature" (Theme for World Environment Day 2022).
The Waterways Watch Society will continue its mission through its many programmes and activities to stress the importance of keeping the environment clean and safe for individuals.
In summary, the following activities were done for the week:
We conducted 7 CSR and 2 VIA programmes which were attended by 234 participants and 72 participants respectively, and together they collected a total of 308 kg of litter.
We conducted 1 virtual Learning Journey to 211 students of Casuarina Primary School.
A Boat Training was conducted at the Marina for 2 members so as to familiarise them with the waterways and its surroundings.
This week a total of 136 members were involved for CSR/VIA programmes, talk, patrols, administration, housekeeping duties and training and, the total trash collected = 382 kg.

Boat Patrol. A total of 8 Boat patrols were carried out; 4 at Marina, 2 at Punggol and 2 at Lakeside.
Bike Patrol. A total of 4 Bike patrols were carried out; 3 at Marina, 0 Punggol and 1 Lakeside.
Foot Patrol. We conducted 1 Foot Patrol each at Lakeside and Pang Sua.
Pedal boat Patrol. There was no Pedal Boat patrol conducted at Marina.
Boat Tour for Frontline workers. We conducted a boat tour for a Frontliner and his family at Marina. One other booking was cancelled at the last minute.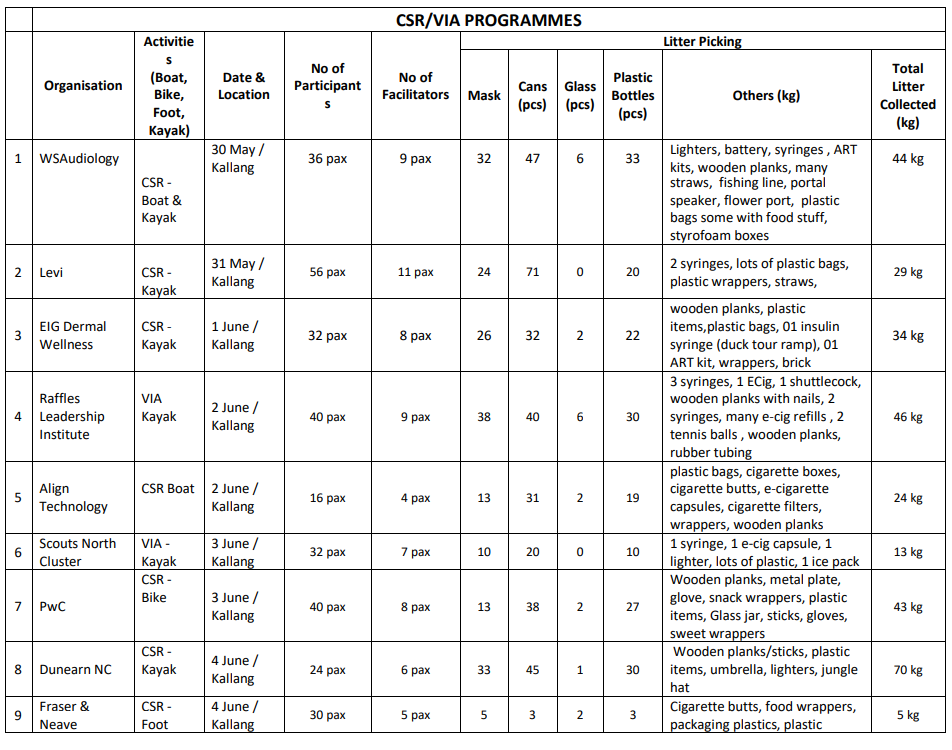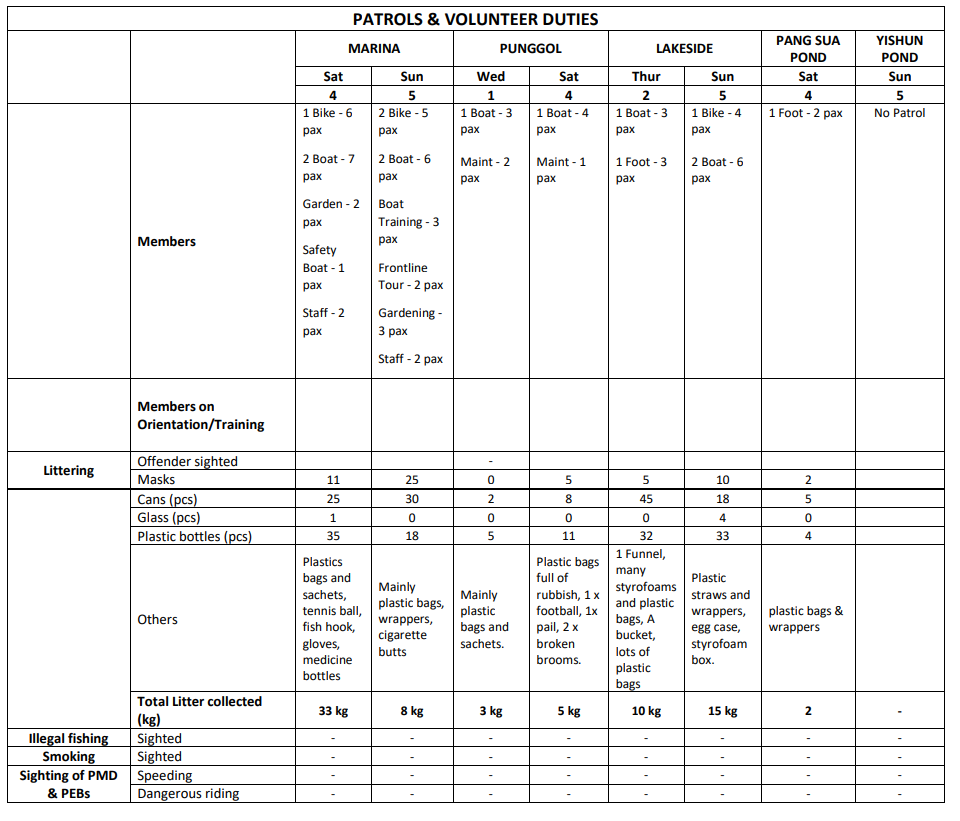 ACTIVITIES AND REPORT
1. Educational Programmes
2. Volunteer Patrols & Activities
a. Marina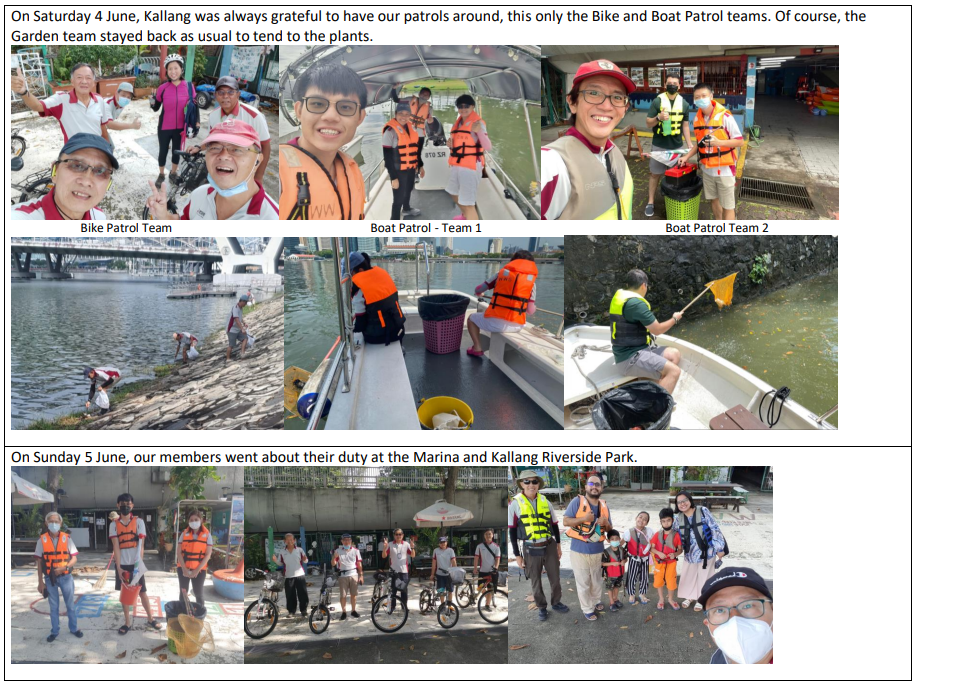 b. Punggol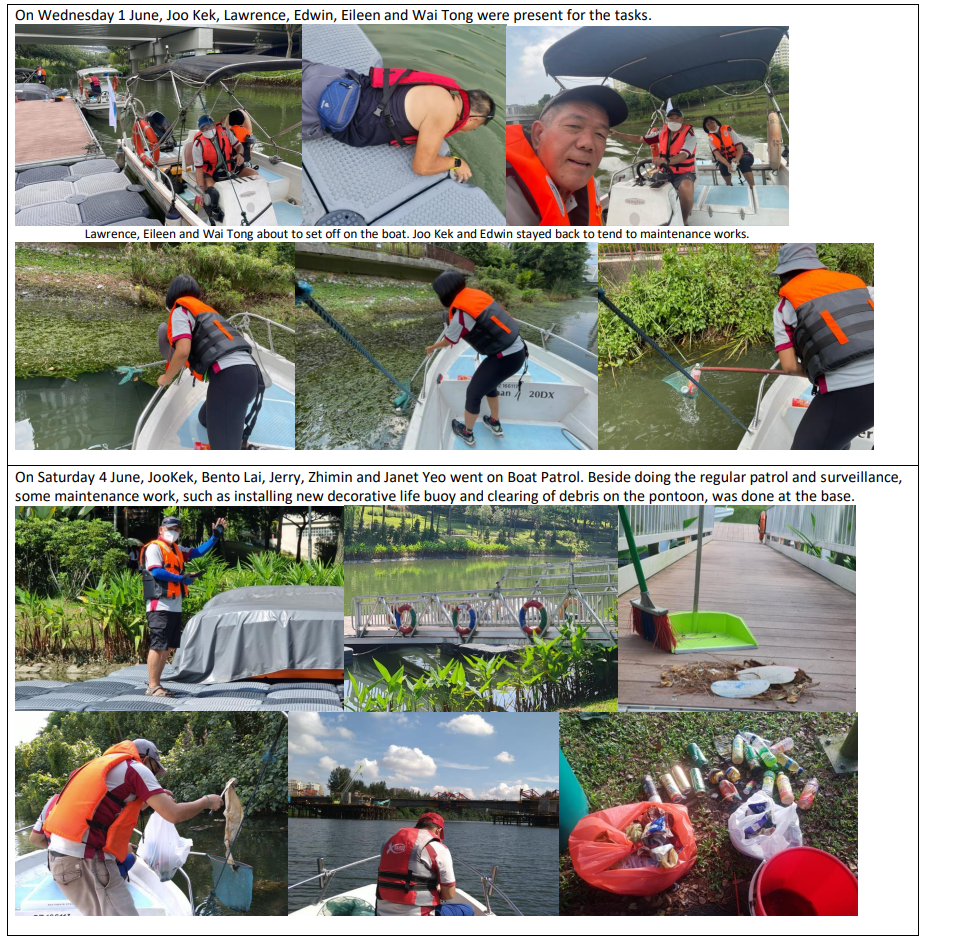 c. Lakeside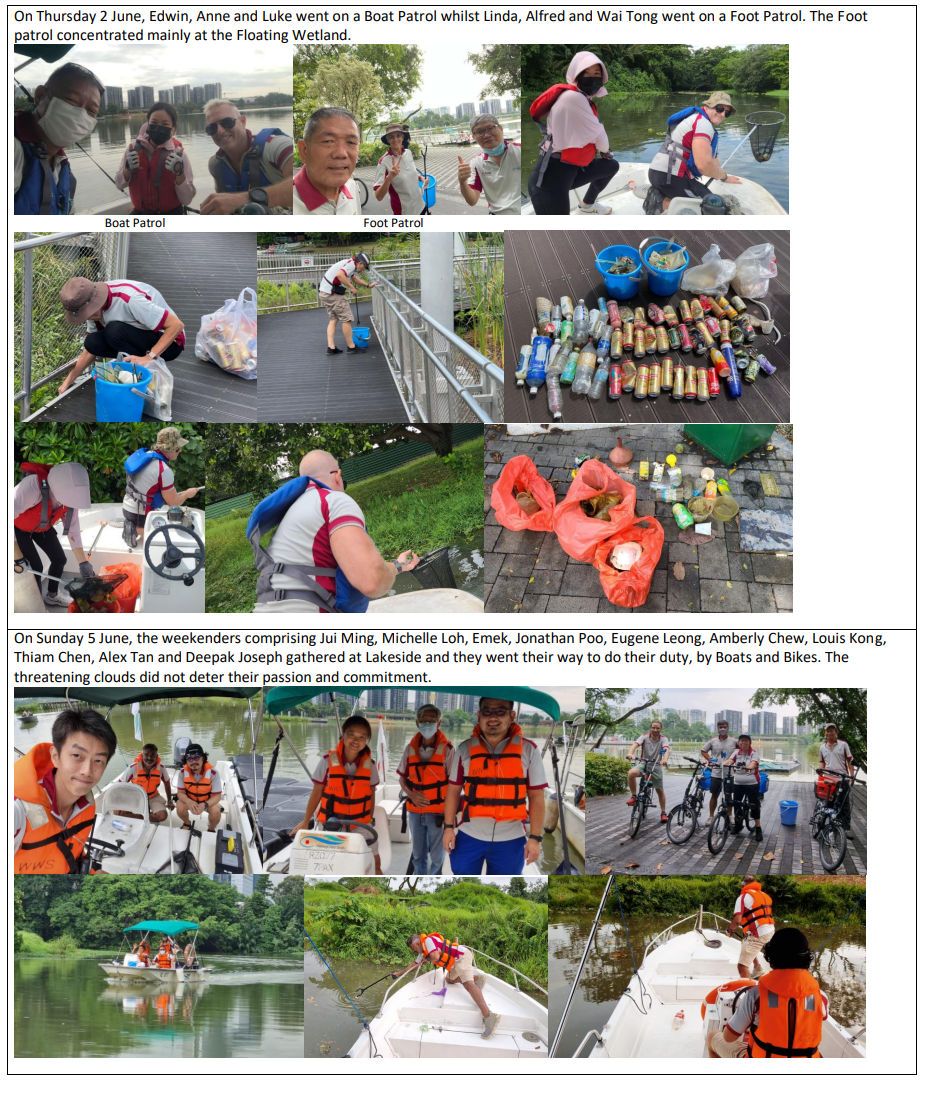 d. Pang Sua Pond
e. Yishun Pond Patrol