Dear Friends,
OVERVIEW
"A City of Garden and Waters"
The ABC programme launched in 2006 was aimed to bring people closer to the water so that they have the opportunities to enjoy and bond with the water so that they can cherish and better appreciate this precious resource. Thus we have features such as wetlands, rain gardens and bioretention swales, all these have natural cleansing properties to treat rainwater on site by removing pollutants from the water.
Last Sunday our members did a kayak patrol and clean-up at Lakeside and they found a lot of litter trapped in the vegetation and in the water near the shore (see photos above). Most of the litter cannot be retrieved from the land and hence, potentially they can be mosquito breeding ground and notwithstanding that, they also pollute and contaminate the water at the same time.
In the past, reservoirs were not places for human activities. This changed in the late 60s when most of our reservoirs were sited close to housing and other build-up areas. We have cleared land for housing and development but we must not forget about nature and the environment. People were encouraged to enjoy the water and the space around the reservoirs. Hence, we must do our part to ensure our environment is sustainable for living. Hence, there is a need for people to be more socially responsible to ensure that it is kept clean.
In the light of the dengue outbreak, we support NEA's drive to spread awareness on how to control the outbreak by sharing with our members and participants. Our presentation slides now includes this topic.
The following activities were done for this week:
We conducted the following Clean up activities:

4 CSR (82 participants); 1 Bike clean up for HP, a Pedal Boat clean up for Twilio, Kayak clean up for Salesforce and AstraZeneca.
2 VIA (232 students); 1 Foot clean up for Woodlands Ring Primary School and 1 kayak cleanup for Ngee Ann Secondary School and they collected 212 kg of litter in total.

We conducted a Learning Journey to Lorong Halus for 120 students from St Andrew Secondary School.
We conducted 2 Virtual Talks, one to 200 students from Woodlands Ring Primary School and another to 102 staff of Autodesk.
We conducted a boat training for 1 member.
This week a total of 141 members were involved for VIA programme, talk, patrols, administration and housekeeping duties and the total trash collected = 349 kg.

Boat Patrol. A total of 6 Boat patrols were carried out; 3 at Marina, 1 at Punggol and 2 at Lakeside.
Bike Patrol. A total of 2 Bike patrols were carried out; 2 at Marina.
Foot Patrol. We conducted 2 Foot Patrols; 1 at Pang Sua and 1 at Yishun.
Pedal boat Patrol. 2 Pedal Boat patrols were conducted at Marina.
Boat Tour. We conducted a boat tour for 3 guests at Marina. In addition we did one free boat tour for a party of 6(kkh) under our Frontline Program.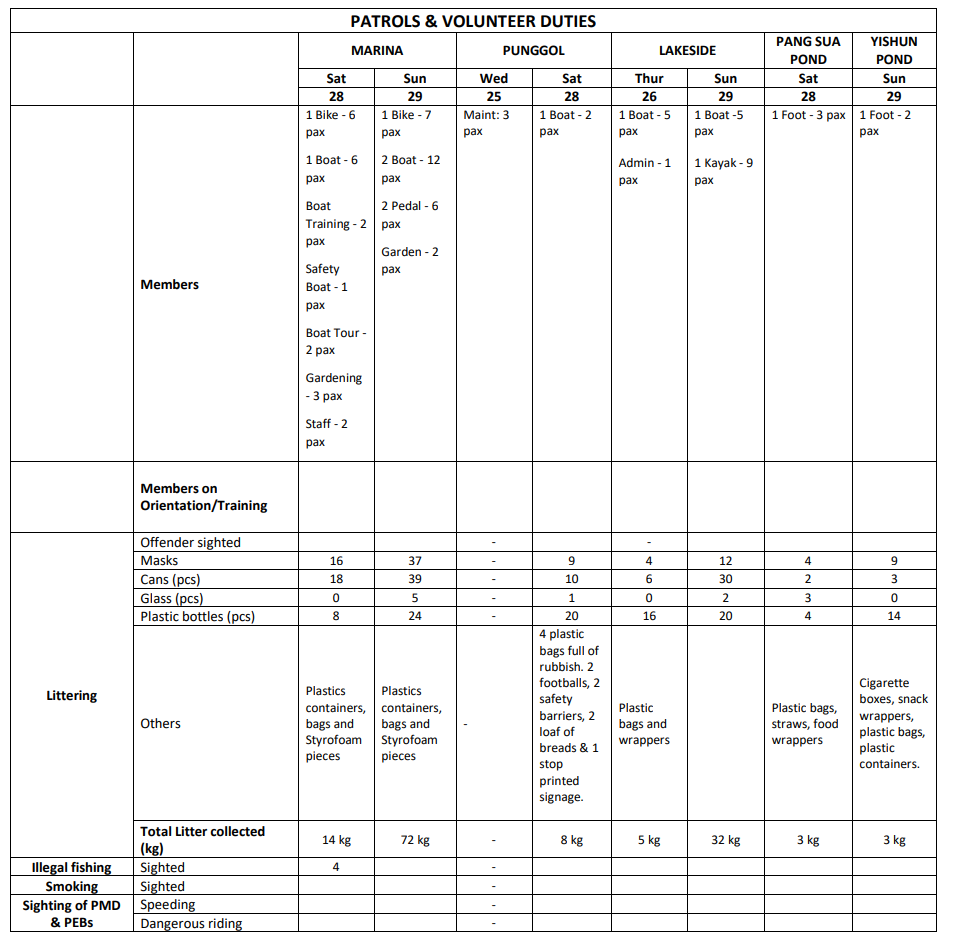 ACTIVITIES AND REPORT
1. Educational Programmes
2. Volunteer Patrols & Activities
     a. Marina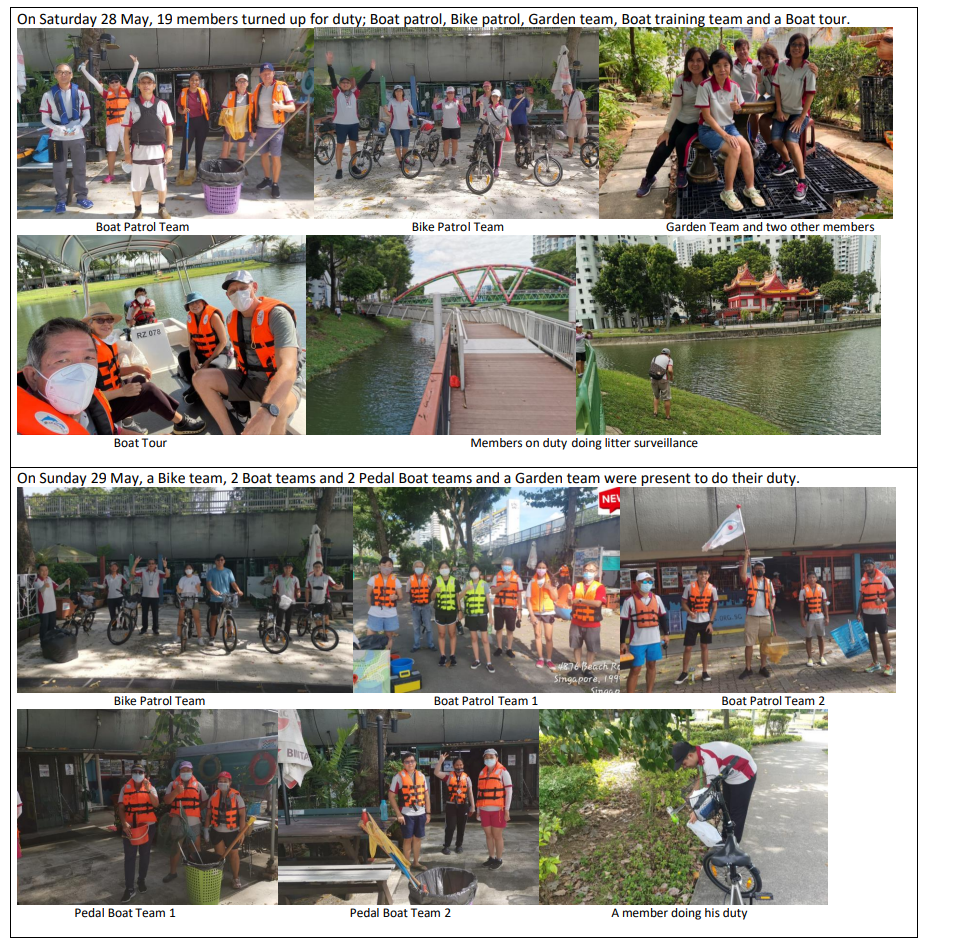 b. Punggol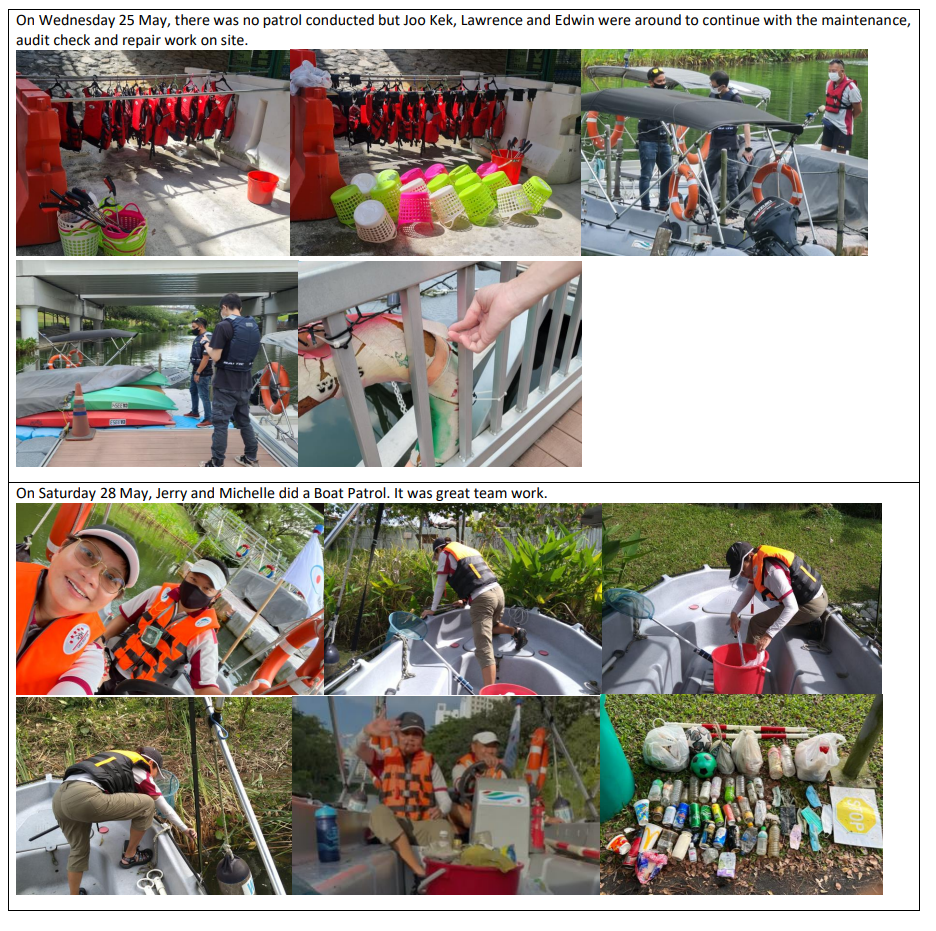 c. Lakeside
    d. Pang Sua Pond

    e. Yishun Pond Patrol