Dear Friends,
OVERVIEW
"Gone with the Wind: Breezy Solutions for Riverside Pollution"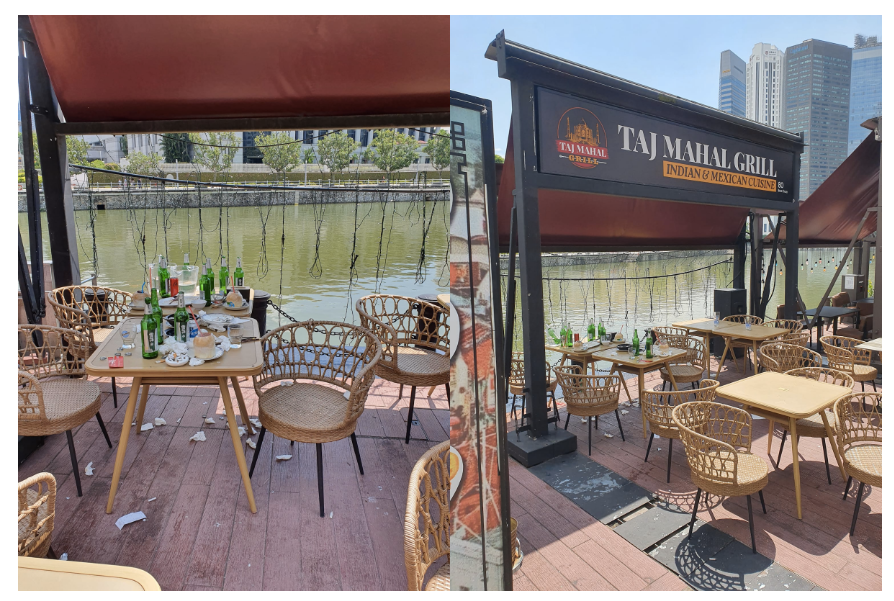 As part of the Waterways Watch Society, it is our duty to consistently address the issue of cleanliness and environmental responsibility, particularly along our cherished riverfront areas. This responsibility cannot be taken lightly, given its impact on our waterways and the well-being of the communities that rely on them. In this context, we recommend that the National Environment Agency (NEA) actively engage with the operators of food and beverage outlets in these areas. NEA's involvement is essential to ensure that high standards of hygiene and cleanliness are upheld. Given the close proximity of trash to the waterways, there is a substantial risk of water contamination. Wind can easily carry litter and debris from the surrounding areas into the water, introducing pollutants and harmful substances. This contamination poses a significant threat not only to the water quality but also to the aquatic ecosystem and overall environmental health. In our ongoing efforts to protect the waterways, it is crucial to recognize the interconnectedness of land-based pollution and water pollution. Neglecting proper disposal and waste management practices can lead to a chain reaction of contamination, negatively affecting the delicate balance of our aquatic environments.
Furthermore, it is advisable to explore partnerships with organizations such as Singapore River One, renowned for its expertise in the management and revitalization of riverfront locations. Their involvement can further bolster our efforts to maintain cleanliness standards along the River Front. By working hand-in-hand with NEA and other relevant stakeholders, we can collectively raise the bar for cleanliness and environmental responsibility in these key areas, safeguarding the unique beauty and vitality of our riverfront locations. The River Front, with its cultural and recreational significance, demands our utmost care and attention. NEA's active collaboration with operators is pivotal in instilling a culture of responsibility within this industry. Such an approach will not only benefit the image and appeal of these areas but also play a critical role in preserving the health of our waterways and the enjoyment of all those who frequent them.
As part of the Waterways Watch Society, it is essential that we highlight the importance of cleanliness and environmental responsibility along the River Front. NEA's engagement with food and beverage outlet operators, in tandem with collaborations with organizations like Singapore River One, will contribute to our shared goal of preserving the cleanliness and vitality of these treasured areas. Our collective efforts will ensure that the River Front remains a source of pride, recreation, and environmental sustainability for the community.
Summary of Activities conducted for the Week
In summary, the following activities were done for this week:
We conducted 4 CSR and 2 VIA programs which were attended by 246 participants, and together they collected a total of 424 kg of litter. It was a hectic week for us.
This week a total of 64 members were involved in CSR/VIA programs, talk, patrols, administration, housekeeping duties, and training.
The total trash collected by the patrol groups was 88 kg.

Boat Patrol. 4 boat patrols were carried out; 2 at Marina and 2 at Punggol.
Bike Patrol. A total of 2 Bike patrols were carried out; 2 at Marina.
Pedal boat Patrol. A total of 1 Pedal Boat Patrol was carried out; 1 at Marina.
Foot Patrol. No Patrol.
Gardening. A team of 8 pax for gardening at Marina for both Sunday and Saturday.
Once again, we sincerely thank all members and volunteers, who came for patrol or for facilitating the CSR/VIA programs, for your time and dedication to the task. Without your support we would not have been able to achieve this. Special mention to the teachers of Pathlight who came down in strength to participate in our kayak cleanup programme. Three cheers to the teachers, students and our facilitators! Young and old, we all must care for our environment. Sustainability is the only way forward.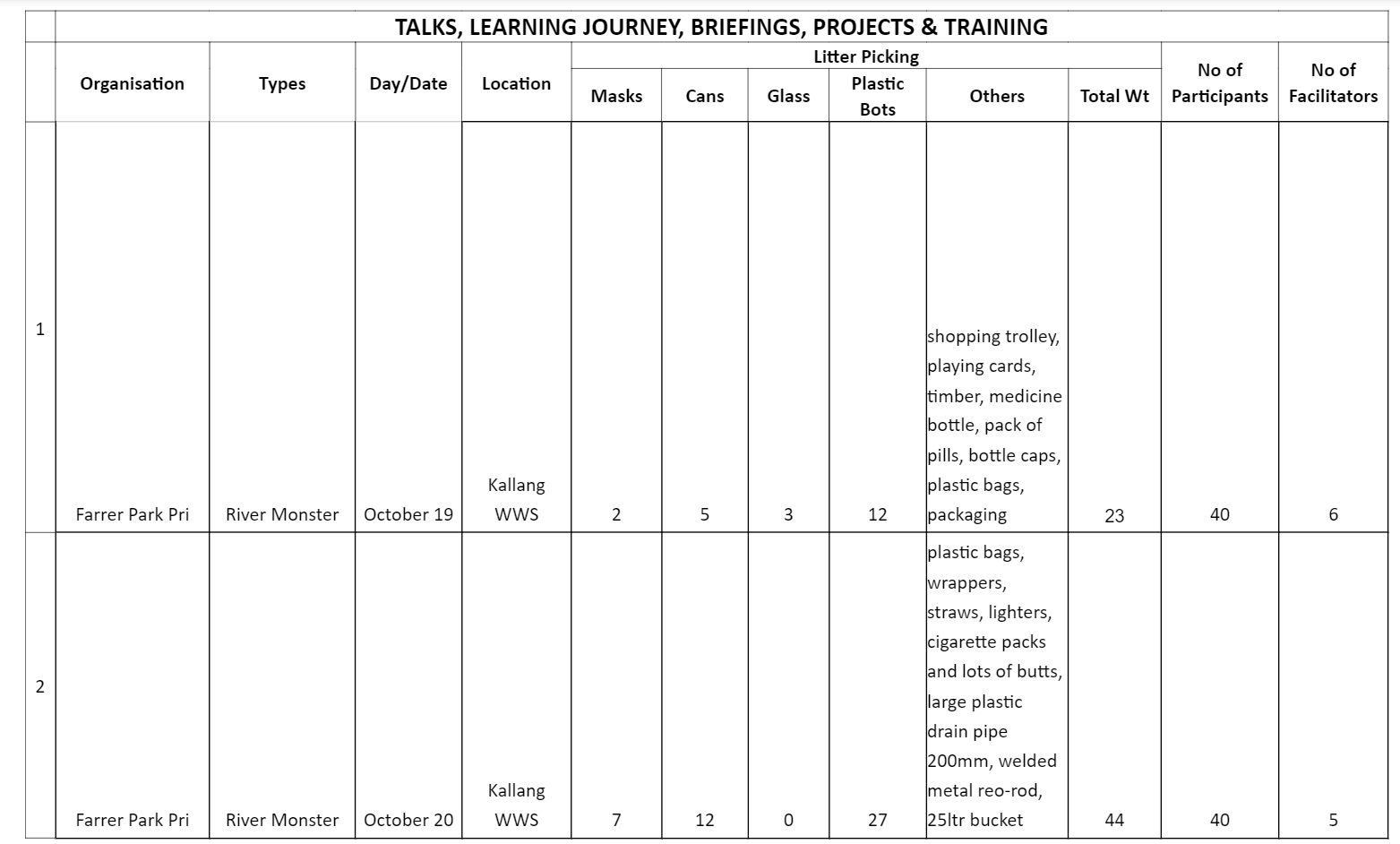 ACTIVITIES AND REPORT
1. Educational Programmes
2. Volunteer Patrols & Activities
a. Marina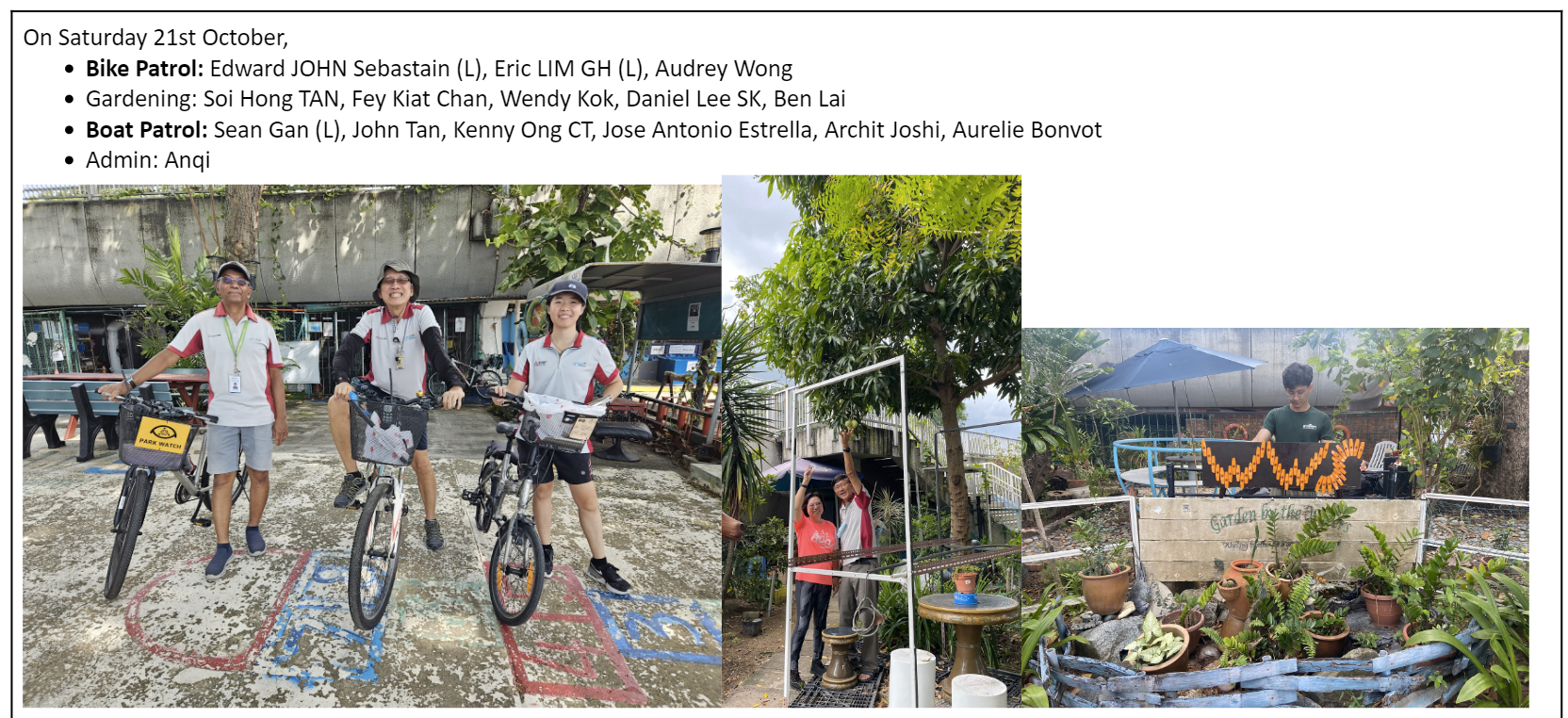 b. Punggol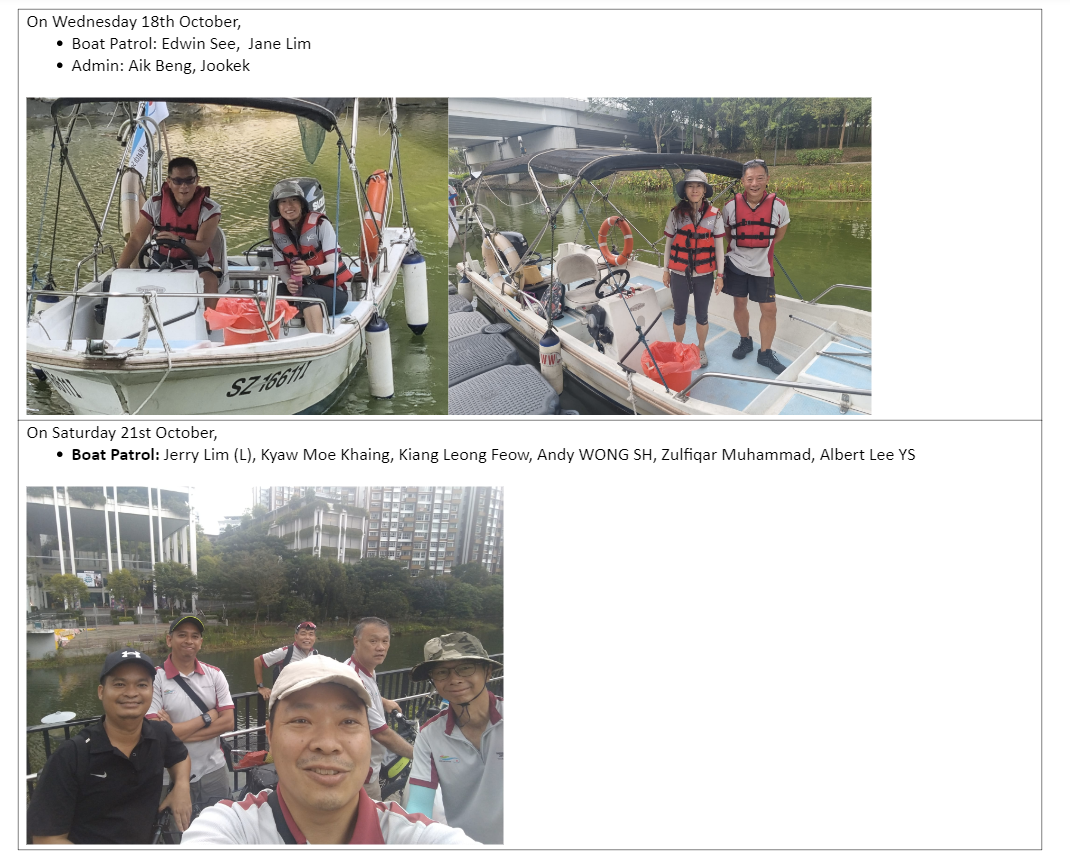 c. Lakeside

d. Pang Sua Pond
No Patrol.