Dear Friends,
OVERVIEW
"Kayaking for a Cleaner Environment"
In a remarkable display of community engagement and environmental stewardship, CSR programmes coupled up with members of Waterways Watch Society kayak-ed their hearts away and made a substantial impact on the cleanliness of local waterways. Waterways Watch Society has long been at the forefront of water resource conservation in Singapore, and their kayak patrol program is a shining example of their commitment. The volunteers, armed with paddles, life vests, and unwavering determination, set out to clean up the waterways, all while appreciating the importance of preserving these natural treasures.
Last week, these dedicated individuals embarked on a mission to collect trash while enjoying the serene beauty of Jurong Lakeside. The results were truly remarkable. During our members' kayak patrols, the team was able to collect a staggering 80 kilograms of trash from the waterways, showcasing the undeniable impact of their efforts. Items such as plastic bottles, bags, and various debris that had found their way into the water were removed, contributing to a cleaner and healthier ecosystem for the local wildlife and the community.
However, the success story doesn't end there. The CSR programs involved in this initiative also rose to the challenge and went above and beyond. Together, they highlight the significant role that corporate social responsibility can play in addressing environmental concerns and making a positive difference.
The collective efforts of the kayak patrol and the CSR programs send a powerful message: when individuals and businesses come together to protect and preserve their natural surroundings, meaningful change is not only possible but achievable. They have made a substantial contribution to the sustainability and well-being of their local environment.
The impact of these endeavours extends beyond the weight of the trash collected. It serves as a reminder of the collective strength of communities and organisations working in unison to protect the environment. By kayaking their hearts away and cleaning up their local waterways, these volunteers and CSR participants have set an inspiring example for others to follow, demonstrating that when we work together, we can create a brighter and cleaner future for all.
Summary of Activities conducted for the Week
In summary, the following activities were done for this week:
We conducted 6 CSR and 3 VIA programs which were attended by 859 participants, and together they collected a total of 163 kg of litter. It was a hectic week for us.
This week a total of 62 members were involved in CSR/VIA programs, talk, patrols, administration, housekeeping duties, and training.
The total trash collected by the patrol groups was 104 kg.

Boat Patrol. 2 boat patrols were carried out; 1 at Marina and 1 at Punggol.
Bike Patrol. A total of 2 Bike patrols were carried out; 1 at Marina and 1 at Jurong Lakeside.
Pedal boat Patrol. No Patrol.
Foot Patrol. No Patrol.
Gardening. A team of 6 pax for gardening at Marina for both Sunday and Saturday.
Once again, we sincerely thank all members and volunteers, who came for patrol or for facilitating the CSR/VIA programs, for your time and dedication to the task. Without your support we would not have been able to achieve this. Special mention to the teachers of Pathlight who came down in strength to participate in our kayak cleanup programme. Three cheers to the teachers, students and our facilitators! Young and old, we all must care for our environment. Sustainability is the only way forward.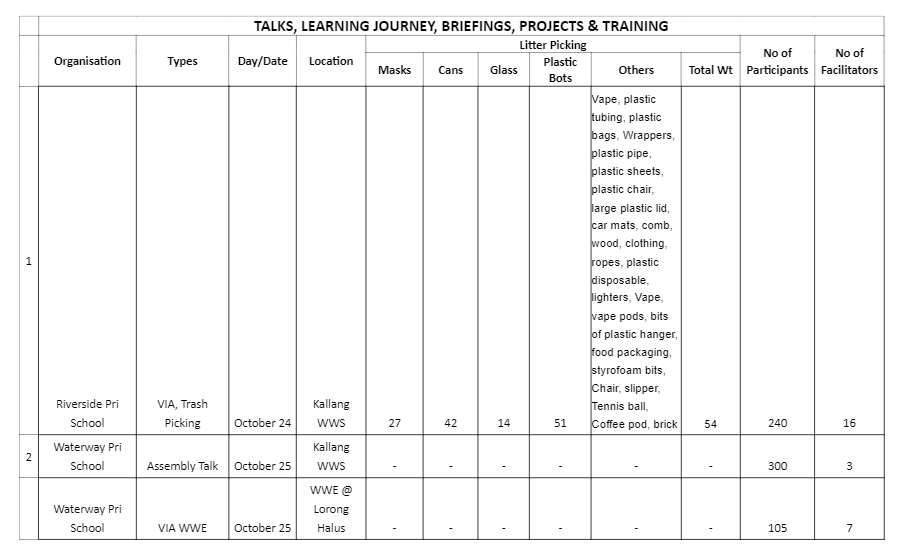 ACTIVITIES AND REPORT
1. Educational Programmes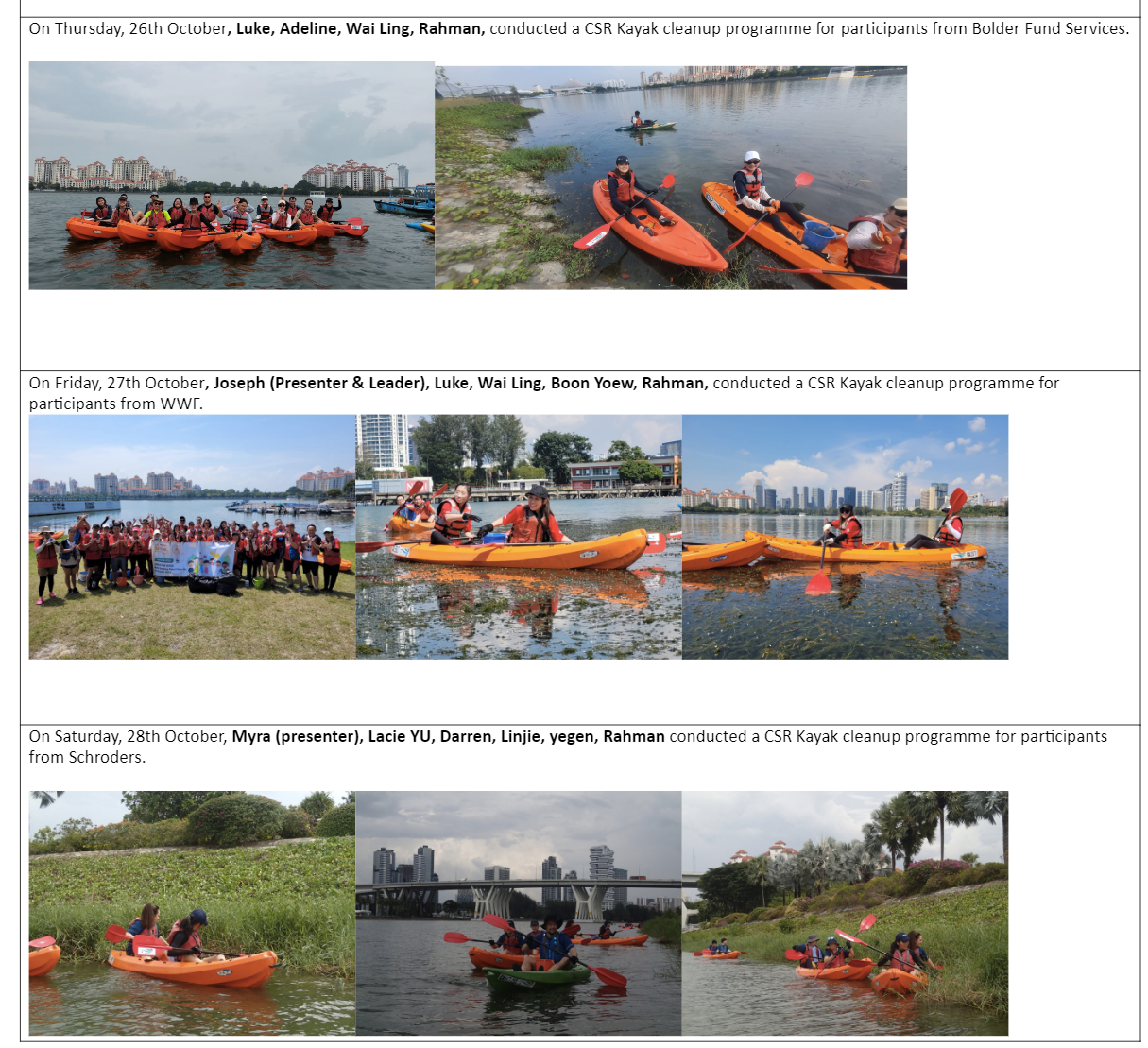 2. Volunteer Patrols & Activities
a. Marina
b. Punggol
c. Lakeside
d. Pang Sua Pond
No Patrol