Dear Friends,
This week was a short week due to Good Friday. On Monday and Tuesday, we organised a First Aid Training for 10 (staff and facilitators). Another is scheduled for the coming weekend for another 11.
Being a short week (Easter Holiday), we only conducted 4 programs this week: one Virtual Assembly Talk for Tanjong Katong Primary with 1300 students attending, one Bike Waterway Cleanup for 11 staff of MuleSoft and two Kayak Waterway Cleanup for 25 participants from NUS and another for 9 participants from NVPC. Notably, the NVPC participants picked up 14 masks from water during their cleanup activity. In total, 123 kg of litter was collected by the three VIA Clean-up programs.
During the weekend, Waterways is seeing an increase in litter masks. Over 70 collected this weekend alone.
On Good Friday, 7 members came to clean the Biodiversity Pond (see photo).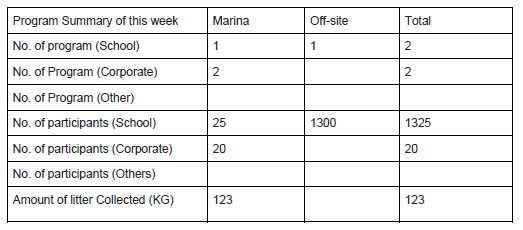 At Punggol Waterways, the weekday boat was carried out by 3 members. They reported the waterways was very dirty with a lot of litter and they collected 2.5kg. They also saw white foam floating on the water at Suman Walk near Jewel Bridge and it was slowly drifting towards the Punggol Waterway Point (see photos). We reported to PUB immediately.
On Saturday morning, there were 2 groups of bike patrols with 7 members and 6 members respectively and 1 group of boat patrol with 6 members (see photos). Both bike patrol groups went towards MBS and Marina Barrage. Lots of litter was scattered along the water bank before the Duck Tour Jetty (see photos). The embankment area in front of Flyer was as usual full of litter (see photos). Plenty of litter was also picked up under Benjamin Sheares Bridge near MBS (see photos). It is important to mention that a substantial number of masks were picked up by bike patrol groups: a total of 40 masks and 21kg of litter in total. Whereas, the boat patrol found that the Singapore River was very dirty this round. The hotspots were the area nearby Grand Copthorne Building, under the Robertson Bridge, area near Alkaff Bridge and area near Coleman Bridge (see photos). They collected about 20kg of litter and 10 masks.
On Saturday afternoon, regular Punggol Weekend patrol was done by 3 members on boat (see photos). The waterway was very dirty after the rain. They collected 3.5kg of litter, mostly plastics wastes and metal cans. There were 3 Malay boys fishing along the waterways. Members engaged them 3 times in different locations and they ignored all advice (see photos). Near the end of the waterways at Serangoon Reservoir side, overgrown tree branches extend to the centre of the waterways and pose some problems to the boat navigation (see photos).
On Sunday morning, we had a total of 41 members perform duty at Kallang, but they were well separated at two time slots and different patrol groups. In total, there were 2 groups of bike patrol (7 pax and 6 pax), 2 groups of boat patrol (6pax and 5 pax), 2 groups of pedal boat patrol (4 pax each) and 4 members did gardening and plus 2 admin (see photos). Boat training for 3 new drivers was done. Bike patrol group 1 went towards the Esplanade and turned back at Jubilee Bridge. They found plenty of litter around the Duck Tour Jetty area, under the Benjamin Sheares Bridge near the Singapore Flyer, over and under Bayfront Bridge (see photos). Bike patrol group 2 went in the direction of Marina Barrage and found one shared bike abandoned next to the Dragon Boat Beach Jetty (see photo). Generally, the river water was very cloudy. Lots of floating rubbish, plastic bags, cans and bottles, probably flashed out by the heavy rain on Saturday night. In Singapore River, plenty of litter was found under Alkaff Bridge, near the Drainage SR-R22 (see photos). Members saw contractors were approaching to clean up the area. Much of the litter was also floating along the waterfront of Tanjong Rhu Estate (see photos). The pedal boats picked up lots of small pieces of rubbish and large plastics on open waters near WWS jetty. All patrol groups collected a total 60.5kg of litter and 18 masks.
On Sunday afternoon, there were 2 bike patrol groups of 6 and 1 boat patrol involving 4 members at Jurong Lake (see photos). Total of 16 members.  They picked up syringe and lots of used lighters near the water lily pond. Lots of rubbish washed up onto the shore behind the pump near the water lily pond (see photos). Good for clearing by kayak, bike patrol and contractors. Artificial fishing hooks were found around the water lily pond (see photos). Sightings of used lighters at Heron View Deck when this is a No Smoking Park (see photos). In total, 24kg of litter and 6 masks were collected from Jurong Lakeside Garden.