Dear Friends,
OVERVIEW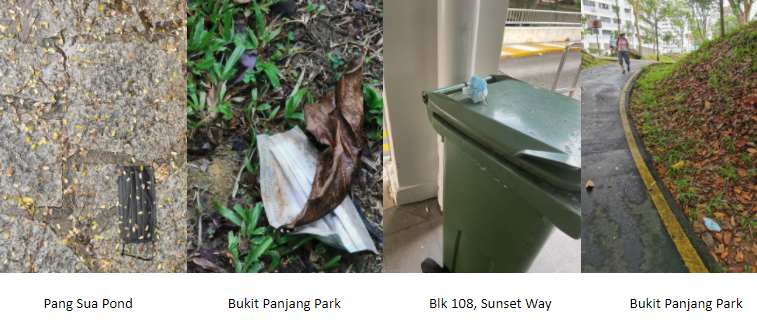 Mask, Mask, it's everywhere!
It was reported in the Straits Times on Jan 9, 2021 that 'in the third week of November alone, a total of 19 masks were picked up around the Kallang and Marina Bay area'. This figure was given by the Waterways Watch Society. How did we do this week? Well in the same area, we have picked up 17 masks. An improvement? Not really. If anything, I would agree with many that mask littering is on the rise.
I am sure our volunteers may have missed some more. For instance, at Pang Sua Pond and its adjacent park, one member Fang Xuan, while on her patrol round last Saturday, exclaimed that she wished she had a long picker because she could not reach some of the masks! Still we managed to pick 8 pieces within an hour. In Punggol they picked up a total of 12. Total for the week over 40. Of course, we are not proud to show how many we can collect or pick up.
Mask littering cannot be viewed in isolation, but as part of a broader lack of ownership of our environment here in our country. Waterways Watch Society cannot overemphasise the point that each and everyone of us must take personal responsibility for the proper disposal of the mask. This applies especially to the disposable ones, which like the other single-use items such as plastic bags, bottles and other packaging items. Sadly, all these have been spotted casually or irresponsibly discarded along footpaths, open parks and on top of bins.
Users must try their best not to place them in a position where they might be blown off by wind and rain. If you happen to drop it onto the ground, it should be picked up and disposed of responsibly. We must know and remember that Singapore is collecting urban stormwater for consumption. We collect stormwater that runs off from our roofs, roads and concrete buildings and the water will go through our open drains, canals and into all our 17 reservoirs and, along with it the litter, masks included.
Hence, Waterways Watch will continue to spread the awareness for keeping our environment and waterways clean to the young ones and engage the public at large through education and our regular patrols.
In this regard, we like to share the following activities and observations for this week:
We conducted virtual learning programmes for 2 schools; Ngee Ann Polytechnic (28 students) and West Spring Primary (1400 students). 
We conducted refresher training for our land and kayak facilitators.
Our regular patrols: A total of 36 members came down for duty and total trash collected = 26 kg.

Boat Patrol. A total of 5 boat patrols were conducted; 3 at Marina comprising 6 pax, 2 at Punggol comprising 5 pax.
Bike Patrol. A total of 6 bike patrols were conducted; 2 at Marina comprising 5 pax, 2 Bike patrols at Punggol comprising 7 pax and 2 at Lakeside Garden comprising 4 pax. 
Foot Patrol. A total of 7 members did a foot patrol at Pang Sua Pond and its adjacent park.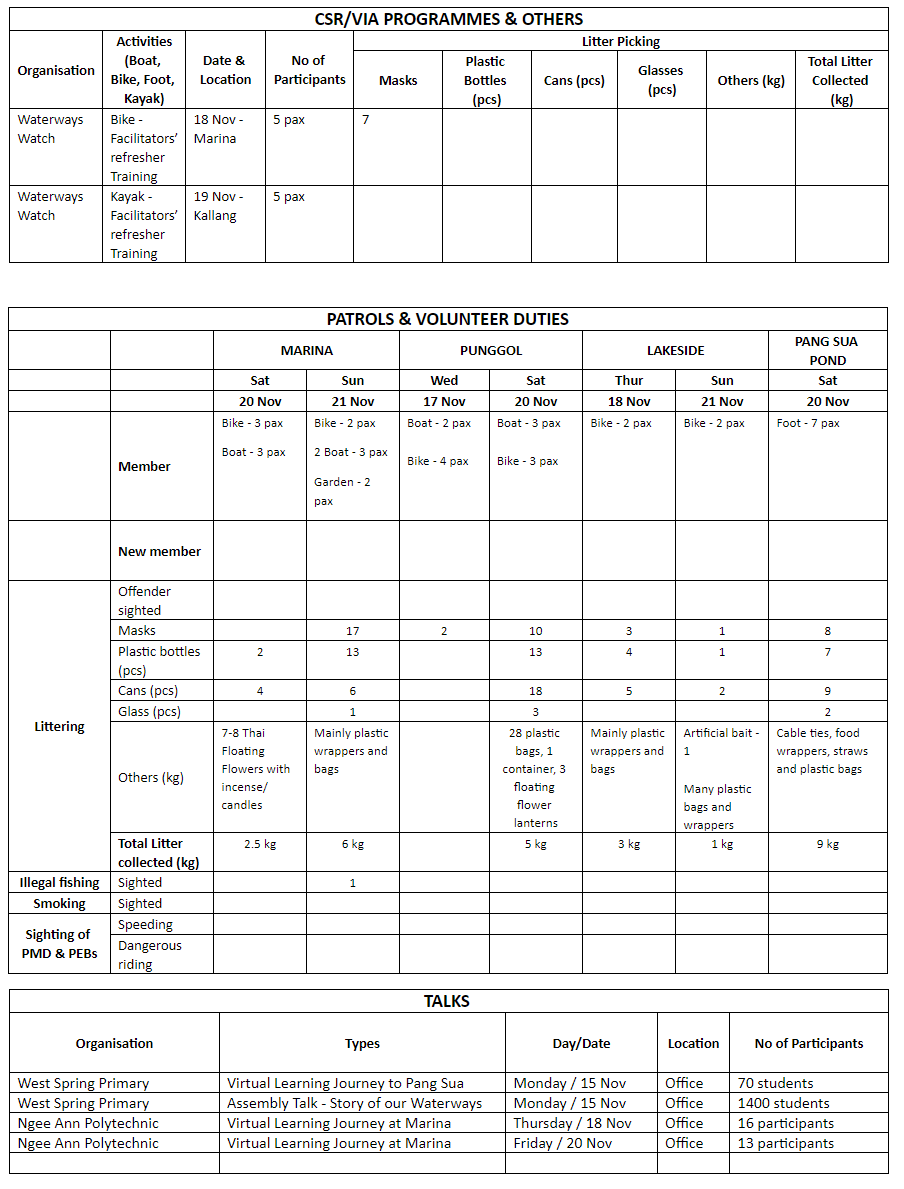 We will be resuming our physical programs next week and hope there will be more participation and interest from Corporates and Schools going forward.
ACTIVITIES AND REPORT
1. Educational Programmes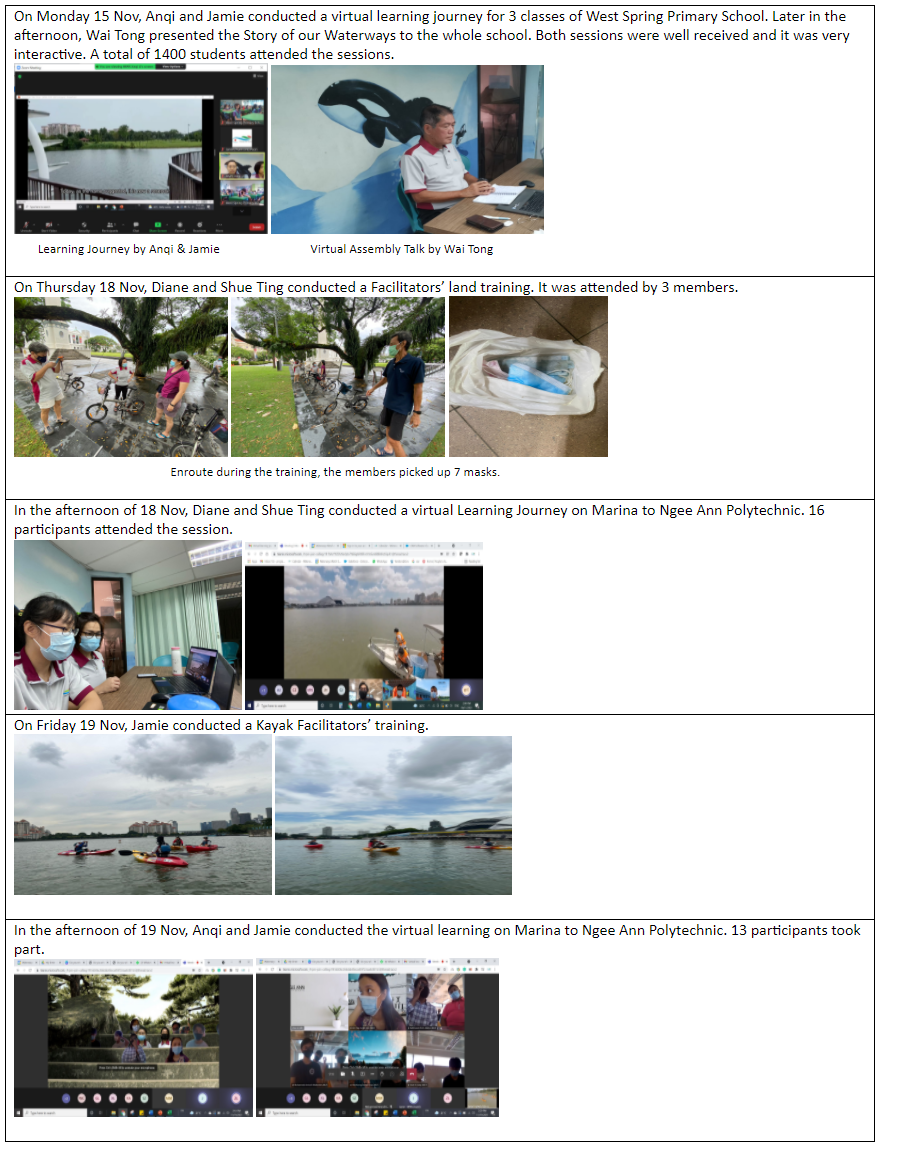 2. Volunteer Patrols & Activities
     a. Marina
b. Punggol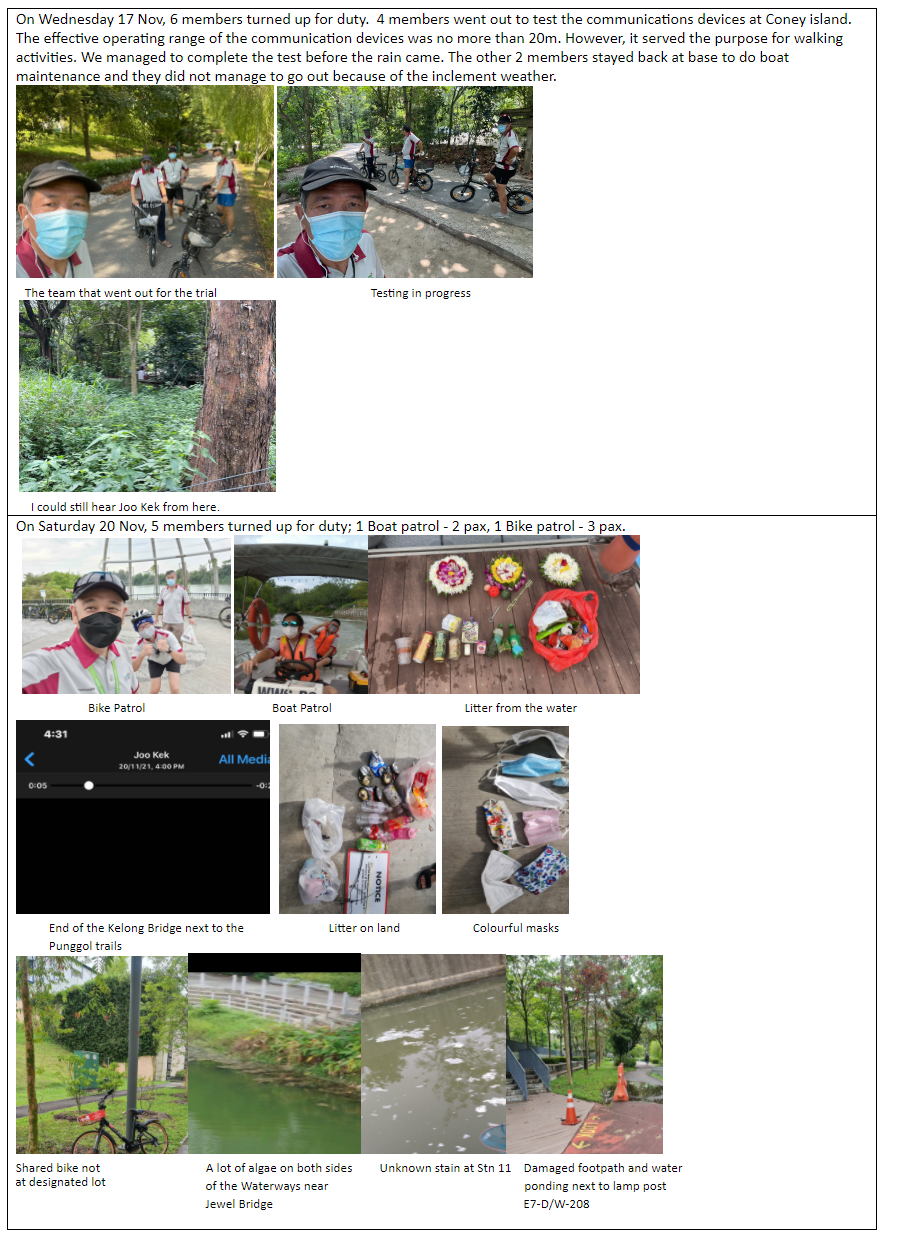 c. Lakeside
    d. Pang Sua Pond