Dear Friends,
OVERVIEW
No Smoking in the Garden and in the Park!
No Smoking in the Garden and in the Park!
Last Saturday some of our members were at the BBQ Corner A, Bukit Panjang Park after walking around the Pang Sua pond and the adjacent park, and the four members, each collected easily close to 60-80 cigarette butts from that shelter alone. Along the way from the Senja-Cashew CC, they gathered quite a lot too, from the plant trough next to the Bus Stop B06 for instance. The way the cigarette butts were found suggested that these were the common smoking sites for the people to dispose of their 'simple pleasure' (see photos above). Well, our members at Kallang also found such litter being disposed of irresponsibly and, the places where they were found also suggested that these are common sites where smokers gather. Ironically, these are the same places/sites where non-smokers would like to gather too!
What's the problem of throwing cigarette butts on the ground, albeit the smoke pollutes the air? I am reminded that '98% of cigarette filters are made of plastic fibers and cigarette butts leach toxic chemicals into water, where they can remain for as long as 10 years.' (Tik Root, 9 August 2019, National Geographic). In other words, they are toxic plastic pollution. Singapore is harvesting urban stormwater which means we are getting the water that would have washed through the ground where the cigarette butts and other litter are laid. So it is not just keeping our parks smoke-free..but to reduce general littering too. People must know this and must be encouraged to behave responsibly. So disappointing!
Waterways Watch will endeavour to spread the awareness to keep our environment and waterways clean to the young ones and engage the public at large through education and our regular patrols.
This week, with Stabilisation over, we have stepped up on our outdoor programmes and other related activities:
We conducted 4 CSR programmes comprising a Beach clean-up at Changi coast, a Bike clean-up and 2 Kayak clean-ups at Marina. A total of 109 participants were involved with a total 216kg of litter collected.
We conducted 4 virtual learning programmes; Anderson-Serangoon JC (12 students), Central Singapore CDC (24 children), NPark members (57 pax) and MCCY-EMPACT (49 pax).
Deployment of volunteer members: 39 members came down for duty and the total trash collected = 67 kg. In addition, 12 members came down for kayak refresher training.

Boat Patrol. A total of 6 boat patrols were conducted; 4 at Marina comprising 14 pax, 2 at Punggol comprising 4 pax.
Bike Patrol. A total of 3 bike patrols were conducted; 2 at Marina comprising 10 pax, 1 Bike patrols at Punggol comprising 3 pax.
Foot Patrol. A total of 6 members did a foot patrol at Pang Sua Pond and its adjacent park.  
Members' Training. 12 members did kayak refresher training.
ACTIVITIES AND REPORT
1. Educational Programmes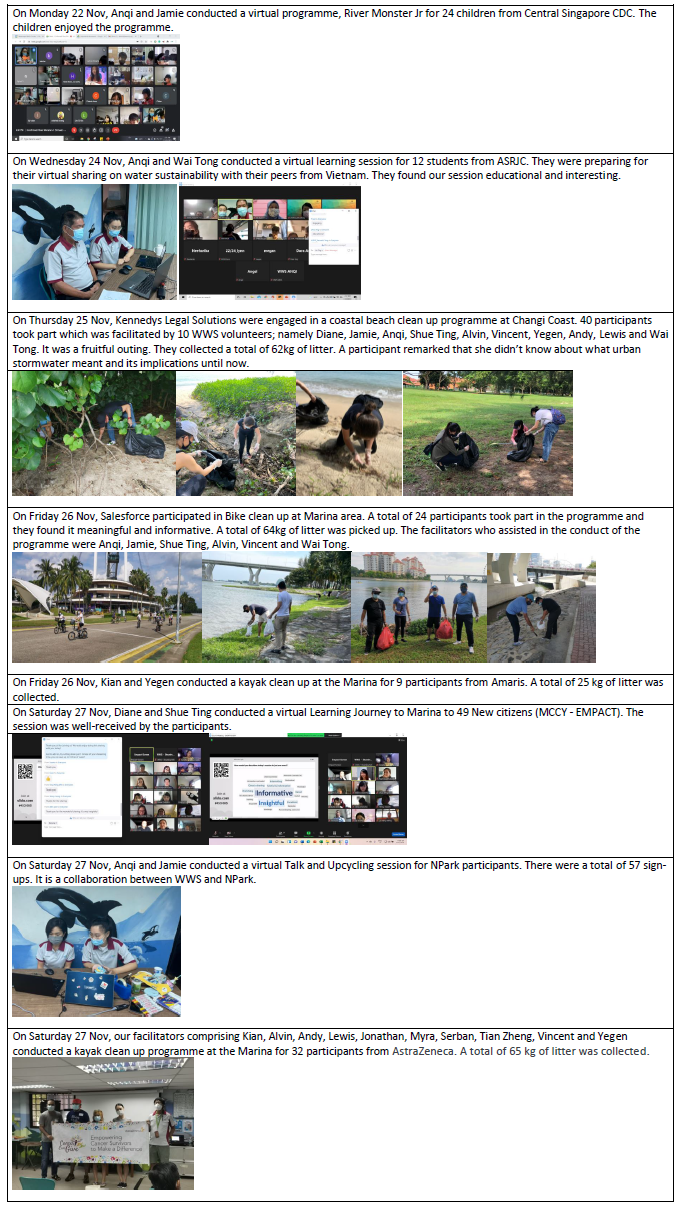 2. Volunteer Patrols & Activities
     a. Marina
 b. Punggol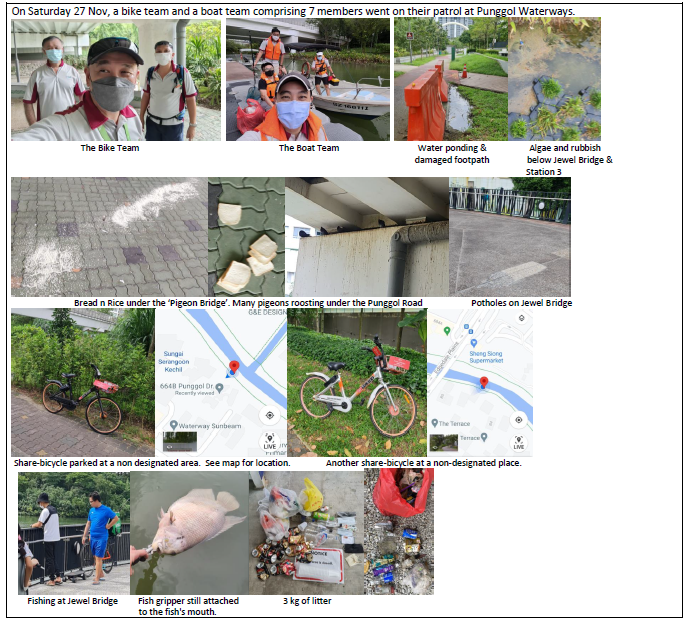 c. Lakeside
d. Pang Sua Pond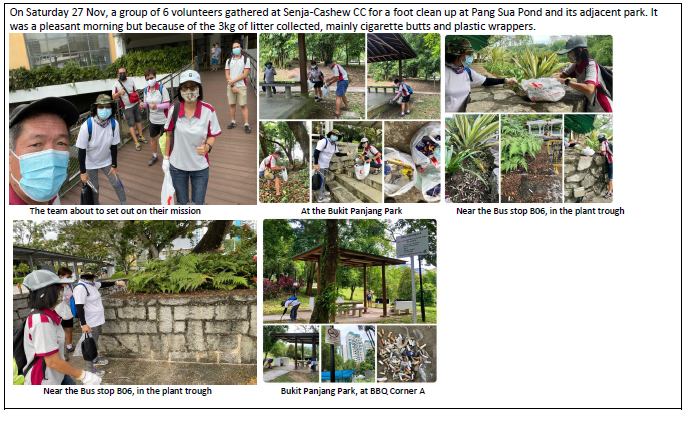 e. Kayak Facilitators – Refresher Training