Dear Friends,
OVERVIEW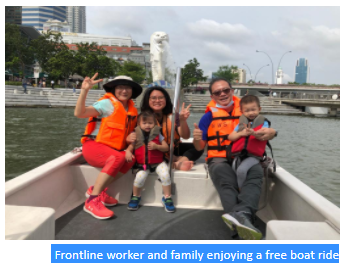 Doing our Part – Recognising our Frontline Employees!
Last Saturday Waterways Watch Society had the privilege to take a family of 5 out for a boat ride to Singapore River (see photo above). They were able to enjoy the beautiful scenery of the Marina reservoir and the history of the Kallang Riverside and Singapore River. What is so special about this? This outdoor boat ride is the first of the many to come from December, offered to frontline employees to show our support for their dedication and work during this pandemic. It is an opportunity for them to relax, de-stress and learn a bit more about our Singapore Water Story.  Equally important, it is one way for us to thank all the frontline staff. We Salute and Appreciate your Work!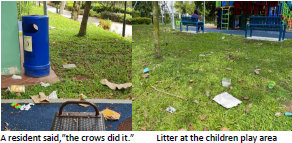 Now back to our core business; We have stepped up our patrols and in our attempt to reach out further to the community, we did a maiden patrol to Yishun Pond and the Khatib-Bongsu PCN on Saturday, 4 December and what we saw was certainly not pleasing at all (see photos above). Two locations need to be highlighted:
Litter around a dustbin. Our first reaction was that it was the cause of park users/nearby residents indiscriminately throwing the wrappers, plastic cups and bags on the ground. However, a resident who was sitting in the shed remarked, "It was the work of the crows." He claimed that the birds even dared to go into the bin and rummaged through the waste. Personally, I don't think it was a far-fetched point as we have heard monkeys doing it. Perhaps, NEA or NParks may have to look into a new designed dustbin.
Litter at the Children play area at Yishun Nature Park. Patrol picked up 3 discarded masks and a number of cups and plastic containers on site. Children were playing in the area. Certainly, it is a hygiene issue and wrong social behaviour.
Waterways Watch will continue to endeavour to spread the awareness to keep our environment and waterways clean to the young ones and engage the public at large through education and our regular patrols.
This week, we have stepped up on our patrols and outdoor programmes and other related activities:
We conducted 2 CSR programmes at Kallang-Marina; comprising a Bike clean-up and 7 boat clean-up. A total of 33 participants were involved with a total 4kg of litter collected.
We conducted a VIA kayak clean-up; NJC (24 students) and they collected 91kg of litter. We also had a Zoom meeting with TP Students. 
Deployment of volunteer members: 70 members came down for duty and the total trash collected = 97 kg. 

Boat Patrol. A total of 12 boat patrols were conducted; 5 at Marina, 5 at Punggol and 2 at Lakeside.
Bike Patrol. A total of 4 bike patrols were conducted; 3 at Marina and 1 Bike patrol at Punggol.
Foot Patrol. A patrol at Pang Sua Pond and its adjacent park and another at Yishun Pond and its PCN.             
Exco of WWS held a meeting on Sunday.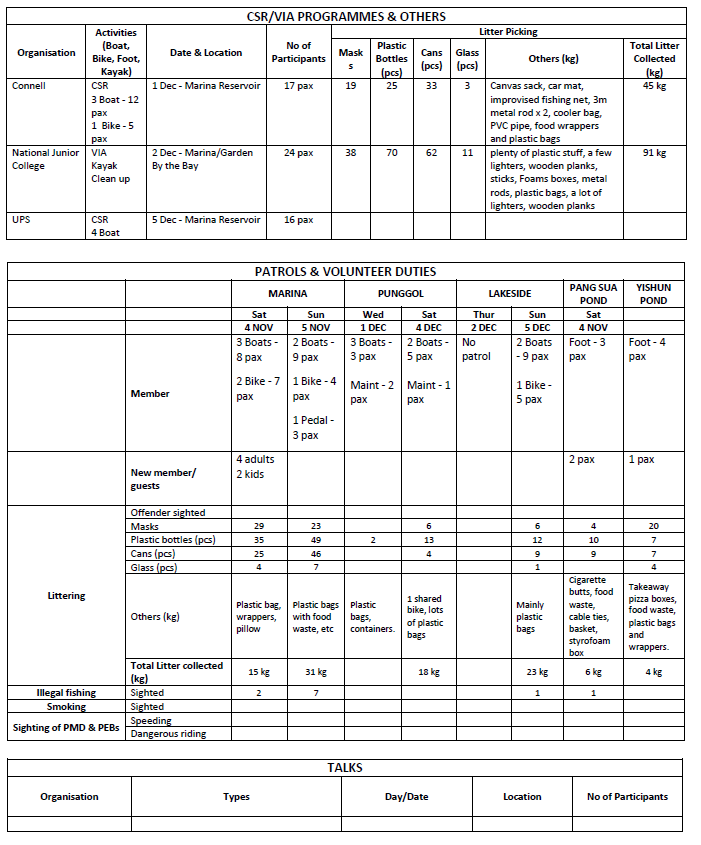 ACTIVITIES AND REPORT
1. Educational Programmes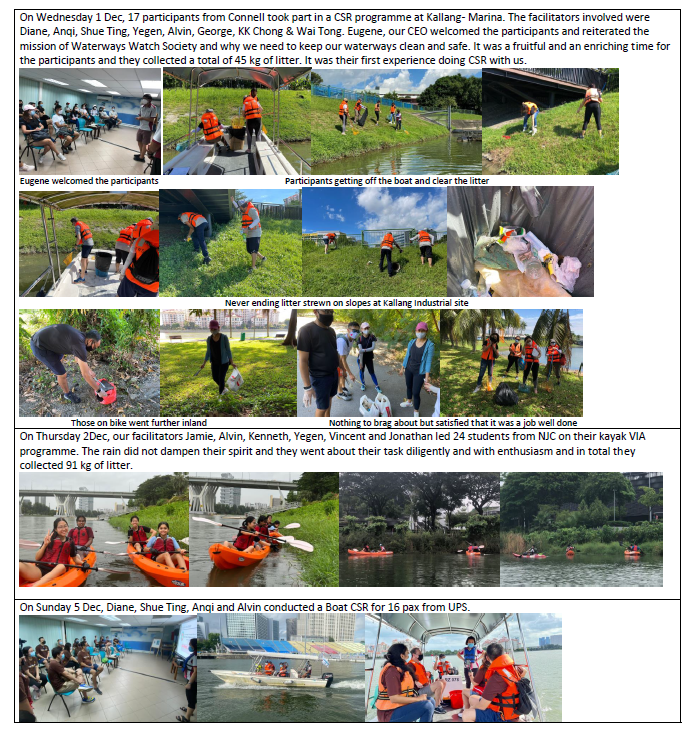 2. Volunteer Patrols & Activities
     a. Marina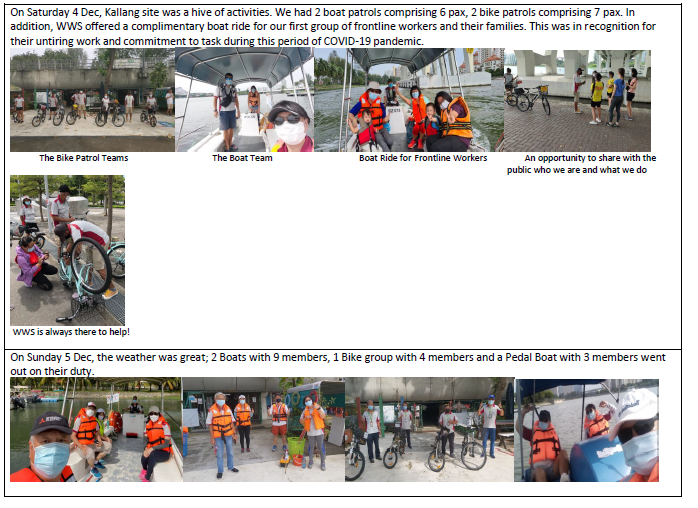 b. Punggol

 c. Lakeside
d. Pang Sua Pond

e. Yishun Pond Patrol