Dear Friends,
OVERVIEW

Some 'Dirt' has its purpose, not all!
We can certainly learn a lot from Nature about sustainability through complementary actions, and Chong Siew and I were pleasantly enlightened when we were at the Butterfly Field at Lakeside Garden; "Fungi are the main decomposers of our environment. They break down organic matter and release carbon, oxygen, nitrogen and phosphorus back into the soil and atmosphere." So, some 'dirt' like the Fungi has its purpose and, our plastic litter certainly does not help, including masks and now, even used ART kits being irresponsibly disposed of.
In this regard, we need a lot of sustained education for all and I specifically like to make mention that this should extend to the adults, Merdeka and Pioneer generations. It cannot be overemphasised that enforcement must step up too. People must see that actions being taken as notices and banners are completely ignored by the recalcitrants. Perhaps we are just simply spending too much time and money relying on notices and banners! That's old school thinking.
On a brighter note, I would like to put on record the good work being done at Lakeside Garden specifically at the shoreline next to the Rasau Walk. The plants are thriving and the greenery cannot be ignored as we moved along the walk in the past few weeks (see photos below).

Nevertheless, Waterways Watch will continue to endeavour to spread the awareness to keep our environment and waterways clean to the young ones and engage the public at large through education and our regular patrols. We strongly believe our work is a better way to promote a sustainable environment.
This week, we have stepped up on our patrols and outdoor programmes and other related activities:
We conducted 11 CSR programmes at Kallang-Marina; comprising a Bike clean-up, 2 Boat clean-up, 2 Pedal Boat clean-up, 2 Foot clean-up and 4 Kayak clean-up. A total of 218 participants were involved with a total haul of 366 kg of litter collected.
This week we did not have any VIA programmes possibly due to holidays and examinations.
Deployment of volunteer members: 49 members came down for duty and the total trash collected = 38 kg.

Boat Patrol. A total of 6 boat patrols were conducted; 1 at Marina, 3 at Punggol and 2 at Lakeside.
Bike Patrol. A total of 9 bike patrols were conducted; 3 at Marina, 3 Bike patrol at Punggol and 3 at Lakeside
Foot Patrol. A patrol at Pang Sua Pond and its adjacent park and another at Yishun Pond and its PCN.
Boat Tour. We conducted another boat tour of the Marina – Singapore River for our frontline workers.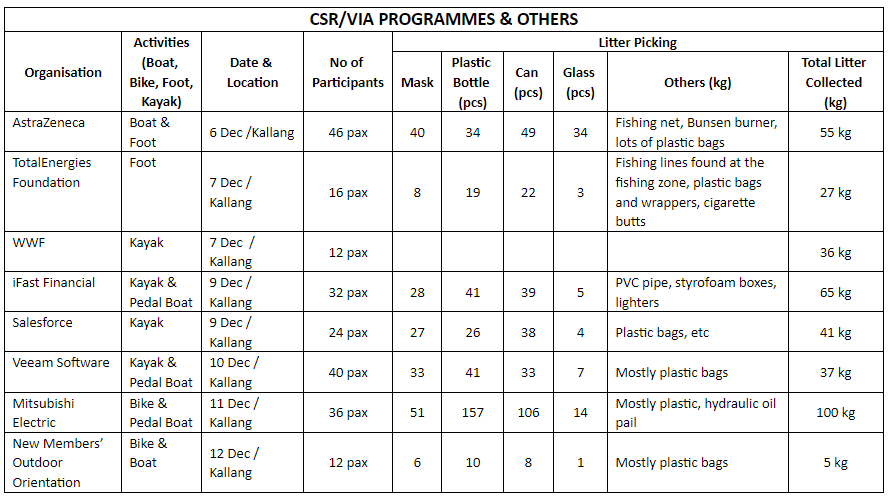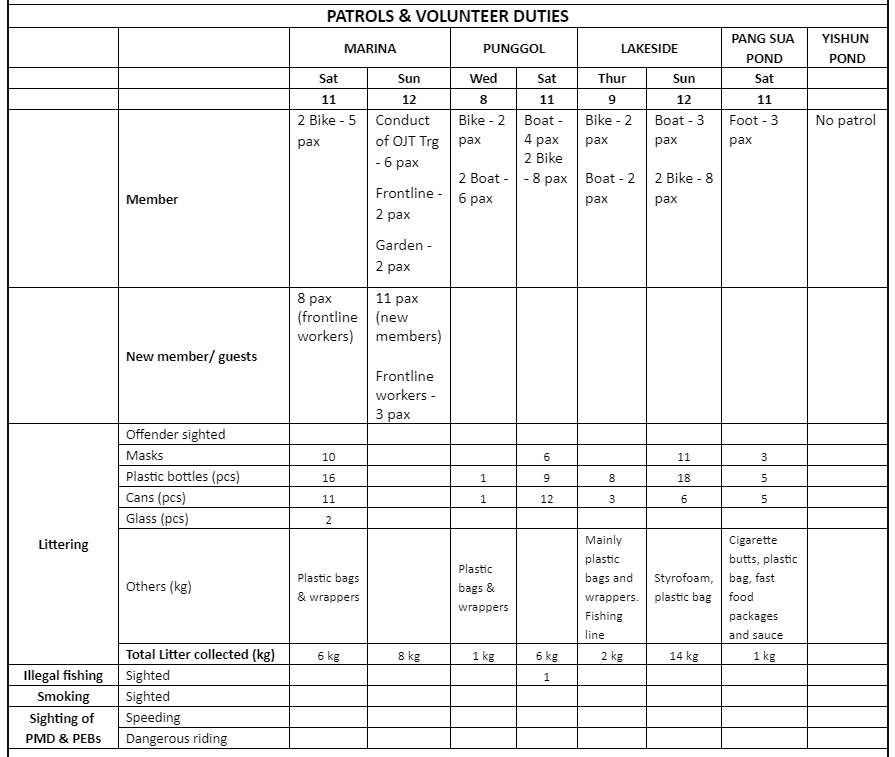 ACTIVITIES AND REPORT
1. Educational Programmes

2. Volunteer Patrols & Activities
a. Marina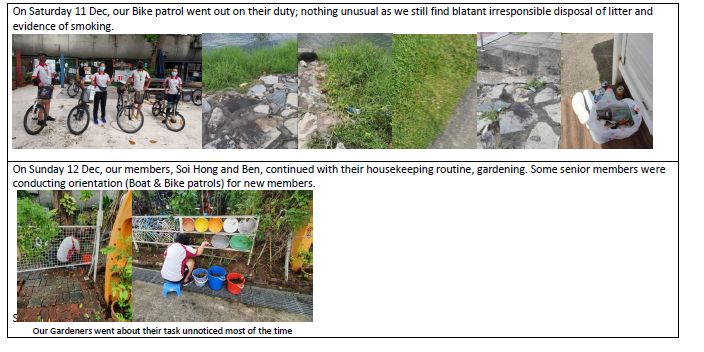 b. Punggol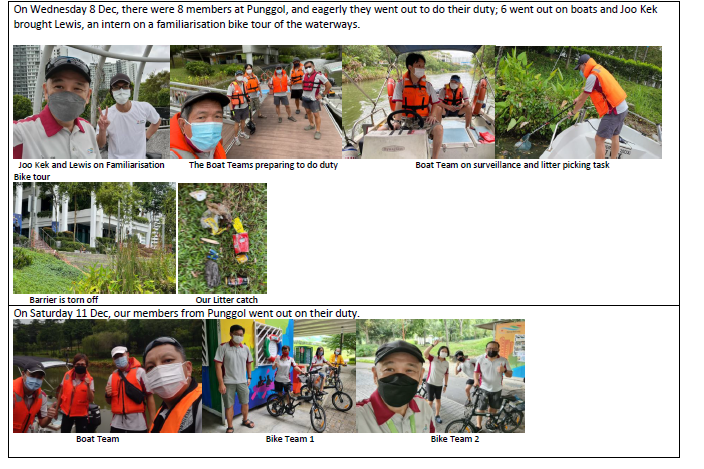 c. Lakeside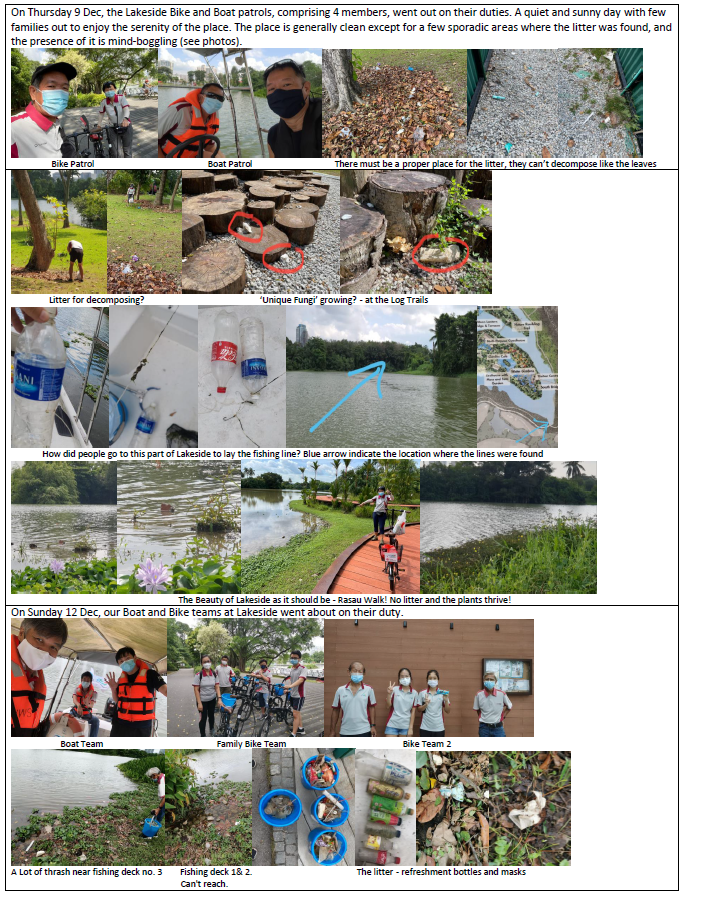 d. Pang Sua Pond