Dear Friends,
OVERVIEW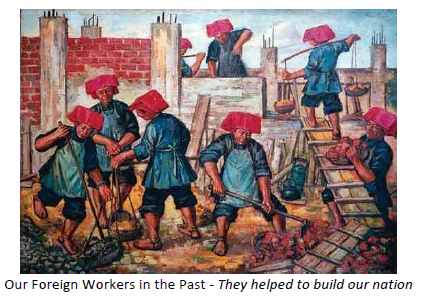 "Lest we forget what they have done or are doing for our nation"
18 December – Migrant Day! What is the similarity between the Samsui women of the past and our present-day migrant workers or commonly called 'foreign workers'? 'They usually did not or do not have the intention to stay permanently in the country in which they work. They came because they needed to work and to provide for their families back in their country of origin'. What they (the Samsui women and other foreign workers in the past) have done and the present foreign workers who take on the many low-end jobs helping to build our country, cannot be overlooked. On this day we, at Waterways Watch Society, would like to acknowledge the foreign workers, especially those who are helping us keep our waters and the parks clean and safe.
Every day we see them working tirelessly to keep the Kallang Riverside – Marina Park and the waters spick and span. They represent a fraction of the many other foreign workers throughout our country keeping all our parks and reservoirs clean and safe for all of us. To these men and women, we say a 'Big Thank You' for your sacrifice and dedication to the task.
"Shouldn't all of us have a hand in it?"
On this note about keeping our parks and water clean and safe, our regular patrols continue to see and pick up a lot of litter in the parks and in the waters. Why are our residents still behaving inappropriately? Aren't we not proud of our surroundings? We, the citizens of Singapore must strive to take personal responsibility and ownership for our environment. Shouldn't all of us have a hand in it to keep our environment and waterways clean? We can start by just 'Don't litter! Be responsible for your own waste and try to adopt a waste-lite lifestyle. Help to pick up any litter you see along the way before they get into our waterways.' (The Sustainability Project, Green Talk, 6 Dec 2019)
"Let's make it a way of life"
All citizens must make it a way of life to keep the environment clean. We have to take individual responsibility to learn and practise good social habits. We cannot leave it to the foreign workers alone to do it. It is not sustainable. In this regard, Waterways Watch will continue to endeavour to spread the awareness to the young ones and engage the public at large through education and our regular patrols.
This week's activities and programmes:
We conducted 4 CSR programmes at Kallang-Marina; comprising a Boat clean-up, 1 Foot clean-up and 2 Kayak clean-up. A total of 99 participants were involved with a total haul of 202 kg of litter collected.
This week we had a VIA programme for 24 NUS students.
We conducted a virtual Learning Journey for MCCY-EMPACT and the session was attended by 50 participants who found the session informative and insightful.
Deployment of volunteer members: 71 members and 49 guests came down for duty and the total trash collected = 112 kg.

Boat Patrol. A total of 10 boat patrols were conducted: 5 at Marina, 3 at Punggol and 2 at Lakeside.
Bike Patrol. A total of 6 bike patrols were conducted; 3 at Marina, 1 Bike patrol at Punggol and 2 at Lakeside
Foot Patrol. A patrol at Pang Sua Pond and its adjacent park and another at Yishun Pond and its PCN.
Pedal boat Patrol. 1 pedal boat patrol was conducted at Kallang.
Orientation of new members. 7 new members attended the session.
Boat Tour for Frontline workers. Three families, totalling 11 pax from KKH and SGH were given the opportunity to go on our boat cruise up the Marina-Kallang waters. This is an initiative that is given free to show our appreciation to our frontline workers in the hospitals. This free program will continue through to June 2022.
Students' volunteering & exposure. 10 students from Republic Polytechnic and 2 students from Temasek Polytechnic participated with the new members to familiarise themselves with volunteerism.
Community Volunteer Group. 4 WWS members volunteered their time to serve the community in facilitating a kayak session. They led 20 participants who were made up of families with their members who have special needs.
Gardening. 5 members diligently worked at our humble Garden by the Waters. Their quiet effort is in no small way complementing our effort to keep the waters and environment clean and safe.
While we are experiencing an increase in the number of programmes, we hope that this will sustain after the holidays. We hope then that schools will step forward to have their students have a hand in this journey of learning to keep the environment clean and safe.
We will continue to conduct free Boat Rides for our unsung heroes, the medical frontliners. Waterways Watch also likes to thank SIA for their kind donation (in kind) for our members and community benefit.
At this time of the year, Waterways Watch Society would like to thank everyone for another meaningful year of collaboration. Stay safe.
ACTIVITIES AND REPORT
1. Educational Programmes
2. Volunteer Patrols & Activities
a. Marina
b. Punggol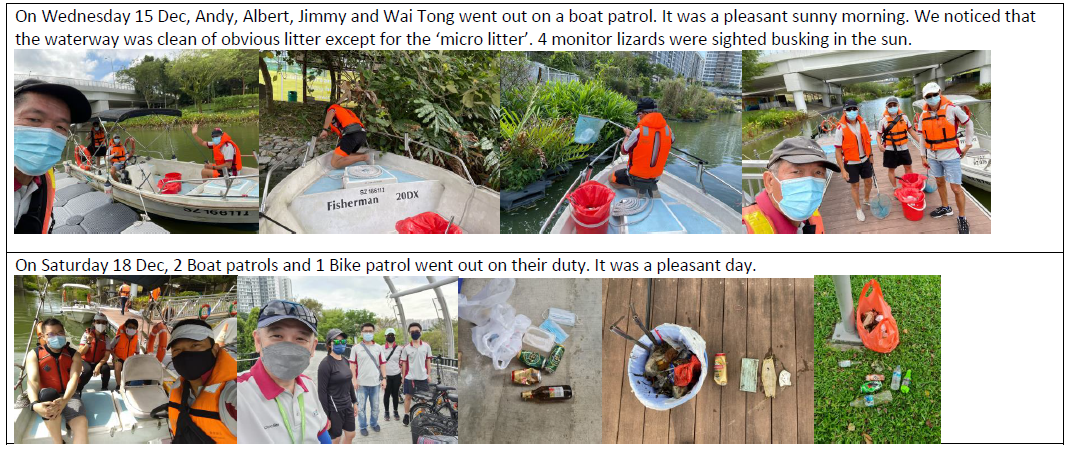 c. Lakeside
d. Pang Sua Pond

e. Yishun Pond Patrol