Dear Friends,
OVERVIEW
"Do we know that we are collecting urban stormwater?"
As the year draws to a close, it is the time for all of us to reflect on the work done. It is our immediate concern that keeping the environment and in particular our waterways clean and safe will always be work in progress, unfortunately. Why? This is simply because our people are at best, ignorant of the fact that we are collecting urban stormwater and what its implications are, and at worst they take whatever that is being done by all the authorities and agencies in this work for granted. Our Weekly Reports have documented repeatedly that littering is a perennial problem, a social disease to say the least. Blatantly disregarding orders (in spite of the many 'No Fishing' and 'No Smoking' sign boards and numerous cameras in clear visibility of all) is the order of the day daily in all our parks, reservoirs and waterways, including that housing estates too. It is sad to see such litter on a daily basis in our waterways and especially at the waterfront next to the Singapore Flyer for instance. Even this week was no different and it is rather disappointing, to say the least, to see so much litter and indiscriminate disposal of waste. We must continue to strive hard through education and visible enforcement to make it a reality, that is, Singapore is truly a clean city and not a cleaned city.
On a side note, we would like to highlight the work of a small group of people in the Waterways Watch Society at Kallang, the Garden Party! (see photos). They exemplify what we need to do in our urban environment; 'Our City in Nature – towards a Green, Liveable and Sustainable Home.'
In this regard, we would also like to reiterate that we need to seriously eradicate littering in our parks. It is not uncommon to see single-used plastic and cigarette butts and other litter strewn in our parks. Many literatures have indicated that plastics particles in soil can affect soil organisms and processes and may also affect the plants and eventually end up in our food chain.
We would like to put on record our sincere thanks to Singapore Airlines and Temasek Foundation for the kind contribution and support you gave to the Waterways Watch Society.
Lastly, to our volunteers and the staff at the Kallang office, we would like to acknowledge the hard work, dedication and commitment that you have put in this year without which we may not have played the role as the 'Guardians of our waterways' well. We will continue to provide and facilitate the learning, and this week we did the following:
We conducted 3 CSR programmes at Kallang-Marina; comprising a Pedal boat clean-up, 1 Bike clean-up and 1 Kayak clean-up. A total of 63 participants were involved with a total haul of 54 kg of litter collected.
We had 2 VIA programmes for Temasek Polytechnic students, one at Punggol on bike and one at Kallang on Foot collecting a total of 5 kg of litter.            
In spite of the festive mood and the Saturday holiday, we continued to conduct our volunteer patrols on Boxing Day, 26 Dec. A tribute to our volunteers' commitment and dedication to the task. 24 members came down for patrol duty and the total trash collected = 28 kg.

Boat Patrol. A total of 4 boat patrols were conducted; 2 at Marina, 1 at Punggol and 1 at Lakeside.
Bike Patrol. A total of 4 bike patrols were conducted; 2 at Marina, 1 Bike patrol at Punggol and 1 at Lakeside
Foot Patrol. We did not conduct any foot patrols this week.
Pedal boat Patrol. We did not conduct any pedal boat patrol.
Kayak Facilitators' Training. We conducted 2 sessions. A total of 31 members attended the sessions and it was good and necessary in preparing our members for next year's programmes.
Staff Training. 7 office staff and 2 volunteers went on a continuation training at Lorong Halus Wetland and a recce at Tampines quarry.
Boat Tour for Frontline workers. We did not conduct any boat tours this week. This is an initiative that is given free to show our appreciation to our frontline workers in the hospitals. This free program will continue through to June 2022.
Students' volunteering & exposure. 4 students from Temasek Polytechnic familiarised themselves with volunteerism at Punggol and Kallang.
Gardening. 2 members diligently worked at our humble Garden by the Waters. Their quiet effort is in no small way complementing our effort to keep the waters and environment clean and safe.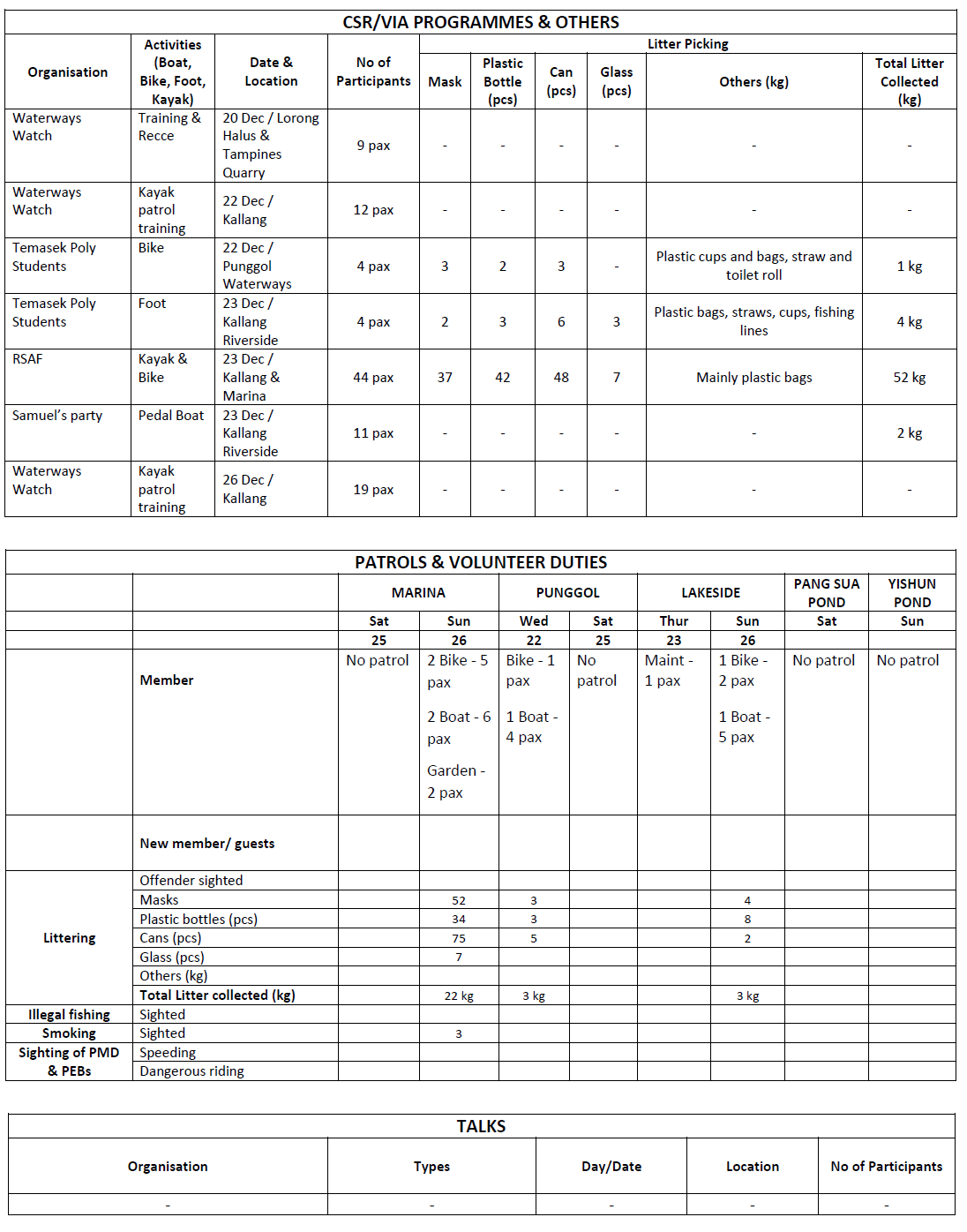 ACTIVITIES AND REPORT
1. Educational Programmes
2. Volunteer Patrols & Activities
a. Marina
b. Punggol
c. Lakeside