Dear Friends,
OVERVIEW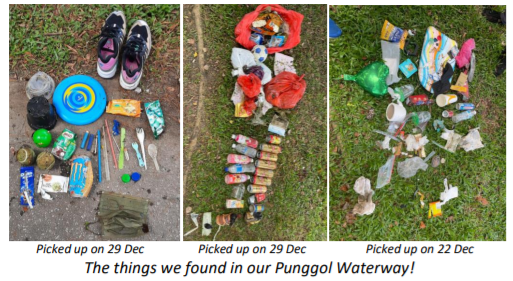 "Where should all these waste & litter be found?"
Happy New Year to all, BUT, look at the photos above- these are the litter picked up at the Punggol Waterway. These are not litter that are caused by natural disasters to land them in the waterway. These are litter that belong to people who have had their fill and then conveniently discard them irresponsibly, except the tennis balls and frisbee which may have strayed away. People must know and be made to take ownership of keeping our water and waterways clean and safe. We cannot just leave it to the authorities alone and the 60,000 odd registered cleaners to do it for us.
With more unpredictable weather conditions, if we allow ourselves to be oblivious to keeping our living environment clean and be more responsible in discarding our waste properly, we will continuously see the litter flowing into our waterways and reservoirs. This was the experience of two of our volunteer members, Gan Kim Nam and Vincent Choo.
On Friday 10 Dec 2021, Gan Kong Nam and Vincent Choo decided to take the opportunity, on their own, to clean up the area at the Geylang Road/Sims Ave bridges along Kallang River when the afternoon CSR programme was cancelled. This is what Vincent said of their experience, "The condition there was terrible and a lot of trash had piled up at the shallow, muddy, smelly corner. We were carefully removing the litter, when suddenly rain began to fall and in no time, the entire Kallang River was flooded with trash. We removed 60kg of litter (23 masks, fishing rod/lines, tennis balls, plastic bags/bottles, cans, food waste, packaging materials and styrofoam boxes/pieces), including a bicycle in 2 hours".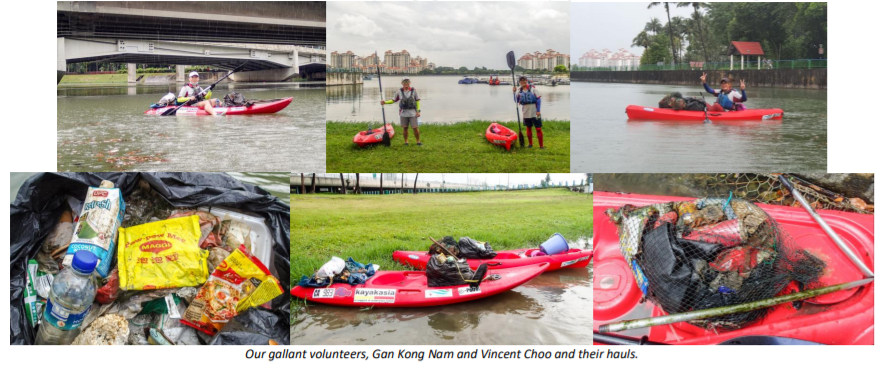 Many of our volunteers, like Kong Nam and Vincent, have put in the hard work, dedication and commitment playing the role of the 'Guardians and ambassadors of our waterways'. This is not sustainable and a very daunting task for that matter if people are ignorant of the fact that our waterways are the source of our drinking water and that it is very costly to continuously clean the water. However, the Waterways Watch Society will still endeavour to provide and facilitate the learning about conserving our waterways.
This week was a short week but still we managed the following activities and programmes:
As expected in lieu of the holidays, we had no CSR programmes.
We had 1 VIA programme for 4 Temasek Polytechnic students which was conducted at Jurong Lakeside and they collected 1 kg of litter.
In spite of the festive mood and the Saturday holiday, we continued to conduct our volunteer patrols. A tribute to our volunteers' commitment and dedication to the task. 36 members came down for patrol duty and the total trash collected = 54 kg. Jurong Lakeside with 8 sign ups had their patrols cancelled at the last minute because of bad weather.

Boat Patrol. A total of 5 boat patrols were conducted; 2 at Marina, 2 at Punggol and 1 at Lakeside.
Bike Patrol. The 2 bike patrols at Kallang were cancelled due to inclement weather.
Foot Patrol. We conducted 1 Foot patrol at Lakeside and we collected 8 kg of litter.
Pedal boat Patrol. The pedal boat patrol was cancelled due to inclement weather.
Bike and Kayak Facilitators' Training. A total of 12 members attended the sessions and it was good and necessary in preparing our members for next year's programmes.
Boat Training. A boat training was conducted at Kallang for 3 members.
Boat Tour for Frontline workers. We did not conduct any boat tours this week. This is an initiative that is given free to show our appreciation to our frontline workers in the hospitals. This free program will continue through to June 2022 with bookings resuming Jan. 08th. 2022.
Students' volunteering & exposure. 4 students from Temasek Polytechnic familiarised themselves with volunteerism at Jurong Lakeside.
Gardening. The plants at the biodiversity pond were trimmed on New Year's Day! 5 volunteers came.
ACTIVITIES AND REPORT
1. Educational Programmes
2. Volunteer Patrols & Activities
a. Marina
b. Punggol
c. Lakeside