Dear Friends,
OVERVIEW
"Why are we doing what we are doing?"
This week was yet another reflectively enriching week for our volunteers. They worked tirelessly to facilitate programmes, train and orientate new members and provide free boat rides for our frontline workers. One of them, Theresa Leong who was on this ride on 9 Jan 2022, messaged Wai Kuen a WWS volunteer and said, "Thank you so much Wai Kuen. We had an enjoyable morning. This boat trip is unlike others. Please help me thank RoWena and Kelvin too. U guys are all very kind and friendly to us.💕"
We, at WWS are indeed very thankful and glad that the three groups that visited us with their families enjoyed the ride and we believe that they must have learned a lot about what and why we are doing what we are doing. On this note, WWS would like to thank and acknowledge our team who have left a good impression on their charges and to our many volunteers who have given a lot of their time to help spread the word of keeping our waterways clean and safe.
Looking at our volunteers going about doing their task every week, WWS cannot but have to reflect on our mission; "To bring people together to love our waters and inspire ownership for our environment & waterways." Why are we doing what we are doing? (See photos)
It is not uncommon to see or spot recycling bins all over Singapore loaded or overloaded with trash and even trash placed next to it. On closer inspection, many of the items are not recyclables or cannot be recycled for all possible reasons. But many of us may think that just because an item is made out of recyclable material, it belongs in the recycling bin, and we know that this is not true. It is also not uncommon to see our general waste not properly disposed of in public bins. Such images are seen in many of our parks, housing areas and public places such as food courts and market places. We are fortunate that NEA is working hard in this area, our trash is being cleared daily.
Still, our people need to do their part to make it better.
What are the causes of such bad behaviour? We can suggest two; Ignorance and laziness.
● People have little knowledge about proper waste disposal and are unaware of the consequences of their unwise acts. This is especially so for what can be recycled and how to recycle them properly.
● Their laziness can cause improper garbage disposal, and this causes an unsightly and unhygienic environment. It can also harm the animals too.
Hence, we cannot overemphasise that education and enforcement be stepped up.
This week was a relatively quiet week but the following activities and programmes were done:
We conducted one CSR programme, a kayak clean up. Jamie together with 6 other facilitators led the programme which was attended by 20 participants and they hauled in 82 kg of litter.
This week a total of 51 members were down for CSR programme, patrols, administration and housekeeping duties and the total trash collected = 167 kg.

Boat Patrol. A total of 7 boat patrols were completed; 3 at Marina, 3 at Punggol and 1 at Lakeside.
Bike Patrol. A total of 8 bike patrols were completed; 4 at Marina, 2 each at Punggol and Lakeside.
Foot Patrol. One foot patrol was conducted at Pang Sua Pond and its adjacent park.
Pedal boat Patrol. No pedal boat patrol was conducted.
Kayak – 1 Star Training. 4 members attended the 2 sessions conducted by Patricia and it was good and necessary in preparing our members in facilitating our programmes.
Boat Training. No boat training was conducted this week.
Boat Tour for Frontline workers. A total of 3 boat tours were conducted taking 11 guests onto the Marina reservoir and the Singapore River.
Students' project & exposure. WWS assisted 3 NUS students in their project, to produce a 25-minute film portraying Waterways Watch Society and its role in educating the public on the need to keep our water clean and safe. It would also feature the development of Lorong Halus from a wasteland to a wetland and a water remediation system. It is a story about adaptation.
ACTIVITIES AND REPORT
1. Educational Programmes
2. Volunteer Patrols & Activities
     a. Marina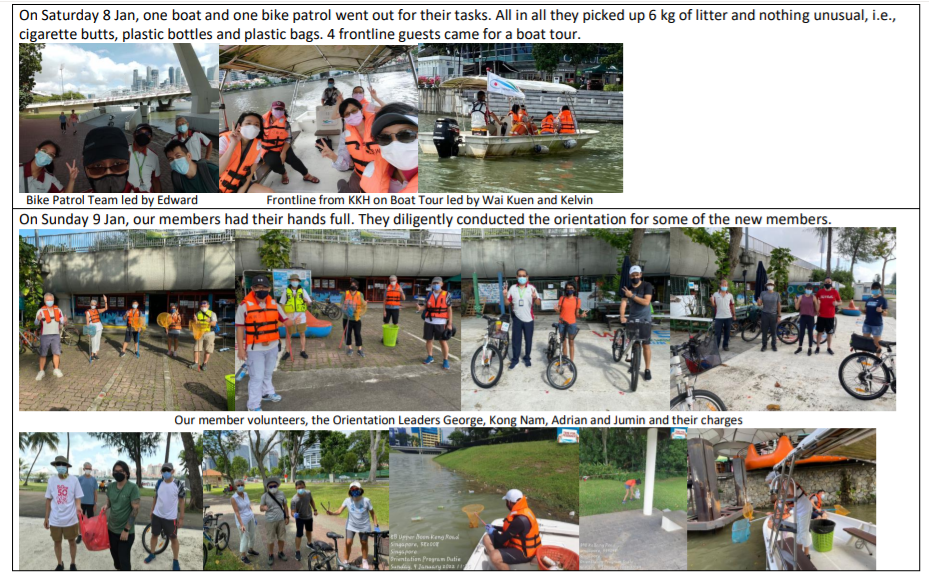 b. Punggol
 c. Lakeside
 d. Pang Sua Pond