Dear Friends,
OVERVIEW
"A Pointless Exercise to Stop Littering?"

Our volunteers would go out to the designated areas regularly, normally in groups or in pairs, to carry out the mission of the Waterways Watch Society. But, have we done it alone?
On last Saturday 19 Feb 2022, Herman B Ahmad, a volunteer from Waterways Watch society did just that. He went out alone at Pang Sua Pond and its adjacent park even after he knew earlier that his partner was not coming. What is more commendable is that he did it in his own neighbourhood. Guess it is never easy having to do it alone and with people around who may be wondering who you are and why you are doing it, alone. But, take heart from Herman and he acknowledged it, "Doing cleanup alone in uniform felt a little awkward initially. After all, this was an activity that was usually done in a group. But once I got going, it felt like any other cleanup session".
On this note, as a reiteration from an article, 'You know what? Just pick up the litter,' by Han Fook Kwang, Editor at Large, SPH dated May 2021, to reflect on what you can do as an individual, just like Herman had done at Pang Sua and the lone man did at the Kallang Riverside.
"It does seem like a very tough nut to crack.
Yet, at the personal level, it is such a simple thing to do.
When you see litter, pick it up. If you see someone littering, tell him in a polite way not to do it.
Why is something so simple so hard to achieve community-wide?
I don't have the answer to this puzzle, and perhaps we shouldn't spend too much time puzzling over it.
Just pick up the litter."
Well done, Herman! We appreciate your courage, belief and effort! The Waterways Watch Society is proud of you. Members are encouraged to do what Herman does whenever there is an opportunity around your residence.
As usual, Waterways Watch Society went about doing its core work conducting the various activities and programmes for the week. We hope to see more people coming in to participate in our programmes in the near future.
We conducted 1 CSR and 1 VIA Foot and Kayak programmes for Delivery Heroes and Northlight Secondary School respectively, and they collected 79 kg of litter.
We conducted a virtual Assembly Talk to Crest Secondary School.
Our CEO Eugene Heng attended an Appreciation Lunch with Ambassador Vonno of the Netherlands. The Waterways Watch Society would like to thank the Ambassador of the Netherlands for the support.
We conducted a virtual learning journey session for participants from MCCY – VEP. A total of 50 new citizens were present.
One important pick-up we did this week was around Passion Wave (Marina) by our kayak group- an ART Test Kit Result with a Positive reading!
This week a total of 98 members were involved for VIA programme, talk, patrols, administration and housekeeping duties and the total trash collected = 185 kg.

Boat Patrol. We conducted 4 boat patrols; I each at Marina and Punggol and 2 at Lakeside. We also conducted one more boat trial for the electric engine.
Bike Patrol. We conducted 5 bike patrols; 1 at Punggol and 2 each at Marina and Lakeside.
Foot Patrol. We conducted 1 Foot patrol at Pang Sua.
Pedal boat Patrol. We conducted 3 Pedal boat patrols at Marina.
Physical Bike and Boat Clean Up Orientation for New Applicants. 11 new members came for the orientation and they did learn well and managed to collect a total of 42 kg of litter.
Boat Tour for Frontline workers. We had 1 boat tour for frontline workers at Marina.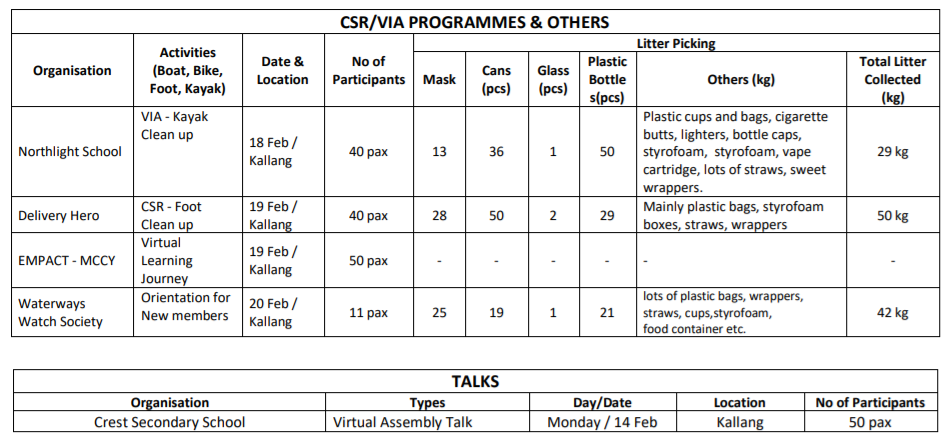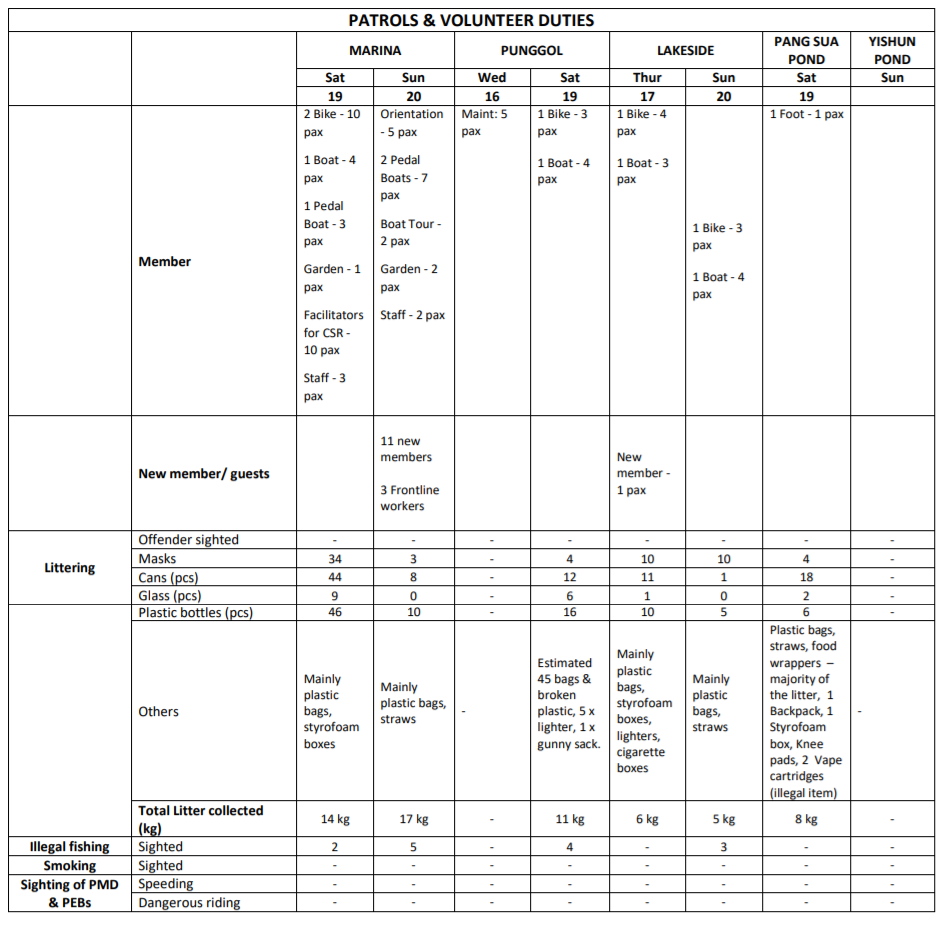 ACTIVITIES AND REPORT
1. Educational Programmes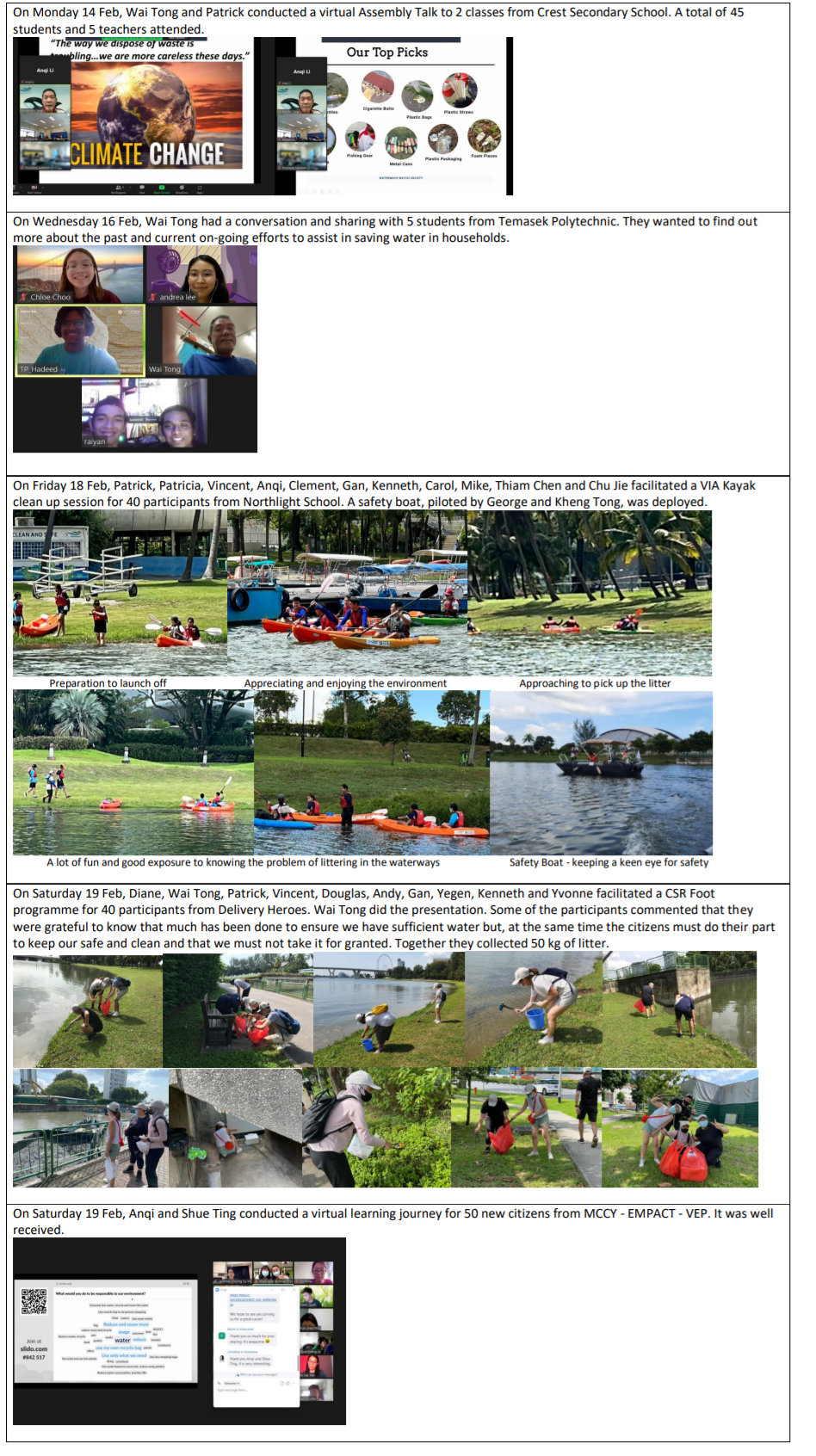 2. Volunteer Patrols & Activities
     a. Marina
b. Punggol
c. Lakeside
d. Pang Sua Pond
e. Yishun Pond Patrol