Dear Friends,
OVERVIEW
"Waterways Watch Society Celebrates World Water Day!"
The World Water Day theme 2022 is "GROUNDWATER – MAKING THE INVISIBLE VISIBLE." World Water Day is celebrated on 22 March every year. It is an annual United Nations Observance which started in 1993 and the aim is simply to raise awareness of the fact that there are about 2 billion people in the world currently living without accessibility to safe and clean water.
However the theme may sound to you, the fact remains that we cannot take water for granted. The purpose of World Water Day is to focus our  attention on the importance of freshwater and to advocate for sustainable actions especially by the individual persons to ensure that we conserve it, and keep it clean and safe. For this Waterways Watch Society takes pride in our work to suggest to every individual citizen that they must play an active role in this life journey. We do this through our many outdoor activities and programmes, talks and patrols everyday.

As usual, the Waterways Watch Society will continue to do what we know needs to be done. We hope to see more people coming in to participate in our programmes in the near future. World Water Day is a stark reminder for all of us that Water is a gift that we must cherish and never take for granted.  We know that if water fails, our food, our security and our liveable environment will also come under threat.
In summary, the following activities were done for this week:
We conducted 1 CSR Bike and 1 VIA Kayak programmes for participants from HP and Ngee Ann Polytechnic respectively, and they collected 84 kg of litter.
We conducted a virtual Storytelling to  70 toddlers and Preschoolers from My First Skool.
We participated in a virtual Panel Discussion with NUS Environmental Studies Class together with other panellists from PUB, Keppel Infrastructure and Institute of Water Policy. The Discussion was attended by 53 students and teaching staff.
An On-the Job Orientation was conducted for 14 new members on their roles and responsibilities when doing patrol.
This week a total of 91 members were involved for VIA programme, talk, patrols, administration and housekeeping duties and the total trash collected = 247 kg.

Boat Patrol. A total of 8 Boat patrols were carried out; 4 at Marina, 3 at Punggol and 1 at Lakeside.
Bike Patrol. A total of 3 Bike patrols were carried out; 1 each at Marina, Punggol and Lakeside.
Foot Patrol. We conducted 1 Foot patrol at Pang Sua.
Pedal boat Patrol. 2 Pedal Boat patrols were conducted at Marina.
Physical Bike and Boat Clean Up Orientation for New Applicants. This was conducted for 14 new members at Marina
Boat Tour for Frontline workers. We conducted a boat tour for a Frontliner and her family at Marina.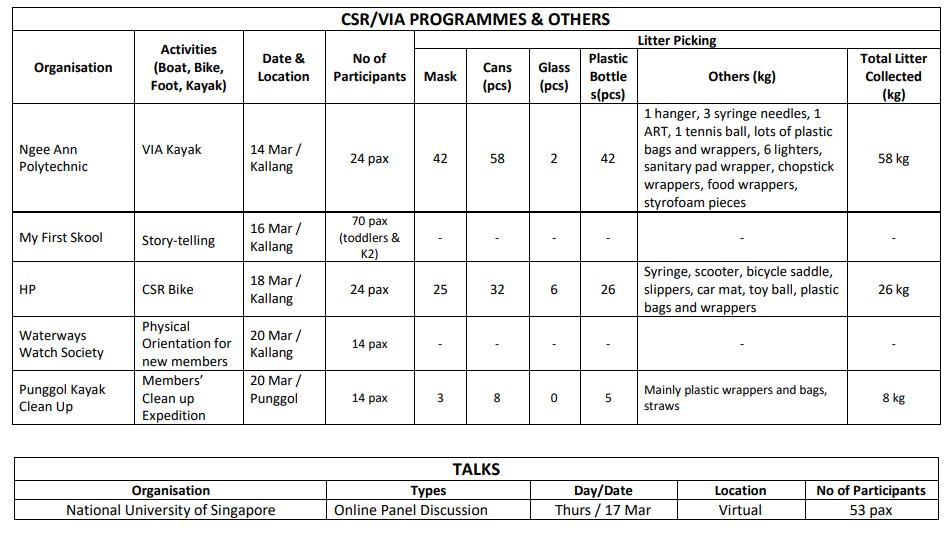 ACTIVITIES AND REPORT
1. Educational Programmes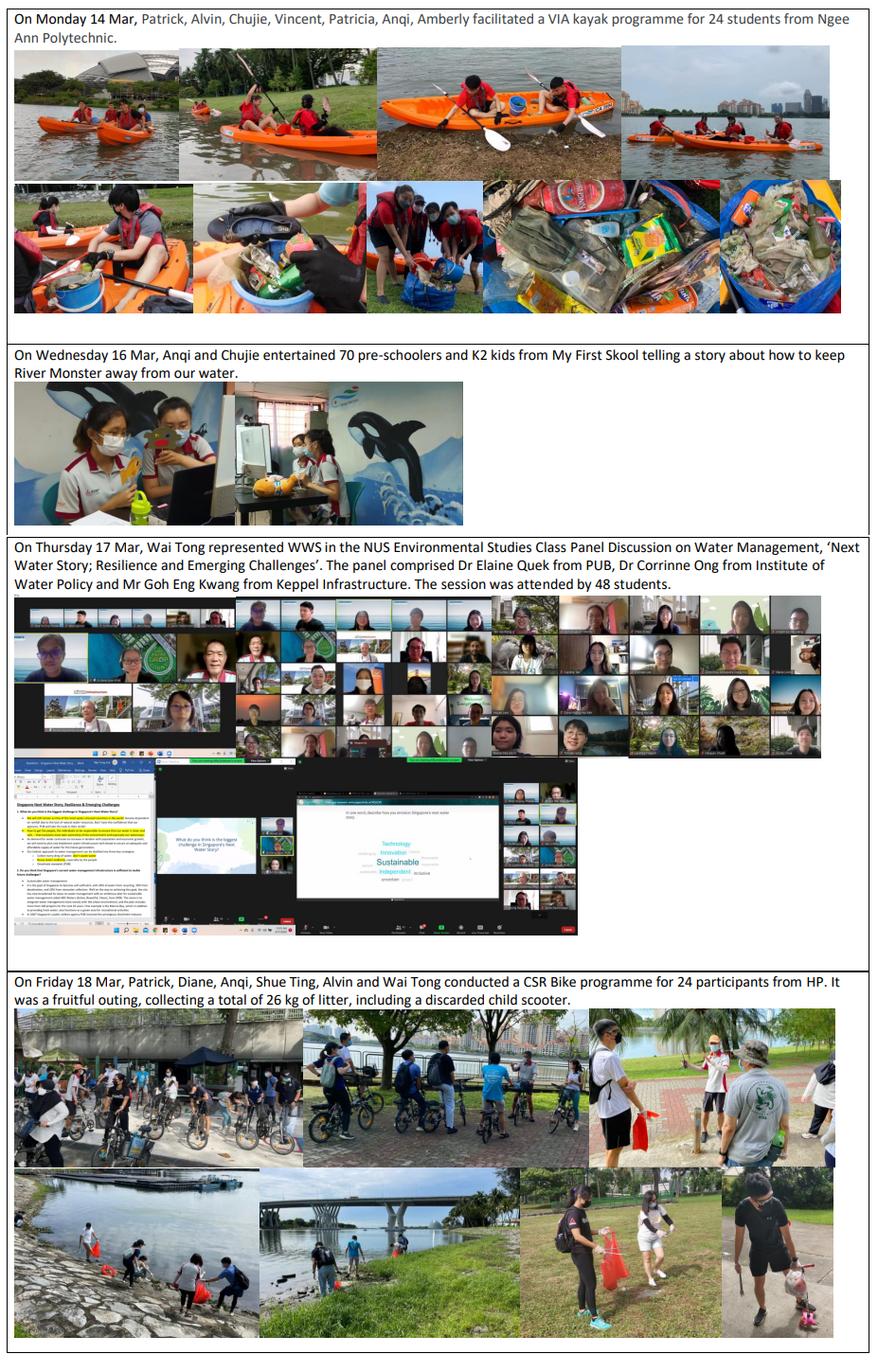 2. Volunteer Patrols & Activities
     a. Marina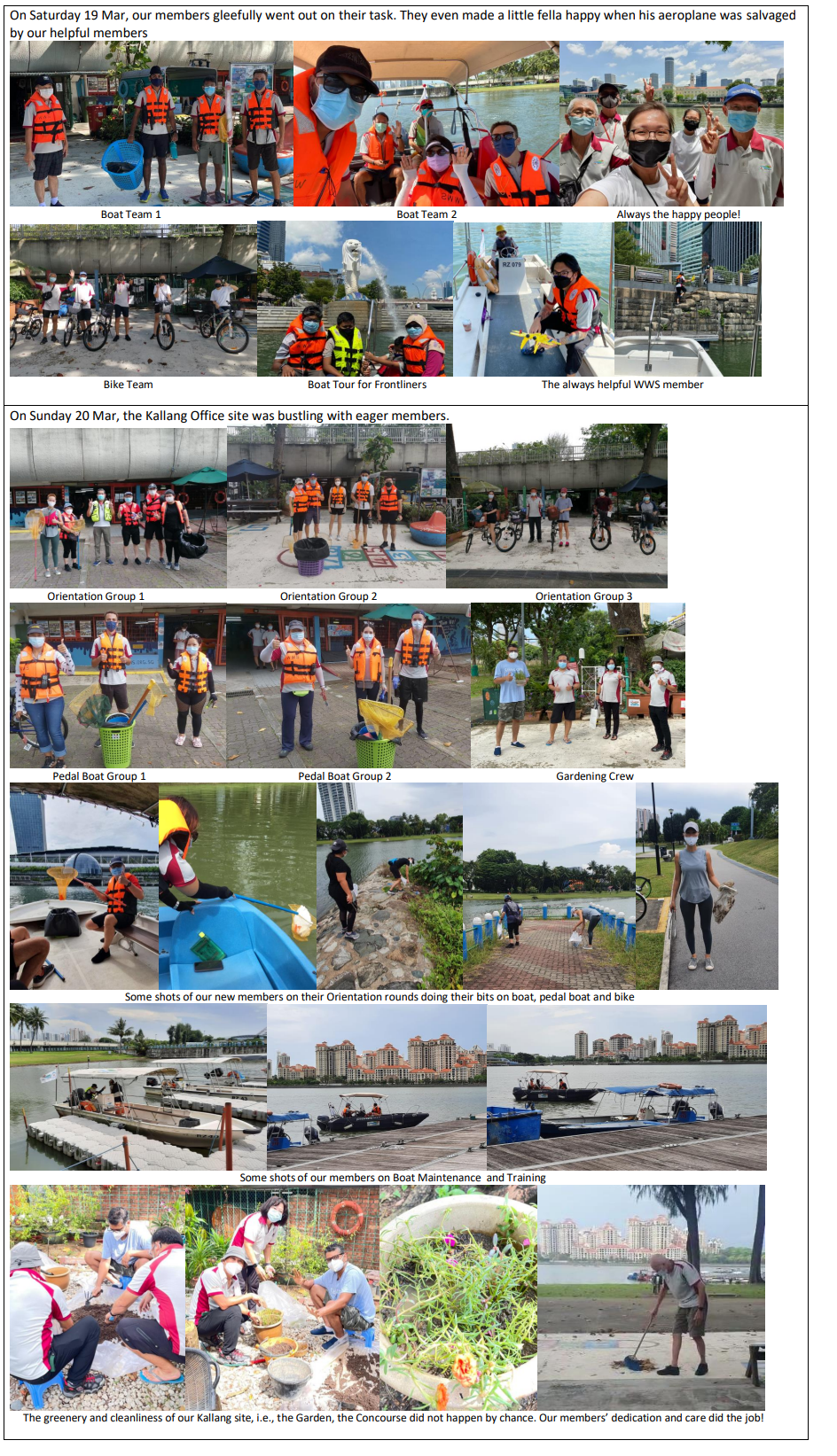 b. Punggol
    c. Lakeside

    d. Pang Sua Pond