Dear Friends,
OVERVIEW
"We need information, not just a sign to say you cannot do it, but Why?"
Yeh! Smoking banned at about 100 more sites from July, enforcement to begin in October. It was reported in CNA on 7 Mar 2022 that from Jul 1, Singapore will ban smoking at three new types of premises, although enforcement will only start in October to give smokers time to adjust. Smoking will be prohibited at all public parks and gardens managed by the National Parks Board (NParks), PUB's Active, Beautiful, Clean Waters (ABC Waters) sites, and 10 recreational beaches. This information or instruction was released by the Ministry of Sustainability and the Environment (MSE), Sentosa Development Corp (SDC) and several statutory boards in a joint release.
It is nothing new! At best it is another declaration and reminder by the authorities again to reinforce what needs to be done. But, haven't the regulations been implemented effectively? We see sign boards clearly indicating the desire to stem out smoking, littering and even fishing in all these areas concerned. Yes, we are not short of signboards displaying the necessary instructions and punishments. We even have cctv cameras strategically placed to catch recalcitrants and offenders. But, apparently these have not deterred people from doing what they were not supposed to be doing. Smoking, littering and illegal fishing are still rampant judging by the weekly reports from our volunteers. On reflection, there is more that can be done beside rules and regulations and draconic enforcement- it is more education (from young) and instilling more stakeholders ownership and responsibility. Something that cannot be forced upon but must come naturally. If many other countries can achieve this, All Singaporeans I am sure can!
We need Information in the Park! We need education, we need ready information to generate interest and understanding why certain negative social behaviours have to be done away with. In this regard, Waterways Watch Society would like to suggest that more educational signboards and information boards be erected either at strategic locations and in the rain shelters at parks. Park users may have more things to talk about besides admiring and enjoying the beautiful scenes around. More importantly, more people will understand why smoking, littering and illegal fishing are discouraged. This would certainly go a long way to educate the people of protecting the environment and our waterways in particular. The Waterways Watch Society will continue to work closely with all authorities to spread the message of keeping our waterways clean and safe. We also like to suggest a change in signage display- Having signages written on the footpath or on the ground is another way as often we see signage not attracting eye contact of public users. Everybody looks onto the ground when walking, cycling, playing……..not to their left or right.
Thank you Mitsubishi, Goldman Sachs and Coca Cola! Waterways Watch society's effort and work would not have been possible if not for our corporate sponsors and supporters. At this juncture, we would like to sincerely thank Mitsubishi Electric Asia Pte. Ltd in sponsoring more eco-friendly air conditioners for our offices, and to both Goldman Sachs for their donation and Coca Cola for their sponsorship for school programmes.
During the week in review, Waterways Watch conducted the following cleanup activities and virtual sessions.
We conducted 2 CSR kayak programmes for ING Bank and Salesforce respectively and 1 VIA Foot programme for Crest Secondary School and they collected a total of 180 kg of litter.
We conducted 7 virtual learning journey sessions for Schools and one session for the new citizens from MCCY – VEP. A total of 655 students and 47new citizens attended.
We conducted a virtual panel discussion on Sustainability and Community with 60 students from RI.
This week a total of 115 members were involved for VIA programme, talk, patrols, administration and housekeeping duties and the total trash collected = 299 kg.

Boat Patrol. We conducted 9 boat patrols; 3 at Marina, 4 at Punggol and 2 at Lakeside.
Bike Patrol. We conducted 8 bike patrols; 5 at Marina and 3 at Lakeside.
Foot Patrol. We conducted 1 Foot patrol at Pang Sua Pond.
Pedal boat Patrol. We conducted 2 Pedal boat patrols at Marina.
Virtual Orientation for New members. We conducted a virtual orientation for 30 new members.
Boat Tour for Frontline workers. We conducted a boat tour for 2 KKH at Marina.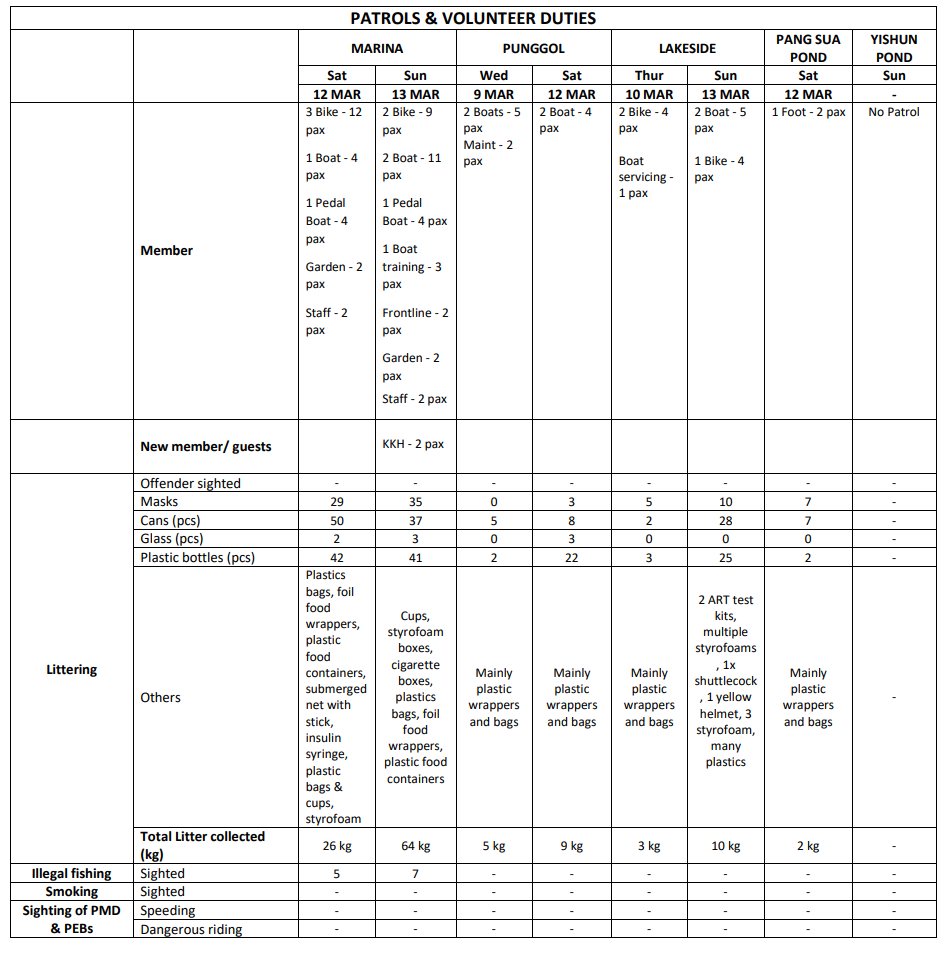 ACTIVITIES AND REPORT
1. Educational Programmes

2. Volunteer Patrols & Activities
     a. Marina
    b. Punggol
    c. Lakeside
    d. Pang Sua Pond