Dear Friends,
OVERVIEW
"There appears to be even more trash this week!"
It was a week with corporate programs and school talks plus our members weekday and weekend duties. Disappointing week though, as we appear to collect much more litter this week- much more and very disturbing. Are we not learning that public social behaviour is still very much needed and extremely important for a sustainable Singapore? Why, why, why are we still seeing so much litter, committed by irresponsible public users?
We are counting on everyone to do their part – bin your litter and do not pollute our environment, especially our waters.
During the week in review, Waterways Watch conducted following cleanup activities and virtual sessions.
We conducted 5 physical cleanup activities for SMU, Mitsubishi, S&P Global, Palm View Primary School and Total Energies. They collected 212kg of little in total.
We conducted 2 virtual assembly talks for Northoaks Primary School and St Francis Methodist School.
We conducted 2 virtual learning journey session for participants from MCCY – VEP for 50 new citizens and Jurong West Primary School for 40 students.
This week a total of 105 members were involved for VIA programme, talk, patrols, administration and housekeeping duties and the total trash collected = 312.5 kg. 

Boat Patrol. We conducted 3 boat patrols at Kallang, Punggol and Jurong respectively.
Bike Patrol. We conducted 4 bike patrols at Marina, 1 at Punggol and 3 at Jurong Branch.
Foot Patrol. We conducted 1 Foot patrol at Pang Sua.
Pedal boat Patrol. We conducted 1 pedal boat patrol on Saturday afternoon at Kallang.
Physical Bike and Boat Clean Up Orientation for New Applicants. NIL
Boat Training. 4 new skippers came to Kallang for training over the weekend.
ACTIVITIES AND REPORT
1. Educational Programmes
2. Volunteer Patrols & Activities
a. Marina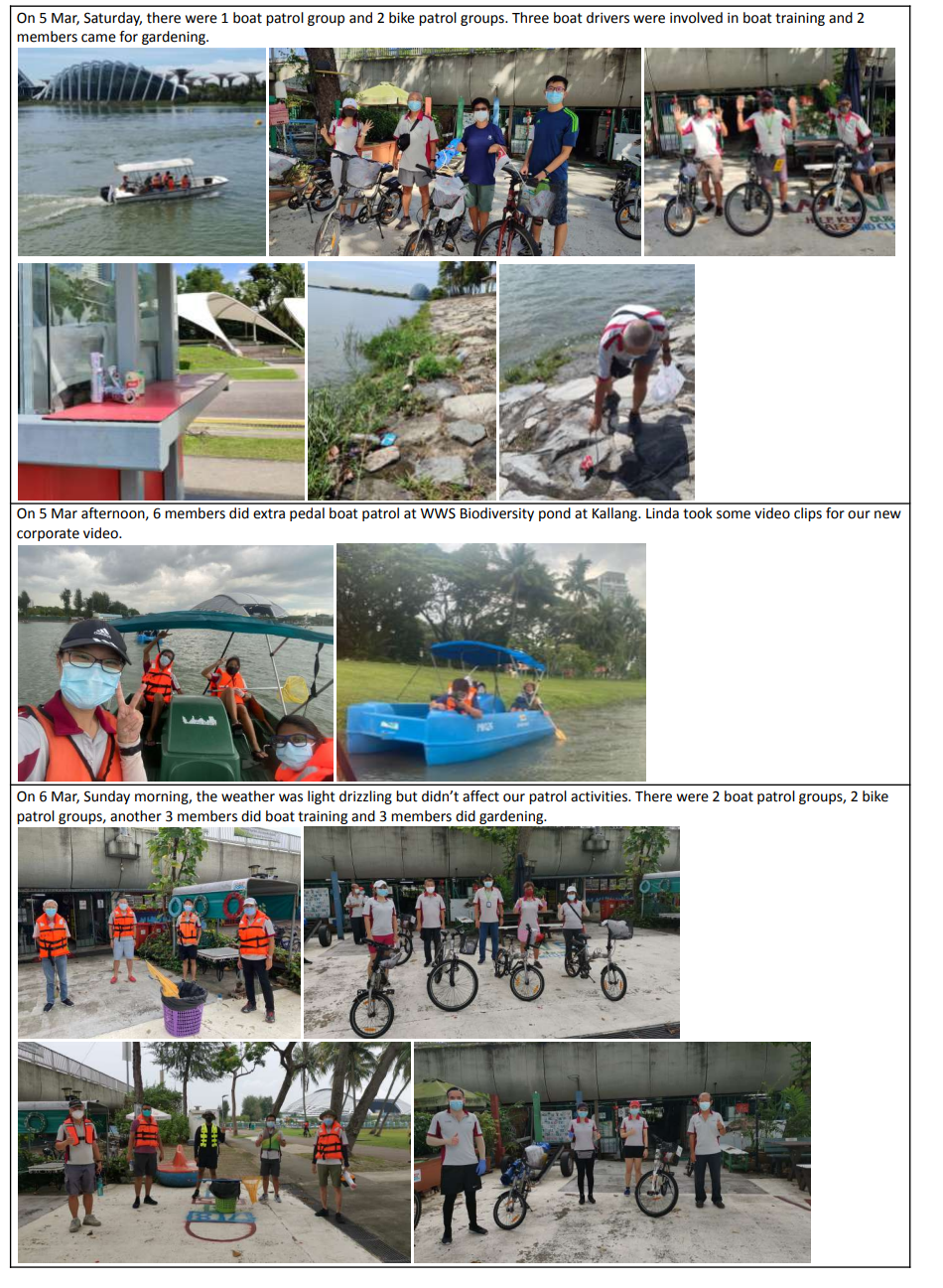 b. Punggol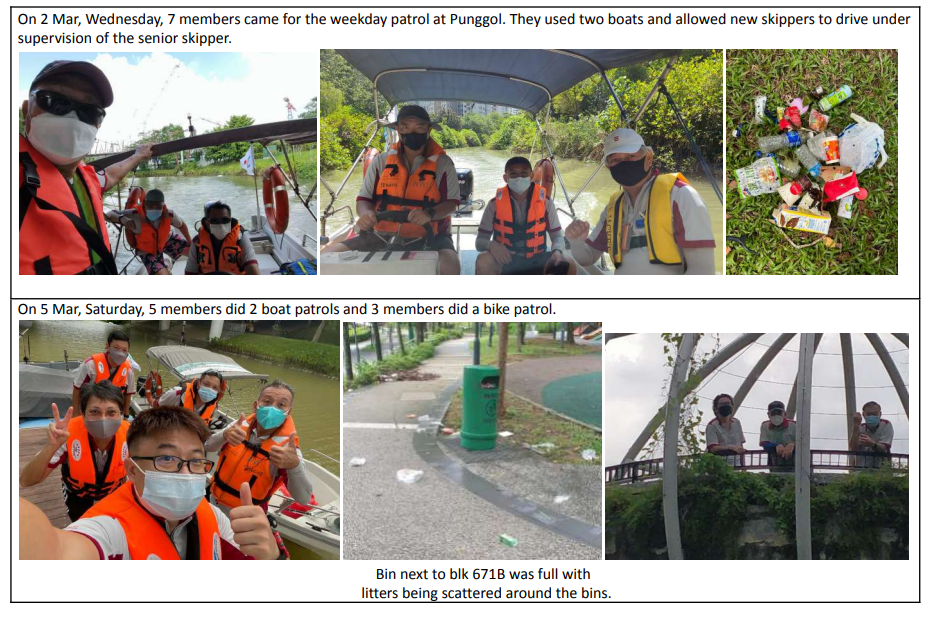 c. Lakeside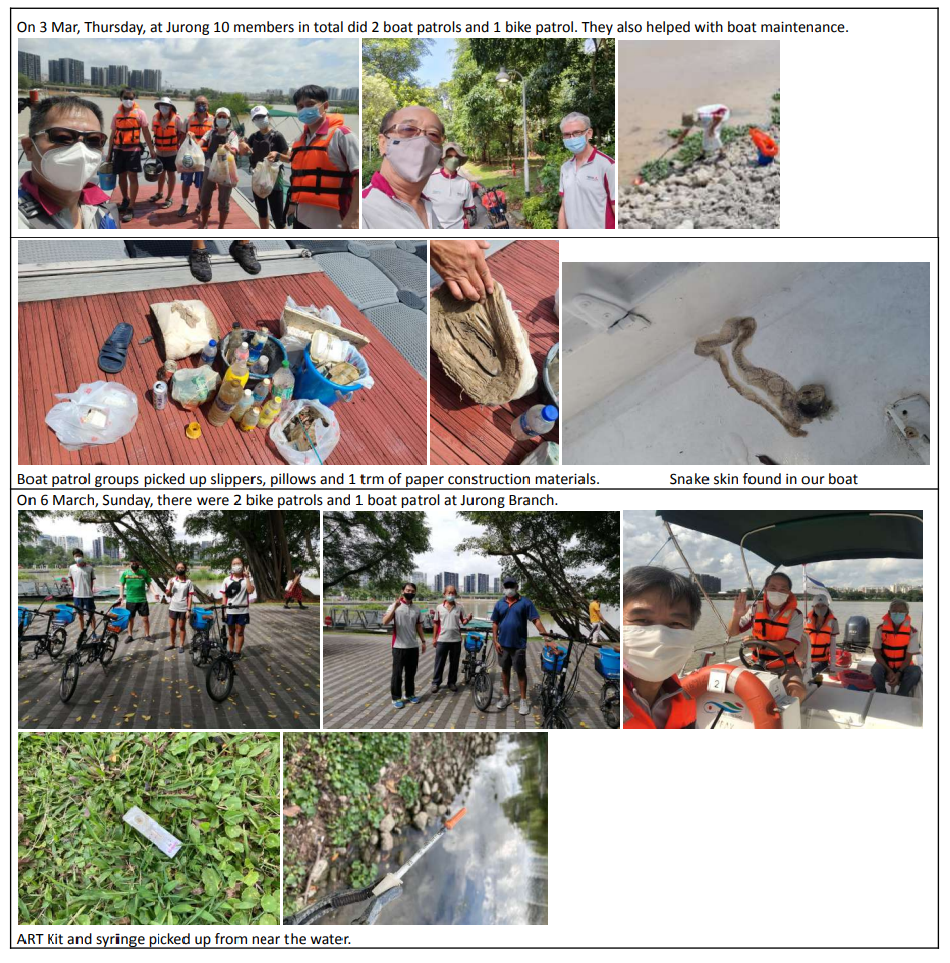 d. Pang Sua Pond