Dear Friends,
OVERVIEW
"Tackle the Problem!"
Littering and irresponsible social etiquettes and actions, with regard to keeping our waterways and environment clean and safe, are still the main perennial problem facing our community today. The issue is also being compounded by our 'urbanised animals' particularly the birds (crows and mynahs). Every weekend during our volunteer patrols it was inevitable to see the aftermath of such behaviour and actions. This is not to say that we do not have the problem on other days. Also, this does not only happen at the waterways but at the neighbourhood parks and housing areas.
Singapore is a 'clean' city only because we have cleaners to clean after us and this has given us the feeling of entitlement for a long while. We need to change this mindset. The individuals need to do their part. Last weekend, on one of our patrols, one of our members met a citizen at a park and had an interesting conversation. The latter was of the opinion that we were 'fighting a losing battle' because according to him, "the people expected the cleaning to be done by the cleaners." His remark did not bother our members because this was exactly what we wanted to do, i.e., helping to change our mindset by educating and bringing awareness to the public through our programmes and the activities we do. But, what reinforces our belief that we need to do more, through education, when he said he did not know that we were harvesting urban stormwater for our consumption.
The authorities have put in place in our parks, at our housing estates and in the vicinity of our waterways many facilities for the benefits, convenience and enjoyment of the citizens with the purpose of facilitating the overall effort of keeping the waters and environment clean and safe. They hope that the people will do their part too collaboratively. But is it working?
Fishing Bins at our designated Fishing zones
If the intention of these bins are for the fishing community to use them responsibly, sadly it is not the case. Waterways Watch has monitored this for many months and we see more abuse than proper use of these bins.
Litter left in the open at Parks and Housing Void Deck
In our parks and in our housing estates we have found blatant disregard for cleanliness and consideration for others; it suggests to us that there are still a significant number of people who need to be educated and enforcement needs to be in place. In this regard, we especially like to see the Residents' Committees, Town Councils and the Community Clubs play a more active role to spread the message and enforce correct behaviour from the residents in the area.
Prolific presence of birds
Waste left outside the bins or in the open can attract both stray and wildlife out of their habitats into human areas. But we have seen birds rummaging our trash bins both in the parks and in the housing and food court areas. They actually 'dive in' and pick their choice. So there is a need to look into the design of the trash bins and equally important to educate the residents and people to be vigilant and consciously responsible in this area too.
The Waterways Watch Society will continue to do the necessary to spread the message of keeping our waterways and the general environment clean and safe.
In summary for the week, the following activities were done:
We conducted 2 CSR programmes; a boat clean up for MICRON and a kayak clean up for Schroders and 2 VIA programmes; kayak clean up for Temasek Polytechnic and Tampines Meridian JC. Together they collected 167 kg of litter.
We conducted a virtual Storytelling to 60 toddlers and Preschoolers from NTUC First Campus.
We conducted a virtual Assembly Talk for the whole school of Henry Park Primary School. A total of 1200 students attended the talk.
We conducted a total of three virtual learning journey sessions for the whole Primary 5 cohort of Ahmad Ibrahim Primary School over three days. A total of 166 students attended. It was very engaging for all. We were able to have a face to face interaction with the students and it was good.
We conducted a virtual briefing for 18 new members on their roles and responsibilities when doing patrol.
This week a total of 121 members were involved for CSR/VIA programme, talk, patrols, administration and housekeeping duties and the total trash collected for the week = 303 kg.

Boat Patrol. A total of 6 Boat patrols were carried out; 4 at Marina, 2 at Punggol.
Bike Patrol. A total of 6 Bike patrols were carried out; 2 each at Marina, Punggol and Lakeside.
Foot Patrol. We conducted 2 Foot patrols; 1 at Pang Sua and 1 at Lakeside.
Pedal boat Patrol. No Pedal Boat patrols were conducted at Marina.
Kayak Patrol. We conducted 1 kayak patrol at Marina
Virtual Briefing to new members. This was conducted for 18 new members. The aim was to inform them of their roles and tasks as ambassadors of WWS.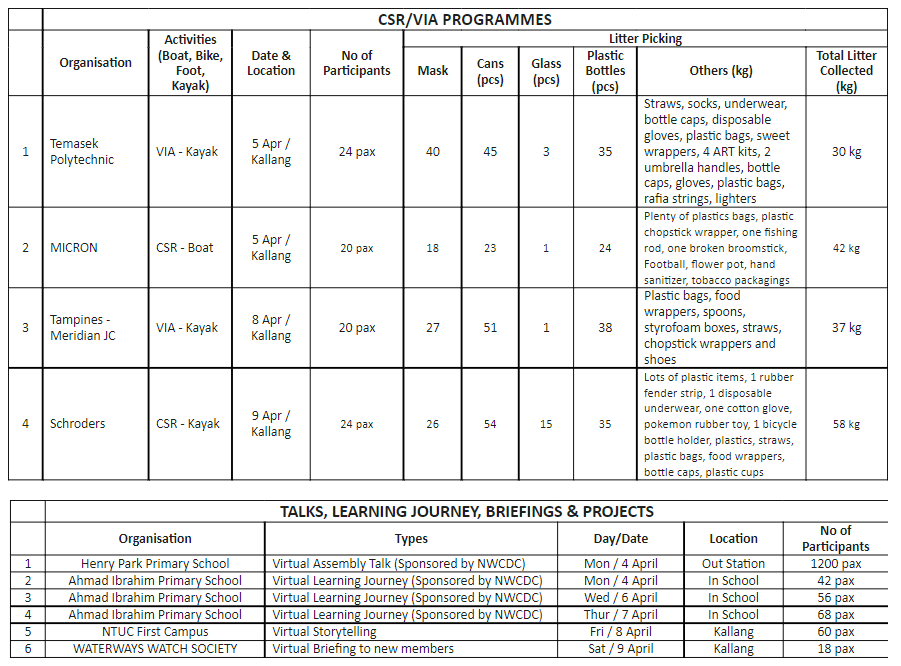 ACTIVITIES AND REPORT
1. Educational Programmes

2. Volunteer Patrols & Activities
a. Marina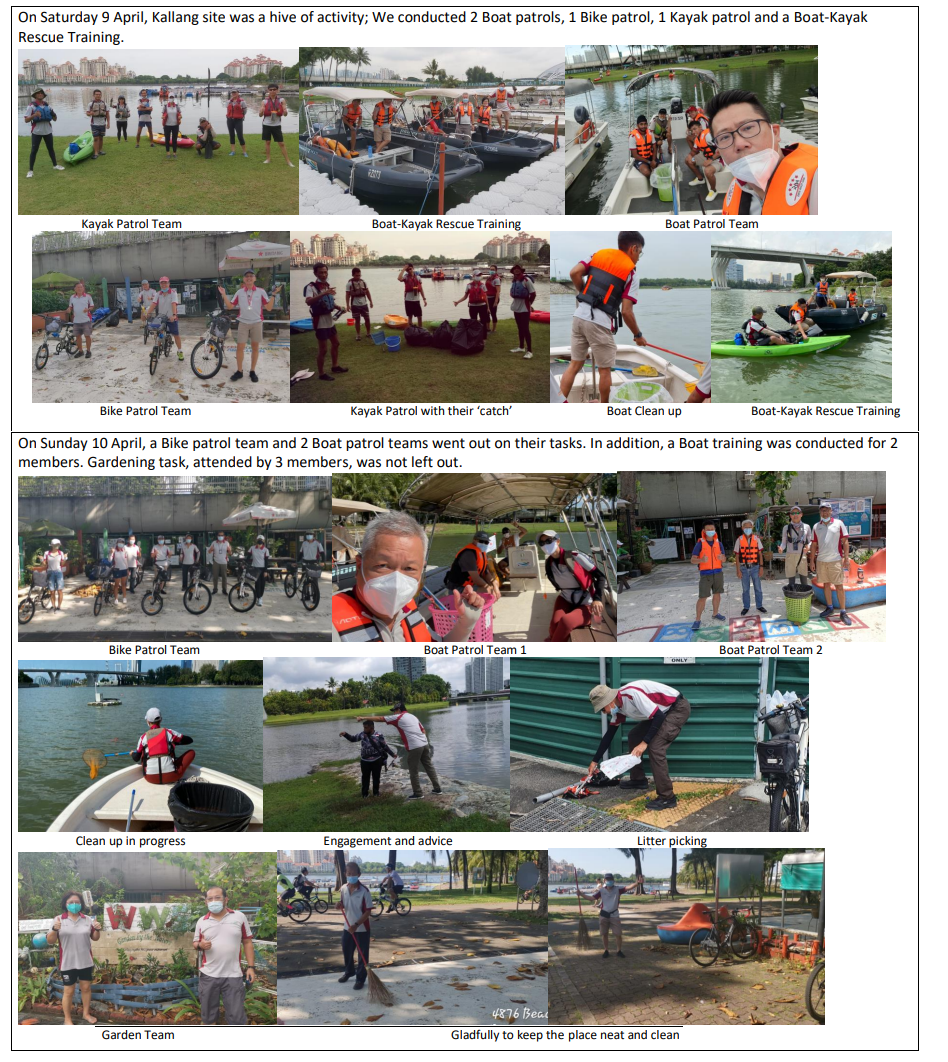 b. Punggol
c. Lakeside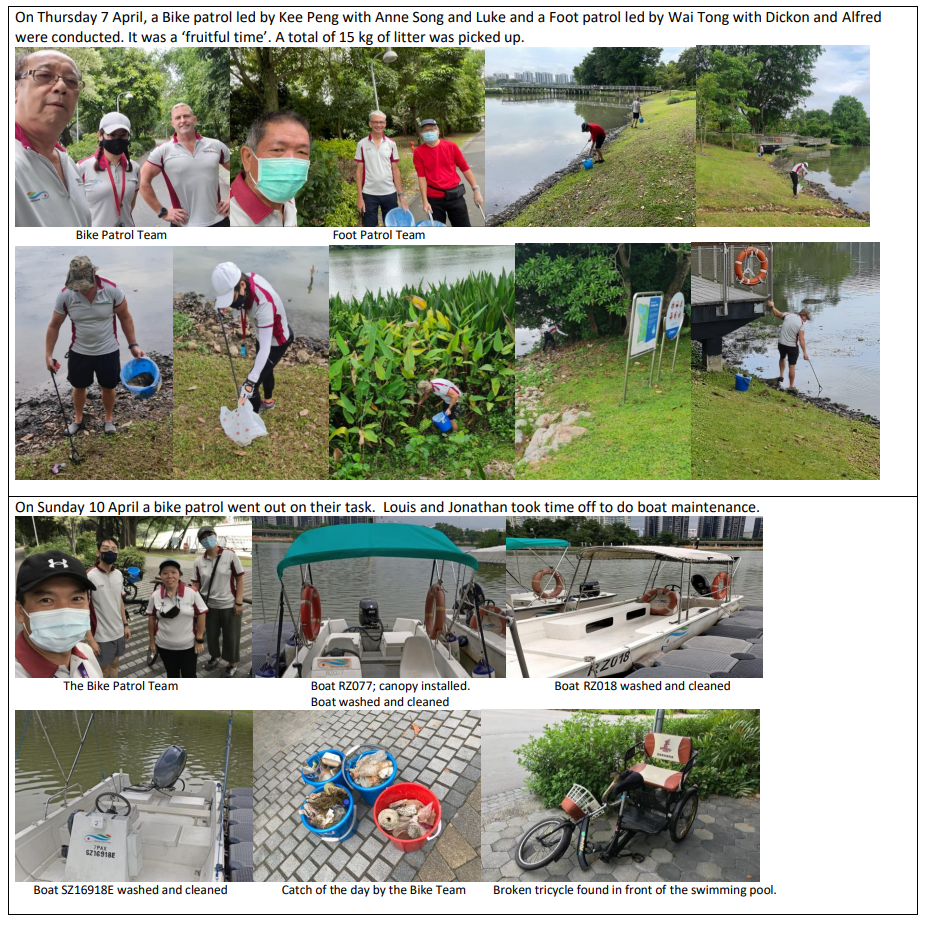 d. Pang Sua Pond

e. Yishun Pond Patrol