Dear Friends,
OVERVIEW
"Shouldn't commercial outlets in public places play a more responsible role?"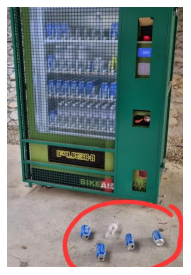 We have a drink vending machine located just next to our Punggol Waterways Watch Society office (see above photo). The intention of having one is understandable, I guess. But it has created a problem, a social one. Some users regularly appear not to dispose of their used drinking cans and bottles properly. The excuse is that there was no trash bin conveniently located though there are two within less than 50m from the machine. Shouldn't the vendor (s) play a more responsible role in ensuring that the area around the vending machine be free of litter? This is especially so when it is located so close to our drinking waterways.
Perhaps, there is no need to even have such machines along the waterways. Why? Along the whole path there are existing shops which sell drinks and other food stuff, hence, park users can easily get what they want. This arrangement can minimise the littering problem especially when not properly used.
On a brighter note; it is heartening to note that more schools are stepping up their efforts to have their students take on projects to address water conservation in Singapore. The Waterways Watch Society is glad to be part of such collaboration.
This week the following activities and programmes were done:
We conducted 5 CSR programmes (3 Boat, 1 Bike and 1 Kayak) and 2 VIA programmes (Kayak) and they collected 322 kg of litter.
We conducted 8 virtual Assembly talks to schools; 5 were sponsored by SPH, 1 each by BNPP, Coca Cola and NWCDC. The talks reached out to 5350 students.
We collaborated with 34 student leaders from Nanyang Girls' High School to assist in their project of "How to get more youths to be engaged in water conservation."
The first week with increased group size of 10 and we had a total of 138 members involved for VIA programme, talk, patrols, administration and housekeeping duties. The total trash collected = 385 kg.

Boat Patrol. We conducted a total of 7 boat patrols: 5 at Kallang, 1 each at Punggol and Lakeside.
Boat Training. We conducted 1 Boat Training for 2 Trainees this weekend.
Bike Patrol. We conducted a total of 6 bike patrols: 3 at Kallang, 1 at Punggol and 2 at Lakeside.
Foot Patrol. We conducted 1 Foot patrol at Pang Sua.
Pedal boat Patrol. We conducted 2 Pedal Boat patrols at Kallang.

ACTIVITIES AND REPORT
1. Educational Programmes
2. Volunteer Patrols & Activities
     a. Marina
    b. Punggol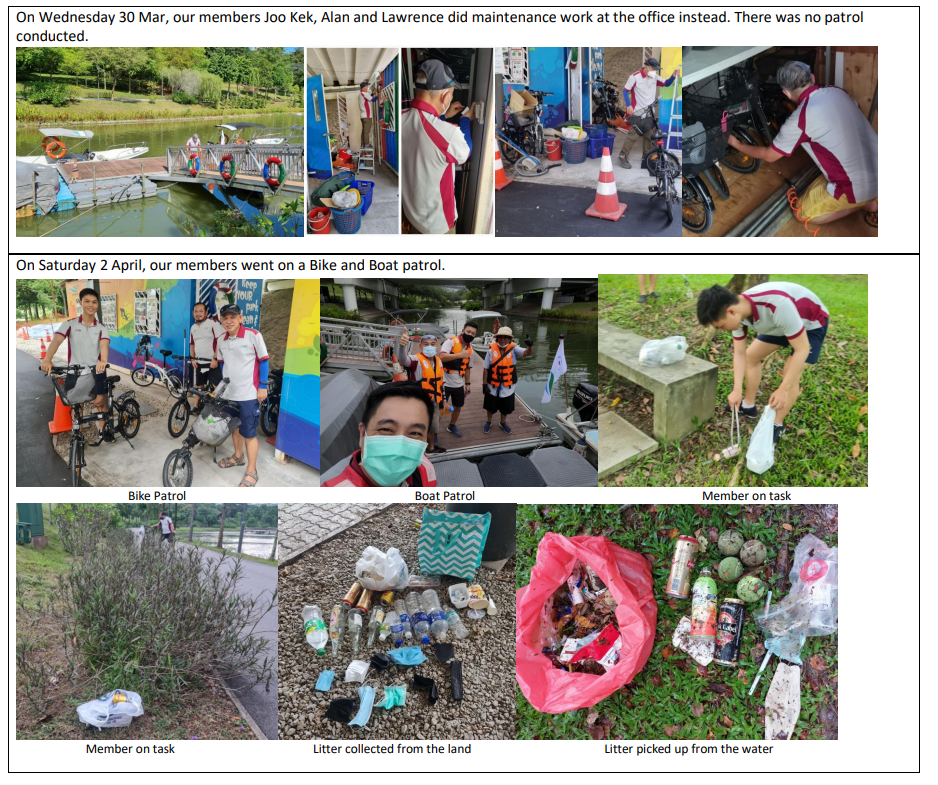 c. Lakeside
    d. Pang Sua Pond
 e. Yishun Pond Patrol