Dear Friends,
OVERVIEW
"Would you sit around and let others do it?"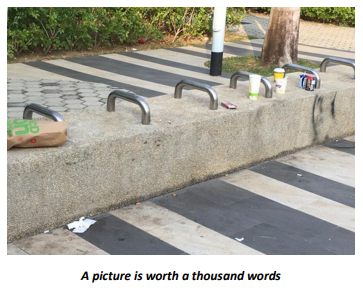 Looking at the picture on top of this page, what do you see and what can you learn from it? Why should we keep the environment clean? Why is it important not to litter? Simple. In addition to polluting the air, litter can also pollute soil and water and present a health issue. So would you sit around and let others do the cleaning?
We have a littering problem in our country. What are WE, the people, going to do about it? If we as a people take a collective social responsibility, we can all do our bit to help our environment flourish. If you can pick up that crisp packet and get it to a bin, you should, even if you didn't drop it yourself. Better still, if you cannot find a bin nearby to dispose of the stuff in your hand, pocket it and bring it home to dispose of it. Every simple thoughtful action helps. We appreciate that it is not possible to pick up every piece of litter we see, but if we as individuals are mindful to do what we can when we can, it will go a long way to a better place to live in and more importantly our water would be kept clean and safe. "Let us all just do it! Don't sit around and let others do it! "
It was a very short week because of the Easter Holidays hence, the reduced number of programmes conducted. Nevertheless, it was heartening to see quite a significant number of volunteers turning up over the weekend for their tasks. Lakeside patrols were called off because of the inclement weather. Also, Pang Sua Foot patrol was called off because of no participation. In summary, the following activities were done:
We conducted 2 CSR programmes; a Boat & Foot CSR for participants from Clarins and a Foot CSR for Zendesk. Together they collected 50 kg of litter.
A Job Orientation was conducted for 7 new members on their roles and responsibilities when doing patrol.
This week a total of 77 members were involved for VIA programme, talk, patrols, administration and housekeeping duties and the total trash collected = 134 kg.

Boat Patrol. A total of 6 Boat patrols were carried out; 3 at Marina, 3 at Punggol.
Bike Patrol. A total of 2 Bike patrols were carried out; 1 each at Marina and Punggol.
Foot Patrol. We conducted 2 Foot patrols at Lakeside.
Pedal boat Patrol. 2 Pedal Boat patrols were conducted at Marina.
Physical Bike and Boat Clean Up Orientation for New Applicants. This was conducted for 7 new members at Marina.
ACTIVITIES AND REPORT
1. Educational Programmes
2. Volunteer Patrols & Activities
     a. Marina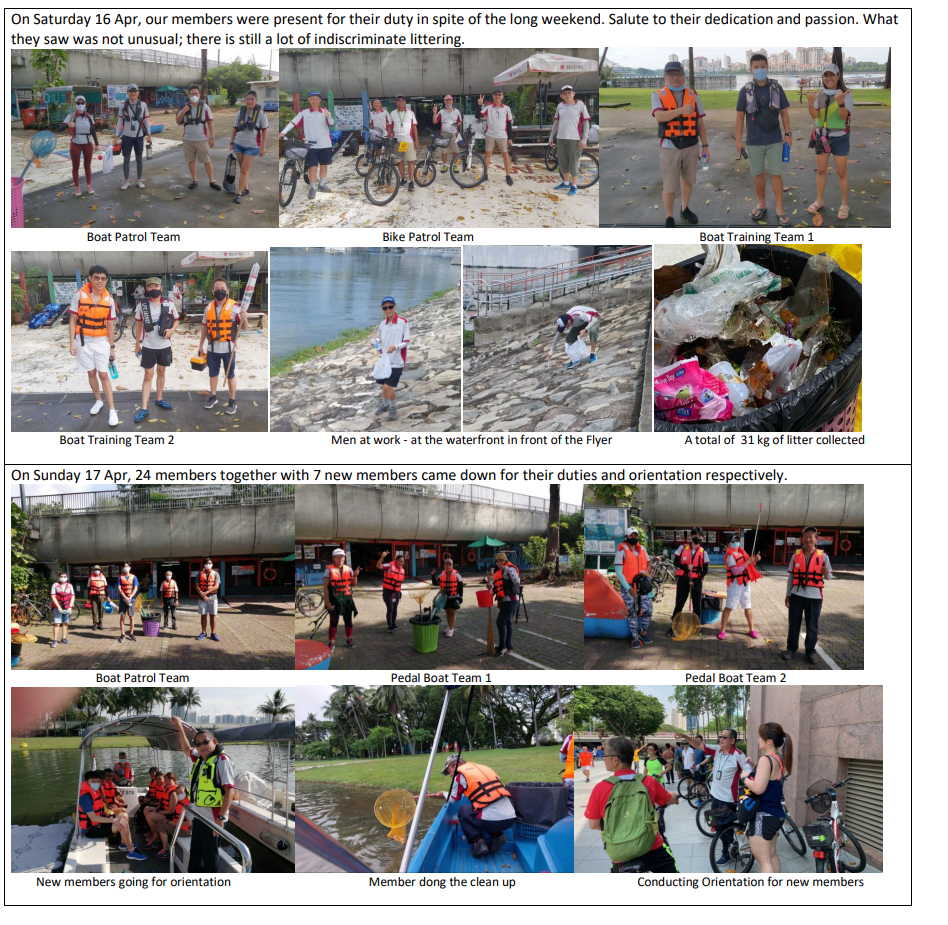 b. Punggol
    c. Lakeside
    d. Pang Sua Pond
    e. Yishun Pond Patrol